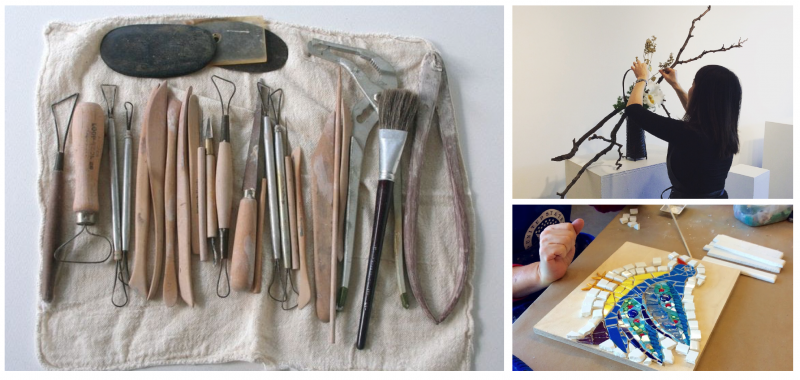 Art School
Today's the day to start taking an art class! The Evanston Art Center offers visual art classes that are inviting and comfortable, with intimate class sizes and opportunities for one-on-one learning. Our teaching artists will treat you as an artist, while focusing on fundamental skills, medium techniques, conceptual foundations, and constructive feedback. If you're brand new to art, returning, or a practicing artist, there are classes for your skill level and interests.
Our classes are flexible when you enter the classroom. If you want to try something new, we work with you to achieve your goals! We do not guide artistic experiences and exploration through rigidity; instead, we facilitate opportunities for self-directed collaboration for you to achieve your artistic goals. Don't hesitate to contact us to learn more and discuss the class that would be a good fit for your needs and schedule.
Scholarships and payment plans are available. Evanston Art Center members receive a discount off of classes.
Winter Adult and Youth Classes: January 7 - March 24, 2019 (11 WEEK TERM)
Make-Up Week: March 25 - March 31
Summer Camps and Youth Classes: June 4 - August 23, 2019 (12 WEEK TERM)
Summer Camps begin the week of June 4
Twelve-week youth classes begin the week of June 10
Registration & Policy Information
Class registration is now available online! Begin browsing by department below, or search the catalog directly.
Pdf versions of our full Winter and Summer Camps catalogs (or registration page only) are also available for print, mail-in and phone-in registrations.
Learn more about our policies regarding refunds, cancellations, financial aid and scholarships, and more.
Department
Description
Adult Classes by Department

Th Evanston Art Center offers art making in the following areas: Digital Media and Photography, Ceramics, Printmaking, Drawing and Painting, Metal Sculpture, Jewelry, Figure Sculpture, and...

more
Artistic Forms

Evanston Art Center membership is not required to enroll in these classes, however EAC members receive a tuition discount. Click here to purchase or renew membership. For information regarding...

more
Artistic Seminars

Evanston Art Center membership is not required to enroll in these classes, however EAC members receive a tuition discount. Click here to purchase or renew membership. For information regarding...

more
Ceramics

Students of all levels will learn to create pottery and develop a solid understanding of ceramics, learning and using hand-building and wheel-throwing techniques. Multiple glazing and surface...

more
Dewey After School Program

Evanston Art Center outreach program at Dewey Elementary School for Dewey students.

more
Digital Media & Fabrication

Digital Media and Fabrication in Evanston Art Center's New Maker Lab There's been a lot of discussion in the last few years around new relatively inexpensive technologies and equipment that allows...

more
Drawing & Painting

Beginning to advanced students may choose from a variety of courses including life drawing and painting, portraiture, watercolor, pastels, ink, gouache, egg tempera, acrylic, oil and mixed-media...

more
Figure Sculpture

Evanston. Classes meet there in the southwest lower level figure sculpture studio. The EAC figure sculpture studio is handicap accessible. The Art Center provides the clay and you pay firing fees....

more
Jewelry

  The EAC jewelry studio is fully equipped with tools for the novice as well as the advanced student. Except for the Independent Study Program, Evanston Art Center membership is not required to...

more
Photography

Evanston Art Center membership is not required to enroll in these classes, however EAC members receive a tuition discount. Click here to purchase or renew membership. For information regarding...

more
Printmaking

Welcome to the Evanston Art Center's printmaking studio page. The printshop is  equipped with 1 etching press, an exposure unit for silk screens, a plate shear for cutting copper and zinc etching...

more
Summer Art Camps Ages 12-14

In visual arts camps, students explore skill-building and techniques including proportion, angling, perspective and composition. Elements of art (line, form, shape, value), Principles of Design (...

more
Summer Art Camps Ages 4-5

This camp for our youngest art lovers offers an early exposure to artistic materials and youth craft projects. Your little one will become familiar with the foundations of early childhood art-making...

more
Summer Art Camps Ages 6-8

Mixed-Media Arts Camp: 9am-12pm (morning camp) Exploring Clay Camp: 12:30pm-3:30pm (afternoon camp) Projects emphasize skill-building, creativity cultivation, arts and visual literacy, text and...

more
Summer Art Camps Ages 9-11

In visual arts camps, students explore skill-building and techniques including proportion, angling, perspective and composition. Elements of art (line, form, shape, value), Principles of Design (...

more
Summer Classes - Ages Toddler-18

EAC members receive a $20 course tuition discount. Purchase or renew membership and save! Read about our policies for refunds, cancellations, financial aid, scholarships, and more.

more
Summer Immersion Classes

The design of these week-long classes is similar to a retreat or residency in their in-depth focus on achieving skill levels and finessing projects.  The areas of study involved will be: Drawing and...

more
Summer Youth Camps and Classes

Fill your summer with creativity, learning and fun ! Don't miss EAC's Summer Camps. At EAC we value creative exploration and cultivation because there are no "right" answers in art! Just different...

more
Walker After School Program

Evanston Art Center outreach program at Walker Elementary School for Walker students.

more
Winter Break Camps
more
Winter Youth / Teens

The Youth Fine Arst (YFA) program offers a range of classes in a variety of media and disciplines designed to excite and develop the artistic vision and creative talents of youth, starting at age 3...

more
Woodworking

The woodworking program at the Evanston Art Center began quite organically with a few youth classes in the fall, winter, and spring. In recent months interest has grown among adults in our community...

more
Workshops

  Evanston Art Center's workshops are short and informative--- a taste of a media you have not yet tried, an open window with instruction on a technique new to you. Transform your ideas about limits...

more