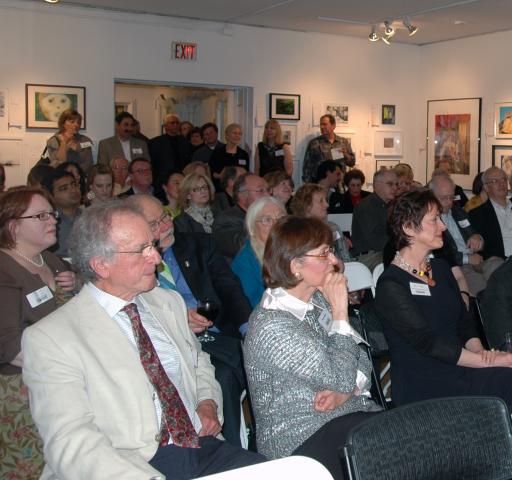 Our generous donors at all levels help ensure that the Evanston Art Center (EAC) continues to foster the appreciation and expression of the arts among diverse audiences. Over 80 years of generous support has resulted in EAC becoming the largest nonprofit visual arts organization offering classes, exhibitions, outreach programming and scholarships in the State of Illinois.
However, in order to keep growing and engaging new audiences, EAC needs your ongoing support. Here are just a few of the initiatives we need funding for:
an Art Van travelling to various neighborhoods providing pop-up art activities,
a Design Department offering landscape/garden, graphic and interior design classes,
professional Development opportunities and CPDU credit for teachers,
IPad classes for adults and youth,
a studio designed to meet the needs of our youngest artists, those ages 3 to 5.
Let's make these programs a reality! Please consider joining one of EAC's Donor Circle levels and rest assured that your investment will enhance the communities in which we all live and work.
Gifts to the Donor Circle Membership Program are tax deductible to the extent allowed by law.
Artist's Circle ($100 - $249) - annual recognition in our Catalog + all basic member benefits: (eligibility to enroll in Art Center classes, discounts on Youth Fine Arts classes, adult workshops and special programs, eligibility to attend Art After Five tours of private art collections, art supply discounts: 10% off of purchases at Dick Blick and 25% off purchases at Genesis Artist Village (includes framing), and announcements of special events and exhibition openings)
Studio Circle ($250 - $499) - all benefits mentioned above + recognition on lobby donor circle board
Gallery Circle ($500 - $999) - all benefits mentioned above
Curator's Circle ($1000 - $2499) - all benefits mentioned above + private tour of an EAC Exhibition for 10 people
Collector's Circle ($2500 - $4999) - all benefits mentioned above + invitations to one special reception or event and two complimentary tickets to an Art After 5 event
Director's Circle ($5000 - $9999) - all benefits mentioned above + invitations to all special receptions and events, four complimentary tickets to all Art After 5 events and invitations to various special events
Sustaining Fellow's Circle ($10,000 and up) - all benefits mentioned above + annual opportunity to host a private reception/event at the Art Center and renaming opportunities
For more information on the Donor Circles, please contact Jen Montojo, Director of Development at 847.475.5300, ext. 102 or via email.
Include on Donation Landing Page: