Art School: Winter Break Camps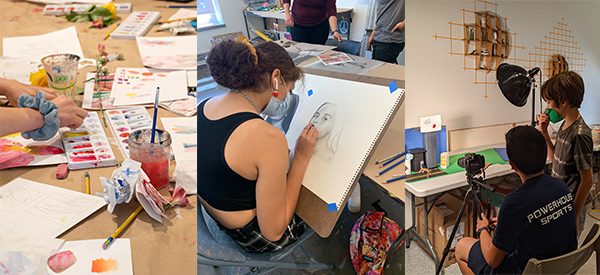 Winter Break Camp: Monday, December 26 - Friday, December 30, 2022
Use your imagination and creativity this winter break to bring out the artist in you!
WHAT TO BRING:
Dress for mess!
Waterbottle 
Nut-free snacks  
Epi-pens or other emergency allergy medications, with instructions for your child. (Make sure a team  member knows where this is, as well!) 
No need to bring any art supplies!
STUDENTS WITH DISABILITIES ARE WELCOME! 
The EAC welcomes all students with disabilities to join our camps and classes! The EAC is wheelchair-accessible with power-assist doors, an accessible restroom, and an elevator. If your child requires any accommodation to fully participate in the camp, please contact the EAC's Director of Education prior to the start of camp to make any necessary arrangements.
Questions? Contact Us!
Our Director of Education is happy to chat with you about what camps she recommends for your child, and to answer any questions you may have. Please contact Ellie Hazlett, [email protected] or 847-475-5300 ext. 108.
Refunds and EAC Policies
Read more about EAC's policies refunds, cancellations and financial aid.