Art School: Summer Youth and Highschool
Add structure and creativity with our In-Person Summer Art Camps!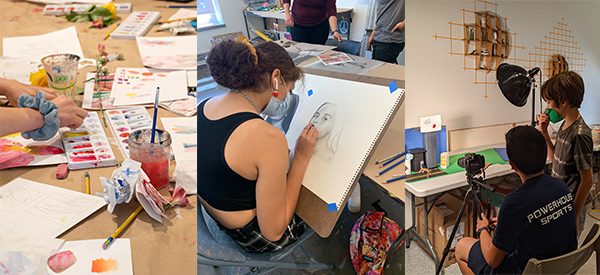 In-Person Camps
At EAC we value creative exploration and cultivation because there are no "right" answers in art! Just different ways to approach and solve problems, think critically, and achieve goals. We focus on sharing new techniques and skills that enhance existing interests, and allow for multiple perspectives and interpretations. 
In-Person Camps
Join us for our In-Person Camp offerings beginning June 12! Due to demand and limited capacity, we encourage you to use the Wait List function if a camp is full. We will try to add an additional section of camp if we can add one safely.
What To Bring:
Bring a completed emergency contact form for the first day of camp. (Blank ones will be available if you forget.)

A signed copy of the Emergency Form. We will email this to you before your scheduled visit to camp. Please email us a signed copy if possible.

Filled and labeled water bottle. All water fountains will be closed per Phase 3 Reopening Guidelines. Please label bottle to ensure it stays with your child.

Label jackets and other items for younger children. Help us keep your items with your child, and to limit the handling of any misplaced items.

Nut-free snacks.

Epi-pens or other emergency allergy medications, with instructions for your child.

Sunscreen or other sun protection. 

Come to camp dressed for mess.

No need to bring any art supplies! They're included in the camp tuition.
Students with Disabilities are Welcome!
EAC welcomes all students with disabilities to join our classes! EAC is wheelchair-accessible with power-assist doors, an accessible restroom, and an elevator. If your child requires any accommodation to fully participate in the camp, please contact EAC's Director of Education with as much advance notice as possible. To ensure the best experience possible, we appreciate your sharing as much information about your child as you feel comfortable.
Outdoor Breaks May Be Planned
Campers may visit our cordoned off parking lot, nearby McCulloch Park, or another park for a break during the day, weather and safety permitting. We suggest you pack sunscreen and any sun protection your child may need.
Questions? Contact Us!
Our Director of Education is happy to chat with you about what camps she recommends for your child, and to answer any questions you may have. Please contact Ellie Hazlett at [email protected].
Emergency Contact Form Required
The first day of camp all guardians must complete an emergency contact form that includes multiple phone numbers and any medical or emergency information. We suggest you fill out this form prior to your arrival to expedite first day check-in process.
Refunds and EAC Policies
Read more about EAC's policies refunds, cancellations, and financial aid. If you or your child are feeling ill, please do not come to the Evanston Art Center for your in-person camp. We will offer a prorated refund of any cancellations due to suspected COVID-19 infection. Contact us for more information.