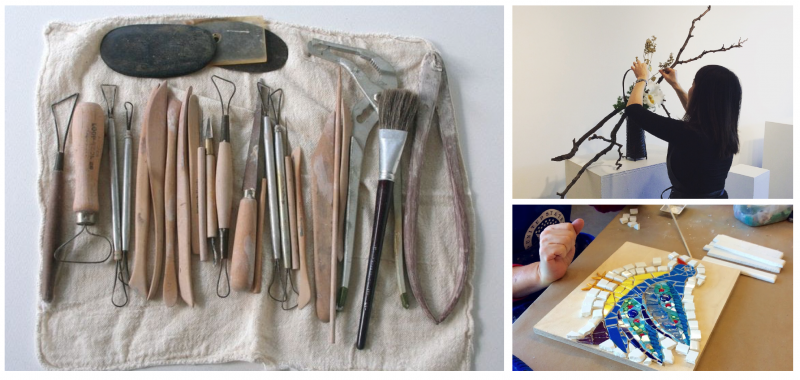 Art School: Summer Youth Camps and Classes
Why register for the Evanston Art Center's Summer Art Camps?
The Evanston Art Center is very excited to offer another great line-up of summer youth art camps. We've made some adjustments to the program that we hope you will appreciate. We've altered the start time for all camps, we're offering early drop-off and late pick-up to suit time conflicts, and we've shortened the 4-5 year old camps. Please also note that included within this catalog we have listed our 10-week youth classes just in case the camp schedule does not fit your needs, there will likely be more classes offered as time gets closer to summer. We're also being mindful of offering more observational drawing and painting as we saw high demands of that last summer. If you have any questions about camps, please email Director of Education, Christena Gunther at cgunther@evanstonartcenter.org.
KIDS
You'll have a lot of fun doing great art projects, making new friends, and viewing art in the galleries!
PARENTS
Depending on what you choose, your child will be exposed to:
· New ways to explore and cultivate creativity
· There are no "right" answers in art, just different ways to approach problems and achieve goals
· New techniques and skills that enhance existing interests
· Critical thinking strategies, multiple perspectives and interpretations
· Access to new technologies
· Learning how to think through and with materials
Ages 4-5 • Ages 6-8 • Ages 9-11 • Ages 12-14 • Classes
Camps meet Monday - Friday (except for July 4th week). You have the option of signing up for mornings only, afternoons only or all day (enroll your child in both the morning and afternoons sessions for an all day experience). Ages 4-5 camps are available for mornings only.
Evanston Art Center membership is not required to enroll in these classes, however, EAC members receive a tuition discount. Click Here to purchase or renew membership. For information regarding refunds, cancellations, financial aid, scholarships, and more, Click Here.
Please remember to alert the Evanston Art Center to emergency contact numbers, medical allergies, and special needs for your child. Find the form here.
To view a catalog PDF Click Here.