Art School: Summer Youth Camps and Classes
Fill your summer with creativity, learning and fun ! Don't miss EAC's Summer Camps.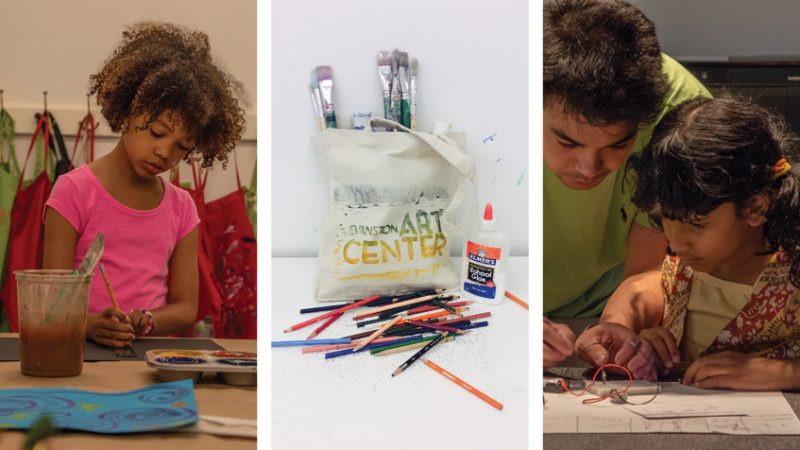 At EAC we value creative exploration and cultivation because there are no "right" answers in art! Just different ways to approach and solve problems, think critically, and achieve goals. We focus on sharing new techniques and skills that enhance exisiting interests, and allow for multiple persitives and interpretations.
Learn how to think through and with new materials and technologies at EAC this summer. Let's get creating!
"It was a wonderful experience! Engaging projects, great teachers and TA's, and a great environment. My daughter wants to return again next summer!"
"My son was a reluctant camper, and really enjoyed the week of camp he did at the EAC. Thank you so very much for great instruction and programming!"
Review a PDF of our printed summer camps catalog .
Want to help prepare your child for what a camp experience is like? Take a look at our camp social narrative!
Ages 4-5 • Ages 6-8 • Ages 9-11 • Ages 12-14 • Classes
What To Bring:
If possible, bring a completed emergency contact form for the first day of camp. (Blank ones will be available if you forget.)
Reusable, labeled water bottle
Nut-free snacks
Epi-pens or other emergency allergy medications, with instructions for your child. (Make sure a team member knows where this is, as well!)
Sunscreen or other sun protection
Come to camp dressed for mess
No need to bring any art supplies! They're included in the camp tuition.
SAVE! Become a Member Today!
Become a member of Evanston Art Center! Save on tuition and support EAC's programs and operations. We suggest this option if you're registering more than one child or for more than one week of camp:
EAC Youth Annual Membership: $35
Family Annual Membership: $60
Students with Disabilities are Welcome!
EAC welcomes all students with disabilities to join our classes! EAC is wheelchair-accessible with power-assist doors, an accessible restroom, and an elevator. If your child requires any accommodation to fully participate in the camp, please contact EAC's Director of Education with as much advance notice as possible. To ensure the best experience possible, we appreciate your sharing as much information about your child as you feel comfortable.
Lunch
For all-day camps, students bring their own nut-free lunch. If you'd like to register your child for a morning and an afternoon session, a 30-minute supervised lunch break is included at no extra charge.
Late Pick-Up Arrangements
If you cannot pick up your child until 4:30 p.m., they can stay with a Teaching Assistant and continue to work on their projects started earlier in the day. $15 per day. Register for Late Pick-Up for Full Week of Camp.
For questions, check in with the Director of Education.
Outdoor Breaks Planned
Campers visit nearby McCulloch Park for a break during the day, weather permitting. We suggest you pack sunscreen and any sun protection your child may need. Students are typically given an option of continuing to work or going outside – both options include supervision by our great camp team members!

Questions? Contact Us!
Our Director of Education is happy to chat with you about what camps she recommends for your child, and to answer any questions you may have. Please contact Christena Gunther cgunther@evanstonartcenter.org or 847-475-5300 ext. 108.
Emergency Contact Form Required
The first day of camp all guardians must complete an emergency contact form that includes multiple phone numbers and any medical or emergency information. We suggest you fill out this form prior to your arrival to expedite first day check-in process.
Refunds and EAC Policies
Read more about EAC's policies refunds, cancellations and financial aid.