The Evanston Art Center is excited to announce the appointment of curator Melissa Raman Molitor as the 2021 / 2022 Curatorial Fellow. 
Molitor's final exhibition, The Kitchen Table Stories Exhibition, will be on display in the Evanston Art Center's First Floor Gallery from July 9 – August 21, 2022.
OPENING RECEPTION: Friday, July 15 from 6-9pm
Traditional cultural and healing practices are creative embodiments of a people, and are often expressed through the arts.  They have been passed down from generations and are integral to daily life.  Few customs and traditions throughout the world have been untouched by colonialism and imperialism, and many have been misappropriated or eradicated.  Decolonizing the arts involves reclaiming, renewing and reaffirming these practices.  It necessitates critically examining the structures that are in place to oppress and erase people and communities.  It is decentering the dominant white narrative and shifting focus to spaces, voices, and stories that represent people who are racialized and marginalized due to their social identities.
The Kitchen Table Stories exhibition is a step towards reimagining the spaces that have historically excluded Asian, South Asian, and Pacific Islander American voices.  Despite the current movement towards the decolonization of museums and galleries, artists of color remain underrepresented across the US.  The attempts to be more inclusive are often exercises in fetishization, exoticization and tokenization of black and brown artists.  Who are the cultural gatekeepers of these spaces?  Who decides which stories are told?  Who tells them?  Who contextualizes them?  Who witnesses them?
The Kitchen Table Stories exhibition is a celebration of stories shared by local artists who identify as Asian, South Asian and Pacific Islander. Artists were asked to share the stories that have been passed down to them from ancestors through family and friends, and create work that reflects their own lived experiences.  The result is an exploration of the intersections of immigration, citizenship, race, culture, social identity, multigenerational relationships, and family history.  In the spirit of stories that are shared at the "kitchen table," the guest is invited to participate by engaging in discourse that considers the importance of telling our own stories and the power of the arts in that process.  The audience is asked to reflect on universal themes such as language, food, home, family, heroes and belonging through the lens of their Asian, South Asian and Pacific Islander neighbors in a space that centers hospitality as an art form that draws on cultural wisdom, lineal healing, and collective care.
28 artists will be participating in the exhibition, listed here in order of last name; Jose G. Aggari Jr., June Chen Ahleman, Bhagya A. Ajaikumar, Daniel Aquino, Magdalena Arguelles, James Bulosan, Ashwaty Chennat, Sun H. Choi, Pritika Chowdhry, Cesar Conde, Susan Cua, Kevin L. Cuasay, Marissa Domantay, Alyssa Marie Obcemea Gayapa, Richard Gessert, Indira Freitas Johnson, Alex Belardo Kostiw, Geraldine Martinez-Benz, Viola Mayol, Jessa Mae Mendiola, Abbey Poniente Monsalud, Pranita Nayar, Melissa Raman Molitor, Jason Reblando, Jonathan Taala, Jocelyn Victoria, Sarah Whyte, Levi Yutuc
EXHIBITION PROGRAMMING
The Kitchen Table Stories exhibition will also host accompanying programming in-person at the Evanston Art Center throughout July and August. All programs and events are free and open to the public unless otherwise specified. Some events have limited capacity. Learn about the Kitchen Table Stories Exhibition Programming here.
Opening Reception | Friday, July 15, 6-9pm. RSVP.
Where Are You Really From? A TEAACH Workshop for Educators & Administrators | Wednesday, July 27, 7-9pm. RSVP; Wednesday, August 10, 7-9pm.
Story Table Series: Ritual, Art and Healing with Artist/Curator Melissa Raman Molitor and Artist Indira Freitas Johnson | Thursday, August 4, 7-8:30pm.
The Art of Tea: Gongfu Cha Tea Ceremony & Presentation on the History and Culture of Tea | Saturday, August 13, 2:00-4:00pm. RSVP.
Story Table Series: What Color Am I? Exploring Transnational Adoption with Artist Sarah Whyte & An Exploration of Food Healing and Art with Artist Sun H. Choi | Thursday, August 11, 7-8:30pm.
Story Table Series: Shrimping Giants - A Brief History of the First Filipino Settlement in North America & Traditional Weaving Demonstration with Artist Levi Yutuc | Sunday, August 14, 1:30-3pm.
Story Table Series: Kitchen Table Talk | Thursday, August 18, 7-8:30pm.
ABOUT THE KITCHEN TABLE STORIES PROJECT
In 2020, The Kitchen Table Stories Project began as a multimedia healing justice initiative centering the voices and narratives of local Asian and Pacific Islander diaspora. The goal of this project is to create collective power through art, and to claim space in the community with stories, traditional practices, and cultural wisdom. The Curatorial Fellowship at the Evanston Art Center is an opportunity to elevate the work of local artists who identify as South Asian, East Asian, Southeast Asian and/or Pacific Islander and engage the public in discourse that explores the intersections of race, country of origin, age, gender, sexuality, dis/ability, neurodiversity, and socioeconomics. The exhibit will center 'care' as an art form that draws on cultural wisdom, ancestral healing and collective power, and will involve outreach programming in physical and virtual community spaces. 

The increase in racism and violence against people of Asian descent compounded by the surge of shuttered Asian-owned small businesses and family-owned restaurant closures due to the pandemic and economic downturn is contributing to the silencing and erasure of Asian, South Asian and Pacific Islander voices in our communities. Through a simple google search one will quickly recognize that stories from the Asian and Pacific Islander diaspora in the Evanston community and its surrounds are not being systematically collected. The history of these communities remaining on the fringes of traditional archives, museums, and cultural institutions reifies colonial approaches to art making, exhibition and arts engagement, and the absence of a collective resource in our community reinforces the perpetual foreigner narrative, not allowing for a sense of place or cultural permanence. This exhibition will help to amplify APIDA voices through art and be a step towards claiming creative space in the community.
ABOUT THE CURATOR
Melissa Raman Molitor, ATR-BC, LCPC (she / her), is a socially engaged artist who creates liminal spaces in which art is a form of critical consciousness and healing justice. Her work involves the exploration of personal and collective identity through assemblage and multimedia narratives, and her activism centers the power of art to foster human connection, community building, creative placemaking, and social awareness.
Melissa is an Associate Professor, Adj. at the School of the Art Institute of Chicago (SAIC) and founding director of Kids Create Change, a non-profit organization that utilizes art to promote sociocultural awareness, build community, and engage young people in self-advocacy and creative action towards equity and justice. She is the former founding director of Connection Arts Chicago where she developed community art studios and therapeutic art programs with immigrant and refugee communities throughout the city, and previous owner of Art & Soul where she served as Director of Community Outreach and Programs. She is most recently a former founding board member of Evanston Made and currently serves on the Evanston Arts Council. Melissa holds a BA degree in Psychology and a BFA with a concentration in ceramics and photography from the University of Michigan. She received an MA in Art Therapy from SAIC and is a registered, board-certified art therapist and licensed clinical professional counselor.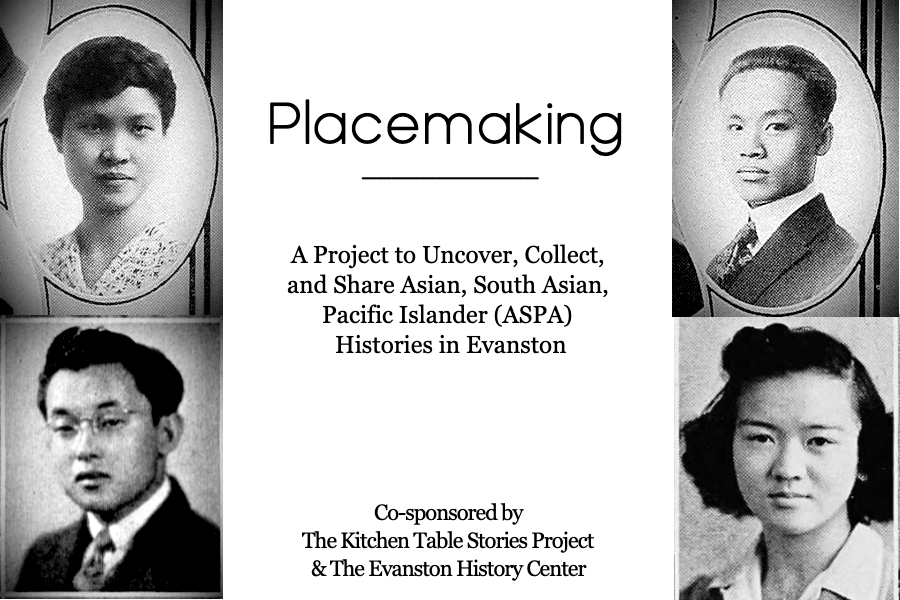 The Kitchen Table Stories Project is also partnering with the Evanston History Center to establish a local Asian, South Asian, Pacific Islander (ASPA) archive and to shine a brighter light on ASPA history in Evanston. The project, called "Placemaking," will be an ongoing endeavor.
Anyone wishing to learn more or to contribute to the archive, please contact Melissa Raman Molitor at: [email protected] or Jenny Thompson at: 
[email protected]
---
Learn more
In the news...
Read the 2021 / 2022 Curatorial Fellowship Press Release.
Read about the Kitchen Table Stories "Placemaking" project, in partnership with the Evanston History Center.
Learn more about our past 2020 / 2021 Curatorial Fellows: Alpha M. Bruton & Adero Knott.
---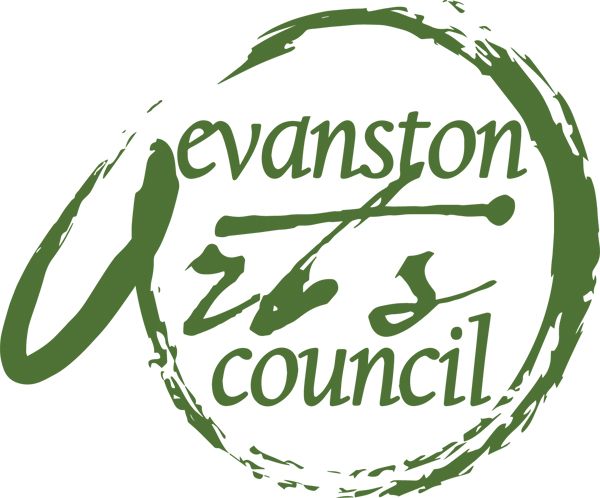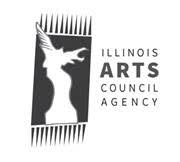 This project is partially supported by the Illinois Arts Council, a state agency, and a grant from the Evanston Arts Council an agency supported by the City of Evanston, IACA, and the NEA.