The 4th Annual Side/Lot Evanston Experimental Video Showcase features short, experimental videos by film and video makers who live or work in the Chicagoland region. The showcase aims to present short, experimental work by diverse creators, highlighting their unique visions and approaches to media. Each year, the works have been screened as an outdoor architectural projection at the Evanston Art Center and last year, due to COVID, the screening was in the form of a Drive In.
The debut screening will be held outdoors at the Evanston Art Center on the evening of Saturday, September 18th.
SUBMISSION DEADLINE: Friday July 30th, 11:59pm
Exact time and format to be announced as the date gets closer and any COVID restrictions are defined.  
Guidelines for Submission
Work must be three minutes or less in duration. 

Video works must be appropriate for an all-ages audience.

Work will be juried by a panel of artist/filmmakers who are based in Chicagoland.
Student work is welcome.
Collaborative work is welcome.
Work that has been previously screened in the Chicagoland area is welcome.
Videos are submitted and juried using Vimeo. There is a free account tier.
DEADLINE for submissions: Friday July 30th, Midnight
NOTIFICATIONS Friday August 20th, Midnight 
SUBMISSION FORM https://forms.gle/zxVihnvoJD7e5NTv6
FILE UPLOAD FOR STILL https://www.dropbox.com/request/dAOkv4QILEAF1GHh3k79
The Submission Form Requests the Following Information:
Name
Email
Phone
Website
Confirmation of rights to image and music for screening
Confirmation that the video has visual title and credits  
Role and Collaborators
Link to video on Vimeo
Video Password (if needed)
Still image from video submission, (jpeg 1920x1080 at 72ppi)
250 word project description
250 word filmmaker bio
For more information about information sessions and programming please sign up for our mailing list and follow us on Instagram @side.lot.
https://bit.ly/EvanstonExperimentalMail
We look forward to another mind-bending Showcase!
2021 Curators and Organizers
Anne Hayden Stevens, Artist/Curator 
Annestevens.com
Naeema Jamilah Torres, Curator/Filmmaker 
naeemajamilahtorres.com
Mezcla Media Collective
Mat Rappaport, Artist/Filmmaker/Curator 
https://www.meme01.com
https://rangemobilelab.com
---
ARCHIVE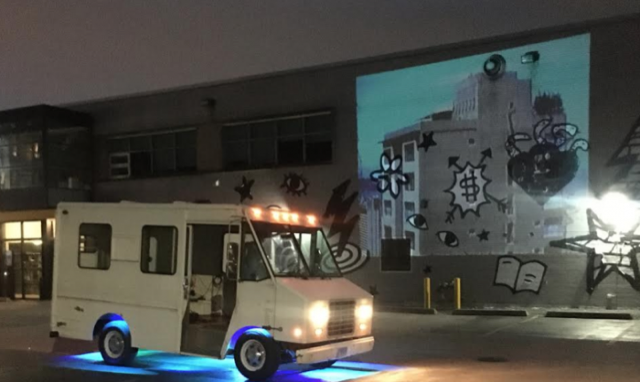 Thursday July 30th @ 8pm (Gates close at 8:20) Program begins promptly at 8:30 ending by 9:30.
>>> HOW IT WORKS
As in years past, we will be projecting the videos onto the side of the Evanston Art Center. This year, due to the coronavirus, we are using the drive-in theater format to keep our community safe and socially distanced. We have remapped the parking lot to maximize the view and number of cars. We ask that you arrive early to allow for parking. Audio will be broadcast via FM radio, so make sure your car radio works. Rain or Shine.
CLICK HERE to view images from the 2020 Outdoor Drive-In.
>>>VIRTUAL SCREENING
Join us for the Virtual Screening and Q&A with the Filmmakers on the EAC YouTube channel on August 13 at 7:30pm! 
CLICK HERE to view images and film stills from the 2019 Outdoor Film Screening.