Outreach in Our Community
The EAC partners with schools, non-profits, and community organizations to provide inspiring art education, exhibitions, and expression for all. Grants and individual donations from people like you ensure that everyone has access to art. Below you will find a list of the EAC's outreach programs. 
Help us continue to support and cultivate our outreach programming. Donate to the EAC's outreach efforts and support one of our many programs.
At the EAC, no student is turned away due to financial need. Fund our Education Scholarships.
Tours and Art Experiences for Area Organizations
The EAC welcomes different groups by offering exhibition tours and tailored group art-making experiences. Groups are invited to pay on a sliding scale based on the group's ability to pay, ranging from free to covering the program's costs. Some groups we recently welcomed: Evanston-area Girl Scout Brownie Troop, Wilmette Park District kindergarten classes, National Charity League of Wilmette, @Properties North Shore, and more!
To book your group's next visit, please contact our President and CEO, Paula Danoff, at [email protected] or call 847-475-5300.
Accessibility for People with Disabilities
Everyone's welcome! The Evanston Art Center is dedicated to making arts accessible to all students, including people with disabilities.
Course Accessibility
In addition to our physically accessible building, the EAC strives to make our classes and programming accessible. We provide American Sign Language (ASL) Interpretation, teaching assistants, or other support at no charge to the student to ensure all of our youth and adult students can fully participate.
Contact our President and CEO, Paula Danoff at [email protected] or call 847-475-5300 to learn more or request accommodation.
Adaptive Ceramics Wheel
The EAC Ceramics Studio purchased an adaptive wheel that can be raised or lowered to accommodate a wheelchair user and can be operated with hand controls rather than a foot pedal. The EAC offers an Adaptive Ceramics class for adults with disabilities, and welcomes people of all ages and abilities to create! The Arts Therapy Grant from the Rotary Club of Evanston Lighthouse donated the funds for the wheel.
Community Partners
In addition to all of the individual artists and students, we partner and collaborate with the organizations listed below on a daily basis. The EAC is always looking to create new partnerships. Please contact us to discuss ways we can help each other achieve our missions.
Books and Breakfast
Books and Breakfast (B&B) offers a nutritious breakfast and morning homework help to K-5 students qualifying for free lunch at four Evanston elementary schools. EAC provides weekly arts enrichment to participating B&B students and is accessible to all. This project is partially funded by the Evanston Arts Council, in partnership with the City of Evanston and the Illinois Arts Council, a state agency, and Discover.
Photography and the EAC Teen Board
The EAC Teen Board is a group of students from the Chicagoland area. This is a free program for high school students that cultivates community involvement, volunteer opportunities, and youth engagement at the Evanston Art Center. In the Fall of 2022, the EAC provided the EAC Teen Board with free darkroom to digital photography class. This program is to teach students about photographic processes and how to incorporate them into other art forms. At the end of the program, students will show their work at the EAC. This program is generously funded by Phillip and Edith Leonian Foundation.
Right At School/D65
Ensuring art is always included in our schools is important to the EAC. The EAC through Right At School provides weekly after-school art programming for D65 elementary schools Walker, Dewey, Lincoln, and Dawes with scholarship options available to anyone who needs it.
Over the Rainbow (OTR) Partnership
Over the Rainbow is a non-profit dedicated to increasing the quality of life for individuals with disabilities through the creation of barrier-free housing solutions and person-centered services that encourage independent living. The EAC sends an instructor to OTR Evanston residence to provide an ongoing art class for adult residents with disabilities.
Have Dreams Partnership
Have Dreams is a leader in resources for individuals and their families living with Autism Spectrum Disorder (ASD). The EAC partners with Have Dreams to provide an internship for an individual on the autism spectrum. In addition, the EAC provides a weekly art class for individuals in the Have Dreams program.
Loyola Academy's AP and Honors Art Show
Each year the EAC hosts Loyola Academy's AP and Honors art students' work in our galleries! The students work together to curate, install, and publicize the exhibition and participate in an exhibition opening celebration of their hard work.
CAVA Art Show
The Chicago Alliance of Visual Artists (CAVA) is a non-profit committed to artists ages 50 and older. CAVA provides its members with opportunities to exhibit their work, educational programming, community outreach, and social networking events. Every other fall, the EAC partners with CAVA to host a juried exhibition of their member's most recent works.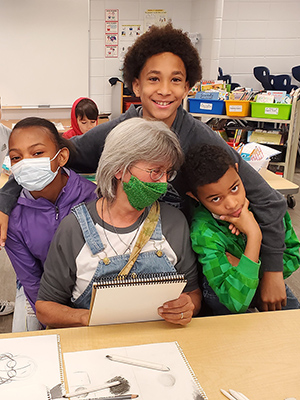 COLLABORATED WITH 31 OUTREACH PARTNERS
Books & Breakfast 

Over The Rainbow 

Districts 202 and 65

Right at School

Y.O.U.

Libenu

Loyola Academy

City of Evanston 

Industrious

Have Dreams

Arts of Life

Wilmette Park District

@Properties

Central Street SSA

Maine-Niles Association of Special Recreation

Jr League

Northshore Country Day School

Avidor Retirement Community

ETHS' Empty Bowl Project

Roycemore

National Charity League

Amy Krouse Rosenthal Foundation

The Ted Fund

Evanston Juneteenth Celebration

Yellowbrick Foundation

Evanston Chamber of Commerce 

Orchard Village

Lincolnwood Public Library

Over the Rainbow

Girl Scouts

Evanston Pride Picnic

SPACE Evanston 

Temperance Beer Co.