Outreach in Our Community
The EAC partners with schools and non-profits in our community to provide inspiring art education, exhibitions, and expression for all. Learn more about 2019-20 Outreach efforts, and read below. Grants and individual donations from people like you ensure that everyone has access to art.
Support our Outreach efforts.
At the EAC, no student is turned away due to financial need. Fund our Education Scholarships.
Tours and Art Experiences for Area Organizations
The EAC welcomes different groups by offering exhibition tours and tailored group art-making experiences. Groups are invited to pay on a sliding scale based on the group's ability to pay, ranging from free to covering the program's costs. Some groups we recently welcomed: Evanston-area Girl Scout Brownie Troop, Wilmette Park District kindergarten classes, National Charity League of Wilmette, @Properties North Shore, and more!
To book your group's next visit, please contact our President and CEO, Paula Danoff, at [email protected] or call 847-475-5300.
Accessibility for People with Disabilities
Everyone's welcome! The Evanston Art Center is dedicated to making arts accessible to all students, including people with disabilities.
Course Accessibility
In addition to our physically accessible building, the EAC strives to make our classes and programming accessible. We provide American Sign Language (ASL) Interpretation, teaching assistants, or other support at no charge to the student to ensure all of our youth and adult students can fully participate.
Contact our President and CEO, Paula Danoff at [email protected] or call 847-475-5300 to learn more or request accommodation.
Adaptive Ceramics Wheel
The EAC Ceramics Studio purchased an adaptive wheel that can be raised or lowered to accommodate a wheelchair user and can be operated with hand controls rather than a foot pedal. The EAC offers an Adaptive Ceramics class for adults with disabilities, and welcomes people of all ages and abilities to create! The Arts Therapy Grant from the Rotary Club of Evanston Lighthouse donated the funds for the wheel.
Community Partners
In addition to all of the individual artists and students, we partner with on a daily basis, we collaborate with the organizations listed below. If you don't see your organization on the list below, please contact us, and let's think about ways we can help each other achieve our missions.
Books and Breakfast
Books and Breakfast (B&B) offers a nutritious breakfast and morning homework help to K-5 students qualifying for free lunch at four Evanston elementary schools. EAC provides weekly arts enrichment to participating B&B students and is accessible to all. This project is partially funded by the Evanston Arts Council, in partnership with the City of Evanston and the Illinois Arts Council, a state agency, and Discover.
Digital Photography Classes for Area Youth
The EAC partners with Evanston-based Y.O.U. (Youth and Opportunity United) at Lincoln Junior High in Skokie and other schools and non-profits to offer digital photography classes with DSLR cameras to teach youth the basics about composition, manual focus, and editing at no cost. In addition to classes, youth are invited to join weekly drop-in Maker Lab Open Studio hours to continue their projects using EAC technology. Read more about our Digital Photography Outreach classes. This program is generously funded by Phillip and Edith Leonian Foundation.
Walker and Dewey Elementary Schools' PTA
Ensuring art is always included in our schools is important to the EAC. We hold weekly after-school outreach programming for Walker and Dewey Elementary schools' PTA at a discounted tuition price for students, with full scholarship options available to anyone who needs it.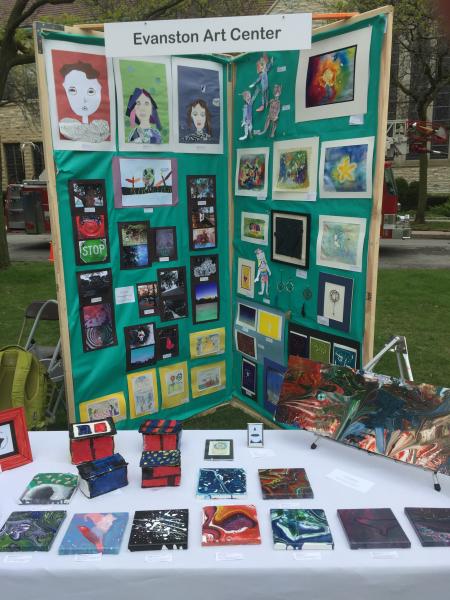 Over the Rainbow (OTR) Partnership:
Over the Rainbow is a non-profit dedicated to increasing the quality of life for individuals with disabilities through the creation of barrier-free housing solutions and person-centered services that encourage independent living. The EAC sends an instructor to OTR Evanston residence to provide an ongoing art class for adult residents with disabilities.
Y.E.A! (Young Evanston Artists)
Y.E.A.! showcases artwork and performances created by Evanston youth in an annual day-long festival. The EAC participates with its own booth to showcase and celebrate the art created by youth taking art classes at the EAC. Y.E.A.! reflects and celebrates the diversity of Evanston by connecting youth, businesses, schools, and the rest of the community.
Loyola Academy's AP and Honors Art Show
Each year the EAC hosts Loyola Academy's AP and Honors art students' work in our galleries! The students work together to curate, install, and publicize the exhibition and participate in an exhibition opening celebration of their hard work.
CAVA Art Show
The Chicago Alliance of Visual Artists (CAVA) is a non-profit committed to artists ages 50 and older. CAVA provides its members with opportunities to exhibit their work, educational programming, community outreach, and social networking events. Every other fall, the EAC partners with CAVA to host a juried exhibition of their member's most recent works. 
COLLABORATED WITH 21 COMMUNITY PARTNERS
Books & Breakfast 

Over The Rainbow 

District 65 PTA

District 65

Y.O.U.

Yelp

 Loyola Academy

City of Evanston 

Industrious

Stevenson High School's Odyssey Festival

Warming House

Wilmette Park District

@Properties

Wilmette Makers Festival

Y.E.A.

Chiaravalle Montessori

Misericordia

Art Makers Outpost

ETHS' Empty Bowl Project

Roycemore

The Merion