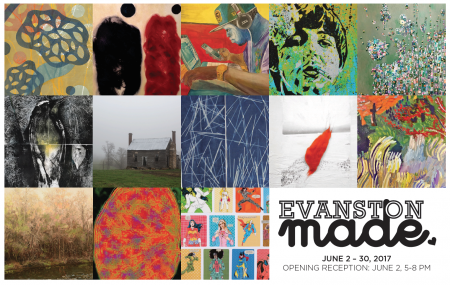 June 2-30, 2017
Opening Reception: Friday, June 2, 5-8PM
Evanston Made is an annual celebration in June that focuses on showcasing Evanston creatives. Throughout the month of June, studios, galleries, museums, workshops and businesses open their doors to showcase works (artistic, artisanal, etc.) and host events by Evanston creatives. Below is a list of ways to participate and engage:
Evanston Made's artist studio tour features more than 75 artist's studios open to the public. Maps for the studio tour are available online and at Evanston Art Center
The Evanston Art Center hosts the exhibit Evanston Made, featuring works by Evanston creatives. 
Amy Amoroso of AnoMaly Productions designs a spectacular shopping experience in the Evanston Made Pop Up Shop at the Evanston Art Center. 
Participating business venues show works by Evanston Artists June 3 - 30, turning the city of Evanston into an Art Gallery. 
Partner organizations throughout Evanston host artist talks, innovator talks, facility tours and more!
Evanston Made Kids! at Evanston Art Center, celebrates young Evanston artists and their families with a day of FREE fun & creativity! This event features a pretty fantastic pop up shop! 
RELATED EVENTS
GROUP SHOW & EXHIBIT
"Evanston Made"
Evanston Art Center
June 2-30 
OPENING RECEPTION
Evanston Art Center
June 2, 5-8 p.m.
ARTIST STUDIO TOURS
June 3, 12-5 p.m.
Maps online & at Evanston Art Center
CENTRAL STREET ART WALK
June 9 – 11, 2017
"Sip & View" Reception: June 9 from 5 – 8PM
Artwork viewing continues through Saturday, June 10 and Sunday, June 11 (select businesses only).
EVANSTON MADE KIDS!
Evanston Art Center
June 17, 12 p.m. - 4 p.m.
Day of FREE fun & creativity for kids & their families!
Oba William King, the Poetic Storyteller, will perform at Evanston Made Kids! in the Second Floor Atrium Gallery between 1 and 3PM. 
King is recognized as one of the most exciting Storytellers of his peer group. Since his debut with the National Association of Black Storytellers at the San Diego conference in 2006, Oba has ignited audiences with his ability to capture their attention and gently release them into the playful realm of rhythm and rhyme. He masterfully combines professional theatrical training with a distinct poetic style. Oba is an entertaining educator sharing the traditional art form, as if it were a sacred gift. Learn more about Oba here: https://obawilliamking.com/
POP UP GALLERY & STORE
June 2-30, in Evanston Art Center lobby
EVANSTON AS AN ART GALLERY!
Venues across Evanston show works by Evanston creatives, June 2 - 30
Over the Rainbow Association will host an opening reception at the Hill Arboretum Apartments (2040 Brown Ave) on June 15 from 2 - 4PM. This exhibition, Art is the Soul of Life, will feature artwork created by Over the Rainbow residents, who are all physically disabled. Each resident will give an artist talk about their work and classes.
Gallery Hours
Monday - Thursday: 9 am - 9 pm
Friday: 9 am - 5 pm
Saturday and Sunday: 9 am - 4 pm
Galleries are handicapped accessible.
Exhibitions are free and open to the public.
Date:
Friday, June 2, 2017 - 9:00am

to

Friday, June 30, 2017 - 9:00pm