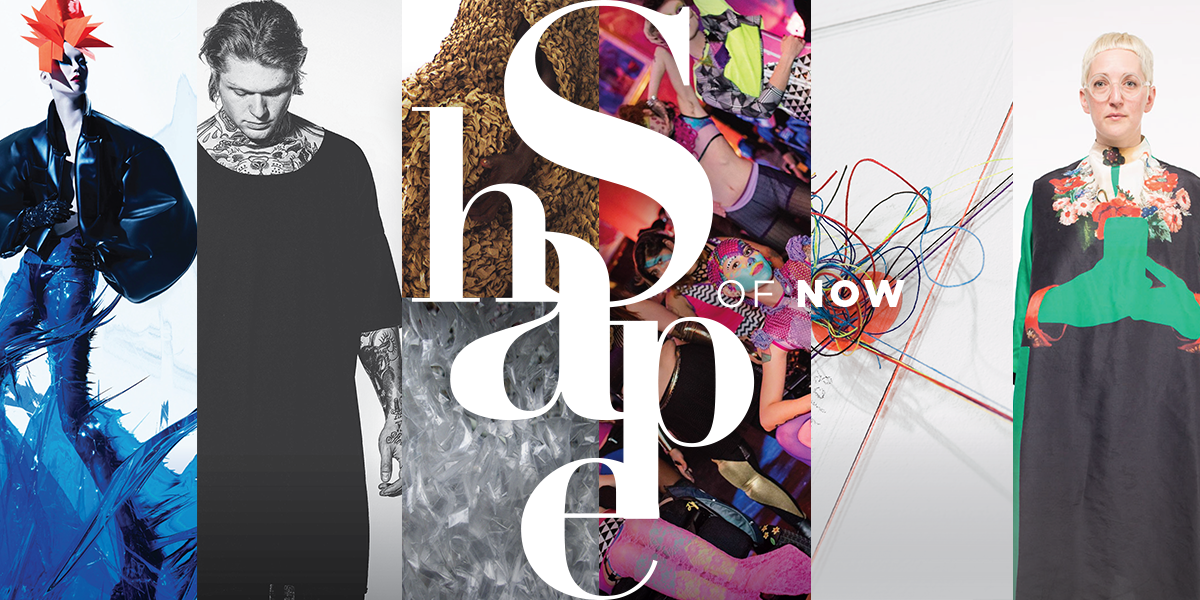 ------------
SHAPE OF NOW Schedule
Opening Exhibition: October 8 – 15, 2017
Ayrun Dismuke of MISANTHROPE: October 16 – 29, 2017
Anne Guitteau and Katrin Schnabl: January 14 – 28, 2018
Kristin Mariani: February 5 – March 2, 2018
Radical Visibility Collective (Sky Cubacub, Compton Quashie and Jake Vogds): March 5 – 31, 2018
The Fair: March 14 - 18, 2018
Alex Ulichny: April 8 – 20, 2018
Abigail Glaum-Lathbury: May 20 – June 17, 2018
Closing Exhibition: July 7 – 22, 2018
The Fair: March 13 - 16, 2019
------------
Program Overview
Katrin Schnabl curates the 2017-18 Fashion Residency at the Evanston Art Center with SHAPE OF NOW, a multi-disciplinary project focused on illuminating the creative process behind the work of multi-disciplinary fashion designers/artists Abigail Glaum Lathbury, Alex Ulichny, Ayrun Dismuke, Kristin Mariani, a collective composed of Sky Cubacub, Compton Quashie and Jake Vogds, and a collaboration with Anne Guitteau and Katrin Schnabl.
A weeklong opening exhibition in October 2017 will introduce the designers, who are subsequently invited to individually take over and work in the 2nd floor studio space for up to four weeks throughout the 2017-18 Season. This will take the form of research, sampling, styling, working with collaborators and/or documenting a phase of their unique design processes. During this time, the designers may elect to host classes, workshops, lectures, topical panel conversations, happenings or presentations as part of their residency. A month-long exhibition in the summer of 2018 will feature the work resulting from their residency. The public will have the opportunity to shop a curated selection of fashion, accessories and objects created by the participating designers at THE FAIR, a unique art-meets-fashion pop-up at the Evanston Art Center in March of 2018.
____
SHAPE OF NOW is curated by Katrin Schnabl.
About the Curator
Katrin Schnabl is a designer, artist and educator. A trained dancer and skilled pattern-maker, Schnabl fuses her two passions to create sophisticated and modern clothes that move sensuously on the body. She has designed for acclaimed dance companies and art performances, which remains an important part of her creative practice. The process of imbedding meaning into pattern-making techniques also informs much of the artist's recent installation work. By placing her hand-cut and sewn assemblages into unexpected locations, she heightens our perception of clothing as a membrane that filters information between individuals and their shifting contexts and interactions. Through distinct capsule collections, the German-born designer also continues to refine her esthetic since launching her first collection in New York in the late '90s. Through her clothing and accessories, Schnabl strives to empower women by creating items reflecting their dynamic lives. In 2004, Schnabl was invited to teach at the School of the Art Institute of Chicago, where she currently serves as the Associate Professor and Sage-Endowed Chair of Fashion in the Department of Fashion Design.