March 13 - 16, 2019
Opening Reception: Wednesday, March 13 from 5 - 8PM
Hours: March 14 & 15: 11am - 6pm; March 16: 10am - 2pm
In its second edition, The Fair 2019 brings together independent fashion designers, artisans, and collectives to present their current spring/summer collections in a unique sales event benefitting the Evanston Art Center curated by Katrin Schnabl. The public will have the opportunity to shop a curated selection of fashion, accessories and objects created by the participating designers and guest artists at THE FAIR, a unique art-meets-fashion pop-up showroom at the Evanston Art Center.
Featured designers include Anna Brown, Andrea Reynders and Gillion Carrara of the collective Material, Anke Loh, Hvnter Gvtherer, Jack Cave, Leon Litinsky, Mizel, and Katrin Schnabl.
Each collection offers a unique and refined point-of-view, with garments and objects that are carefully crafted in small series. Sensitive attention is paid to the uniqueness of the materials selected and its elevation through the artisanal processes, such as Anna Brown's spring 2019 collection, Gillion Carrara's refined metalwork and Leon Litinskys' exquisite handcrafted leatherwork. New design forms are articulated through careful considerations and refined technological innovation, as we can experience in Anke Loh's knitwear and Mizels unique jewelry. Repurposing materials in completely fresh context informs Jack Cave's authentic accessories. Unrushed, these designers invite contemplation and appreciation of process, materiality, and collective engagement, and create fashion as an opportunity to participate and express our identity by connection to what is important to us.
According to Katrin Schnabl, "The Fair 2019 is allowing us to connect with a designers' unique mark on their chosen material. Design is shifting into new territory where we have more knowledge, which is giving us a deeper understanding what we use, and what we leave behind. The agency of the designer takes on a vital and caring concern: what they select to work with, and how."
__________
INVITED DESIGNERS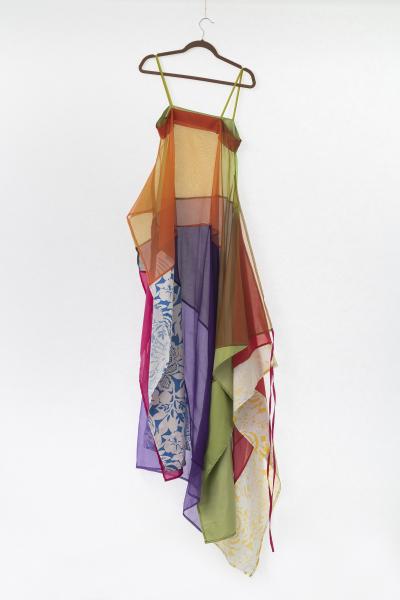 ANKE LOH embraces technology as another way of communication with the body – extending the body to communicate with the outside world as well as the inner word of one's self. She has forged multiple collaborations with technology-focused individuals, research teams, companies and universities in Europe, Asia and the USA, with the objective of blending fashion with the latest technological advances. Her ongoing residencies, grants and conference appearances have enriched her scholarly foundation, enabling her to expand her connections and collaborations with artists and scientists, and to pursue deeper research.
Anke Loh works as a practicing fashion designer, Chair Emeritus and Associate Professor of the Fashion Department at the School of the Art Institute of Chicago where she has been since 2005. She studied fashion at the Royal Academy of Fine Arts in Antwerp, earning an MFA in 1999, after which she launched her former fashion design company, Rosso NV.
Zero Waste Collection | Spring|Summer 2019
Skirt | Short Dress | Long Dress I&II | Tops I— III
This new group is based on the concept of zero waste during pattern and fabric design and production. Inspired by summertime in Chicago, the garments reflect the vibrant life at the shore of Lake Michigan in the Edgewater neighborhood. The thriving beach culture draws a diverse gathering of people in one of the city's most multicultural communities. This urban convergence exemplifies how easy it is for people to live together in a totally inclusive environment. All pieces are light and airy.
INTERKNIT
This selection of scarves is from Loh's INTERKNIT collection, which emerged from her ongoing research into the female form and its significant place in culture, arts and history. The color combinations and select yarns mix lengths, weights, textures, matte with shiny, synthetic and natural fibers.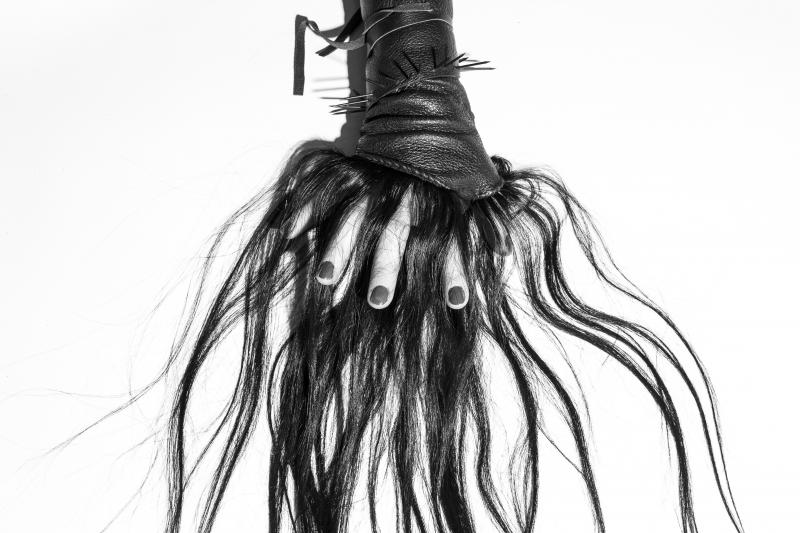 HVNTHER GVTHERER
An artist at heart with a passion for design, Laura Prieto-Velasco founded Hvnter Gvtherer in 2012 to adorn the urban nomad with limited edition designs that pair ancient ideas with elegant minimalism. Raised in Northeastern Pennsylvania and armed with degrees in Metalworking and Design from the Tyler School of Art and San Diego State, Laura learned to appreciate the value of maximizing limited resources and using recycled or sustainably sourced materials. This ethos fuels Hvnter Gvtherer as she makes each piece by hand in limited editions and small batches in her Chicago studio. Laura's interest in object making lies in folklore, archeology and an exploration of the ephemeral.  Her collections include carefully curated objects for the home and classic wearables that record imprints of daily life and continue to evolve together. Committed to these values, Laura shares these ideas with students as an instructor at The School of the Art Institute of Chicago (SAIC).
HVNTER GVTHERER announces the debut of the IRON AGE collection with an experiential fashion/lifestyle show and live performance. In one night only, the darkest of dreams will pierce our illusion of reality.  More nightmare than nirvana, the sensory experience that awaits aims to connect the conscious and the subconscious, the past and the present, the primal and the civilized.
Postdating the BRONZE AGE, the IRON AGE explores systems of power, our relationship with raw materials and the effects of late capitalism. Inspired by a misplaced dream, current events and personal narrative, the designer offers a collection that asks more questions than it can answer.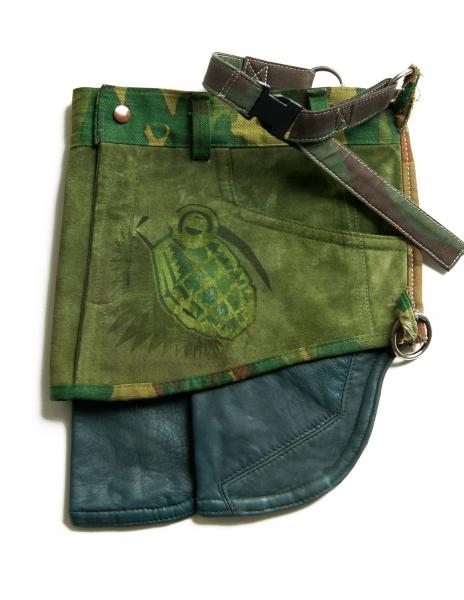 JACK CAVE is a Chicago-based artist, designer, and the founder of Jack Cave LLC. A respected Creative Director, Jack Cave has over 25 years of senior corporate experience in Commercial Graphics (Greeting Cards), Tabletop, Exhibition, Event and Retail Design with major international companies including Hallmark Cards Inc., Toyota Motor Corporation, Tupperware Corporation, Zak Designs and Jack Cave LLC.
Sustainability and recycling have been at the heart of his professional creativity in recent years. In his art and design he combines pre-owned fashion and accessories with commercial fabrics, hardware, cutting-edge photographic and graphics techniques, surface pattern and applied texture.   Jack's passion is for taking the discarded and the overlooked, applying vision and purpose to create meaningful, desirable, and relevant products.
Jacks' art, fashion and accessory collections are available online and have generated an exciting global interest.  His collections have featured in many fashion publications and events throughout the country including key events at Halls Department Store in Kansas City, 'Shape of Now – The Fair 2018' Evanston, and 'One of a Kind Show' Chicago.
Jack is on faculty at the School of the Art Institute of Chicago, where he teaches Shape and Theory in Garments, Advanced Fabrication and Materials, Advanced Shape and Theory and Spatial Habitat.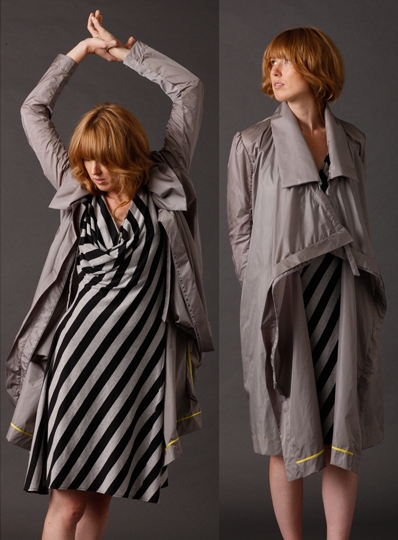 KATRIN SCHNABL is a designer, artist and educator. She has designed for acclaimed dance and performance artists, most recently for the Joffrey Ballet's Nic Blancs' 'Beyond the Shore'. She views fashion as an art of participation. Dance, movement, tactile and sensory research inform her distinct capsule collections, in which Katrin Schnabl strives to empower women through pieces reflecting their dynamic lives. In 2004, Schnabl was invited to teach at the School of the Art Institute of Chicago, where she currently serves as the Associate Professor and Sage-Endowed Chair in the Department of Fashion Design.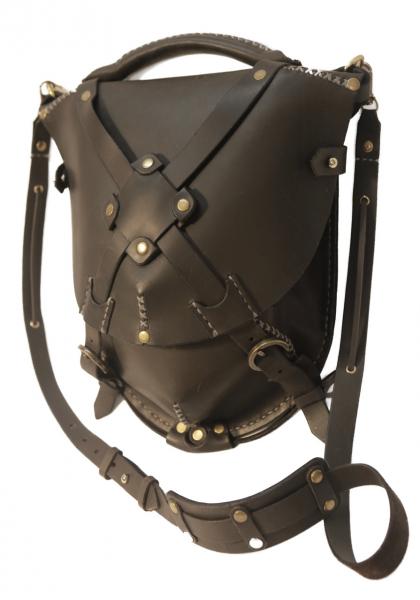 LEON LITINSKY was born in Siberia in 1965. Raised in Kiev, Ukraine he studied at the National School of Art, served in Soviet Armed Forces, and worked as an art restorer and an exhibition designer at the Kiev History Museum and Exhibition Center. In 1992 Leon moved to US, where he founded Fresco Interior Design Studio Inc in 1995.  In 2015 he started to experiment with leather in his studio, and has since developed highly refined craftsmanship in art of leather working. Leather has become his main focus, and Leons' unique one-of-a kind pieces have become sought after internationally, and are frequently commissioned by people from different countries looking for wearable art.
--
Slow down,  now stop...  look around.   
Isn't it amazing how much more you see when you step off the treadmill of the day? When you let go of daily habit and let your feet take you where they will? 
Little things are fascinating, and so often, they are so much  more important than those big things we're all after. 
I'm moving at a steady pace. One quarter of an inch at a time,  stitch by stitch...  Weaving my daily canvas, which is made out of little, not important things, like listening to music.  
I make that perfect cup of coffee which takes time and cannot be rushed, otherwise it will be ruined...  I can't afford to have this cup of coffee imperfect.  
It takes time to make something that will bring satisfaction into your life, and it is what I know about myself so far.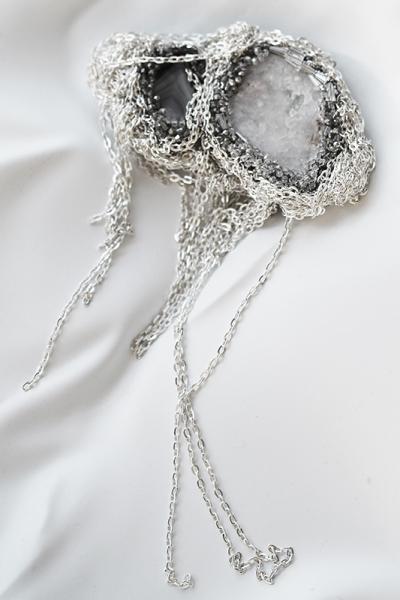 MIZEL
Michelle is the founder and a creative director of Mizel Jewelry, which was launched in 2006 in Seoul, Korea.  Her jewelry designs have been sold in many luxury department stores and museum shops nationwide.  Her work has been featured in Vogue, Elle, Allure, W, In Design, and several other fashion and design magazines.  
After completing her BFA in Visual Communications at SAIC, the she returned to school to pursue her graduate degree in fashion.  Developing her creative vision beyond the commercial world of fashion and researching issues of identity have pushed her to explore new territory as a designer.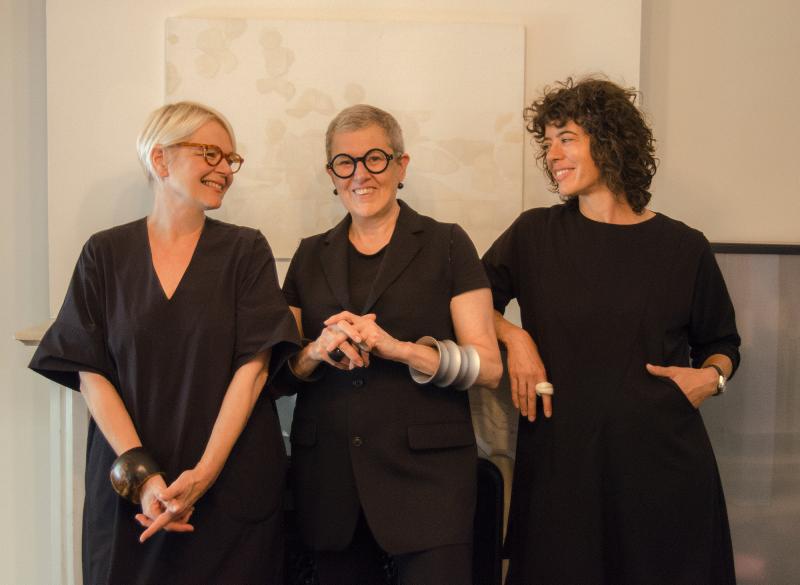 WE ARE MATERIAL (Collective)
MATERIAL is a collective of designers with a shared commitment to a creative practice that redefines the intersection of artisanal tradition with contemporary silhouettes.
MATERIAL will create curated, experiential gatherings in artist spaces that address an aspect of the design practice, such as ideation, collection design, and material sourcing.
We believe that audiences and designers benefit by a more meaningful dialogue. By bringing together diverse designers and artisans who create and manufacture locally, we intend to rekindle this designer-patron relationship in a MATERIAL way.
WE ARE MATERIAL founders: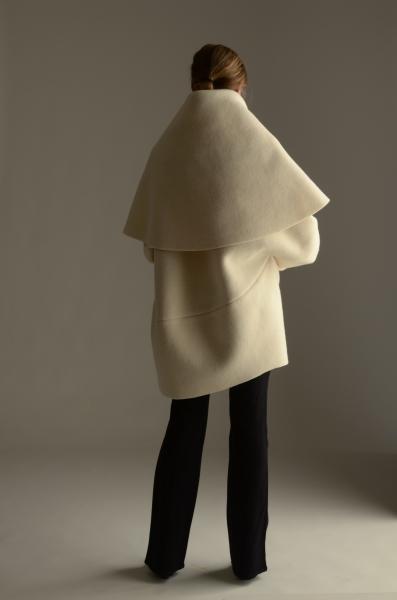 ANDREA REYNDERS designs reflect and define the space between body and garment, dreams and reality and the relationship between our private worlds and our lived expressions of being. This aesthetic approach inspires a vision of dressing that appeals to women and men. Professor Emeritus of the School of the Art Institute's Fashion Department, and currently Design Director at the Chicago Fashion Incubator at Macy's, she continues to nurture designers internationally.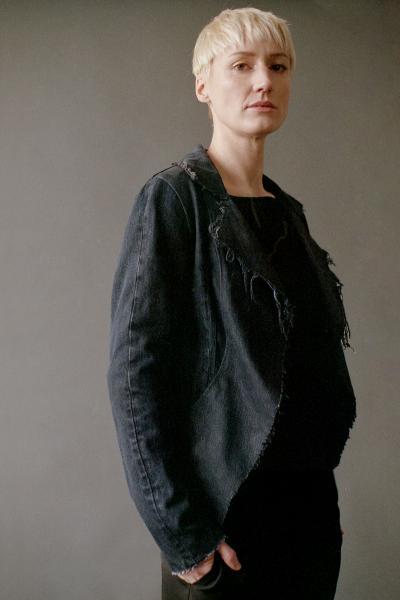 ANNA BROWN brings a background in modern art and comparative literature in Spanish and Portuguese to clothing design. Her collection research includes historical menswear and workwear, twentieth-century art and design, and the built environment's interaction with nature. While always interested in volume, proportion, and dynamic asymmetry, her practice is guided by inventive forms that are true to modern life.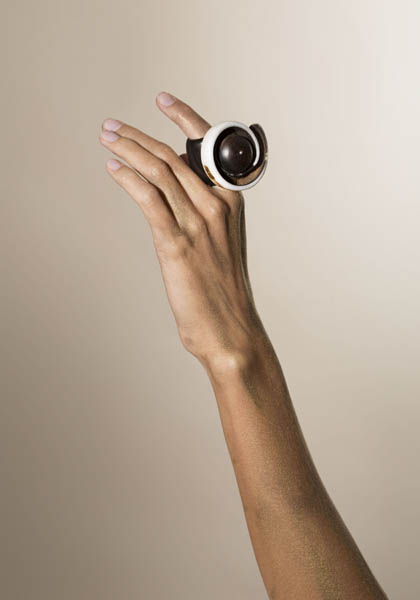 GILLION CARRARA is a Chicago-based metalsmith and academic whose creative process is fueled by her interest in exploring the relationship between materials, function and fabrication. Reflecting her preference for solitary work, she carefully sculpts and molds natural and industrial materials such as silver, horn, shell, wood, and stainless steel sourced locally and internationally. The results are sensual and tactile accessories and objects that have earned her a following among collectors around the world. She is the founding director of the School of the Art Institute Fashion Resource Center and is a member of the faculty.
__________
THE FAIR HOURS: 
Thursday, March 14: 11am - 6pm
Friday, March 15: 11am - 6pm
Saturday, March 16: 10am - 2pm