March 14 - 18, 2018
Opening Reception: Wednesday, March 14 from 5 - 8PM
The Fair brings together independent fashion designers artisans and collectives to present their current spring/summer collections in a unique sales event benefitting the Evanston Art Center. As a part of the ongoing SHAPE OF NOW fashion residency series curated by Katrin Schnabl, the public will have the opportunity to shop a curated selection of fashion, accessories and objects created by the participating designers and guest artists at THE FAIR, a unique art-meets-fashion pop-up showroom at the Evanston Art Center. 
Each collection offers a unique and refined point-of-view, with garments and items that are carefully crafted in small series. Whether the focus is on accessibility and collaboration through fashion as championed by the bright and playful, yet serious work of Radical Visibility Collective, sustainability and ethical manufacturing practices via 'slow fashion' as in Jamie Hayes' Production Mode, technological innovation seen in Anke Loh's knitwear, or on elevating the sensual materiality of garments and objects through artisanal attention, such as Gillion Carrara's jewelry as well as Andrea Reynders' and Anna Brown's collections, new design forms are articulated through these careful considerations. By doing so, designers open up new ways of collaboration and collective engagement, and create fashion as an opportunity to participate and express our identity by connection to what is important to us. 
__________
SHAPE OF NOW RESIDENTS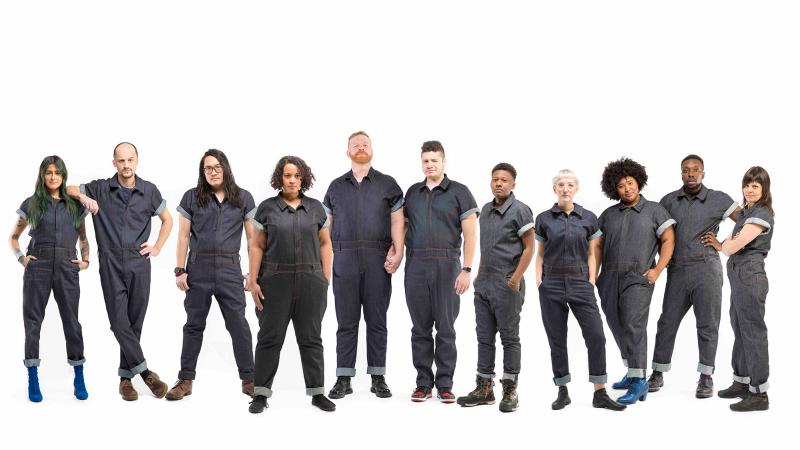 ABIGAIL GLAUM-LATHBURY latest collaborative project, titled JUMPSUIT, asks the question: What if you never had to pick out an outfit again?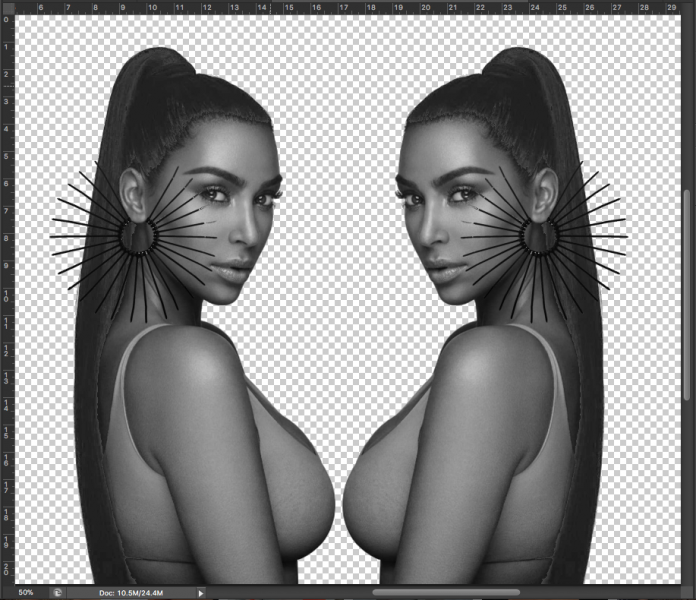 With this new capsule collection created exclusively for The Fair, ALEX ULICHNY is presenting unique accessories for an escape into another world. These modern heirlooms are hand-made in Los Angeles and are a luxurious mixture of silver, plastic, and fur.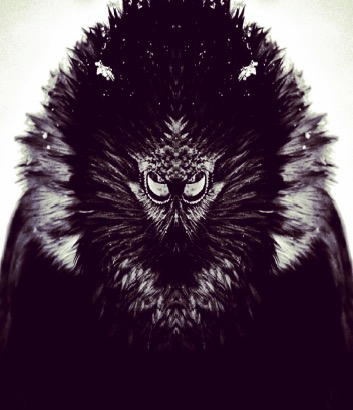 AYRUN DISMUKE OF MISANTHROPE – in the hope to ignite a curious spark in others and showcase the unexpected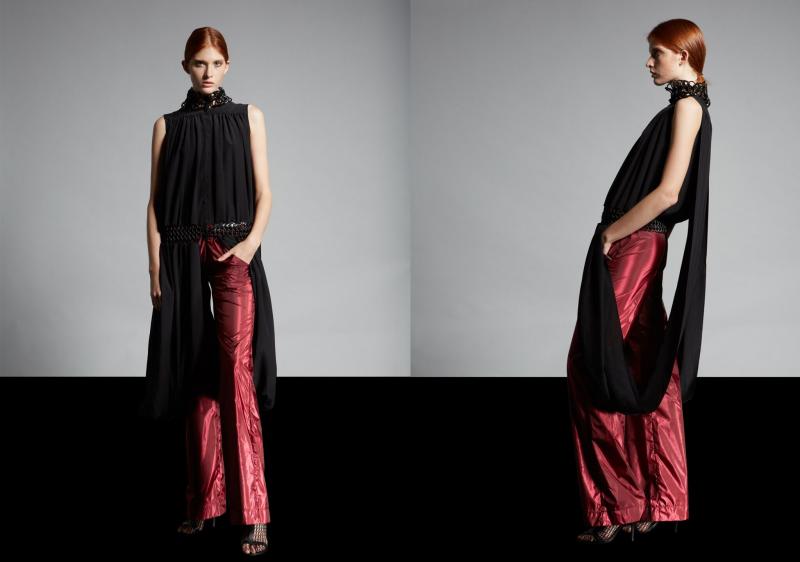 KATRIN SCHNABL empower  –  inspire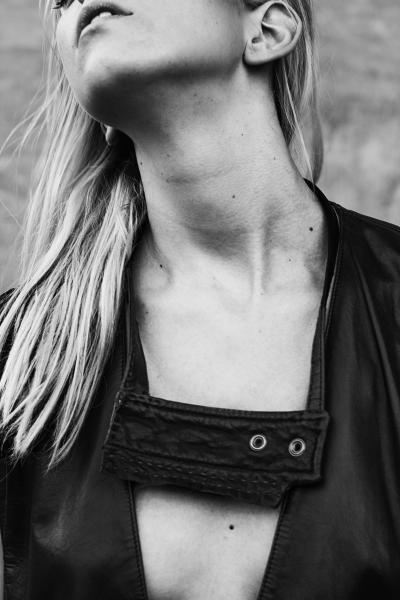 KRISTIN MARIANI / RedShift deconstructs found garments to reveal and conceal identity, deploying aesthetic strategies and craft to probe the historical, material, and labor-oriented underpinnings encapsulated in any effort to clothe the body.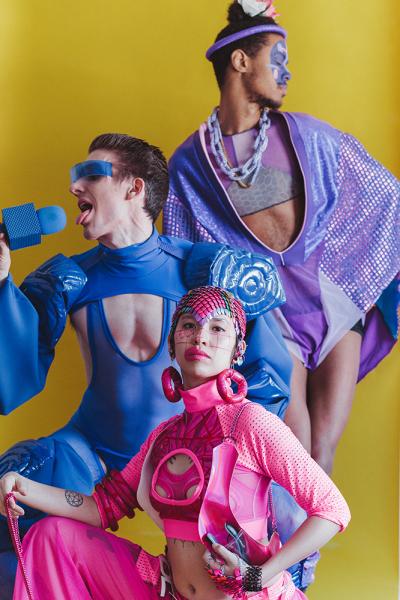 RADICAL VISIBILITY COLLECTIVE offers clothing, wearable and chainmaille jewelry for the full spectrum of gender, size, and ability.
__________
INVITED (GUEST) DESIGNERS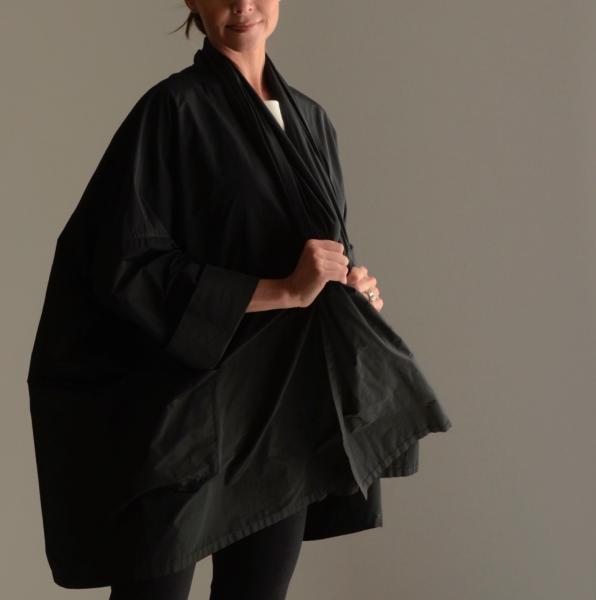 Fashion designer ANDREA REYNDERS has maintained a broad engagement with a range of fashion related endeavors in her varied roles as designer, educator, curator, consultant, and mentor. Reynders' most current line features contemporary coats, and shirts under the Andrea Reynders label. Her modern designs while linear and sculptural are classic. She has lectured at the Field Museum of Natural History in Chicago on Jackie Kennedy, at the Defsa Conference in Johannesburg, South Africa on Fashion and Architecture, and at Archeworks in Chicago on Skin. Both a curator of and artist in exhibitions of fashion art, Reynders has also served as an advisor for publications on fashion for the St. James Press in London, Laurence King Publishing, and the French publication of the Jean Charles de Castelbajac Album. She has been a visiting artist at the Royal College of Art in London, the Department of Design at the University of Johannesburg and the University of Pretoria in South Africa. Reynders was twice awarded a residency at the Quimby Colony in Portland, Maine. At Kendall College of Art and Design in Grand Rapids, she developed curriculum for the Fashion Studies program. Invited to Thembalethu, an HIV-AIDS Home based care center in Mpumalanga, South Africa, she trained poverty stricken young adults design and sewing skills. Professor Emeritus and former Sage Endowed Chair of Fashion Design at the School of the Art Institute of Chicago, Reynders developed and taught numerous courses in fashion as well as interdisciplinary courses that cross the boundaries of art and design. Through her administrative leadership, she was a visionary directing the faculty and students toward growth and change in a department that now has national and international status. Reynders led the development of the SAIC Graduate program: Fashion Body and Garment. Andrea Reynders currently is the Design Director for the Chicago Fashion Incubator, where she mentors six Designers in residence in a two year program. She contributes to many other design initiatives, such as the Chicago History Museum's FashioNext program. She continues to nurture designers internationally.
COLLECTION STATEMENT
Andrea's designs reflect and define the space between body and garment, dreams and reality and the relationship between our private worlds and our lived expressions of being. This aesthetic approach inspires a vision of dressing that appeals to women and men who seek uniqueness and quality in timeless design. It is a lifelong thread of development emerging classic design with modern technology and/or contemporary design with a natural fiber.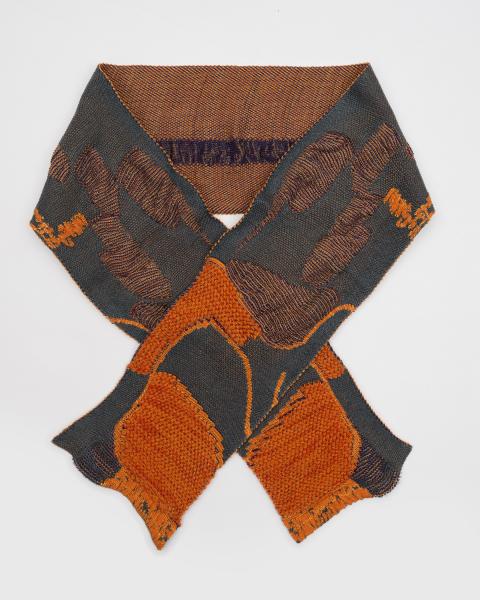 ANKE LOH's fashion collections have drawn international attention since she completed her MFA at the Royal Academy of Fine Arts in Antwerp, Belgium in 1999. Her designs have been featured in international runway shows and showrooms, including New York's Fashion Week, Paris' Centre Pompidou, Japan's Osaka Collection Show, and Mode Expo Antwerp, Belgium.
She forges multiple interdisciplinary collaborations with technology-focused individuals, research teams, companies and universities in Europe, Asia and the USA, exploring ways to blend fashion with the latest technological advances. Her ongoing residencies, grants and invitations to speak at conferences have enriched her scholarly foundation, enabling her to expand her connections and collaborations with artists and scientists to pursue deeper research.
Currently she is combining refined craft techniques with high-tech resources, as she develops new directions with her latest work, employing state-of-the-art Stoll knitting machines during her residencies at TextielLab in Tilburg, The Netherlands.
Today Anke Loh is a practicing fashion designer, and Chair Emeritus and Associate Professor in the Fashion Department at the School of the Art Institute of Chicago, where she has worked since 2005.
COLLECTION STATEMENT
INTERKNIT
Anke Loh's collection of knits revolves around women's stories – their opportunities, challenges, delights and anxieties. Each piece is a blend of bold yet delicate texture and pattern. The color combinations and select yarns mix lengths, weights, textures, synthetic and natural fibers, matte with shiny; all intended to enhance the infinite possibilities of the female form. A varied collection of her scarves will be available for purchase during The Fair at the Evanston Art Center.
ANNA BROWN brings a background in modern art and comparative literature to clothing design. Her collection research includes historical menswear and workwear, twentieth-century art and design, and the built environment's interaction with nature. While always exploring volume, proportion, and dynamic asymmetry, her practice is guided by inventive forms that are true to modern life.
COLLECTION STATEMENT
The Spring 18 collection was inspired by the British Women's Land Army, an organization that enabled women to work in agriculture during the First and Second World Wars, and by the richly detailed botanical drawings of 16th century Swiss naturalist Conrad Gessner. Anna Brown's signature pairing of modern ease with inventive structure and draping takes form in a color palette of deep navy and black, accented by crisp shirting fabrics in grey pinstripe and black and white gingham and layering pieces in black Japanese mesh and reclaimed denim.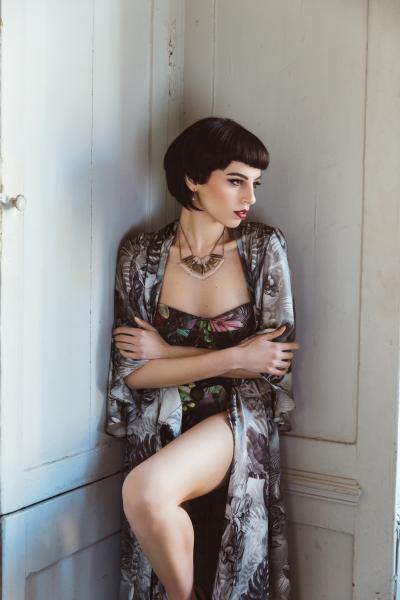 DEPARTMENT OF CURIOSITIES: Hayes and Quinton met while studying fashion at Columbia College. After graduation, Quinton worked in London and established her brand of corsetry, Morúa. Hayes designed for a handbag company in Chicago, and worked in Peru and China as a designer/activist in the ethical fashion movement before starting her brand, Production Mode. The designers reconnected in 2014 when Quinton moved back to Chicago, and found shared studio space. The partnership has subsequently expanded to include the Department of Curiosities concept store, which also hosts exhibitions, pop-up dinners, lectures, and workshops.
COLLECTION STATEMENT
Department of Curiosities is a slow fashion atelier and home to Morúa (designed by Gerry Quinton) and Production Mode (designed by Jamie Hayes). Together we produce an eponymous collection of luxury lingerie and nightwear, made of Italian silks. Items are made in-house to ensure the highest quality and ethical manufacture. In the storefront space, work tables, tools, and patterns are in plain view. The focus is not only on creating beautiful pieces, but on making the design and sewing process transparent. Our collection is inspired by the luminous women of the 1920s-1940s. The beauty ideals of this time were strong, complicated women like Marlene Dietrich, Arletty, Kiki de Montparnasse, and Josephine Baker–women who owned their sensuality in a mature, sophisticated way. Renowned tattoo artist Esther Garcia designed an exclusive print for the line: a dreamy, dark tropical print influenced by the rain forest flora of Costa Rica, where Garcia traveled to illustrate the botanicals in the print, and where Quinton was born and raised.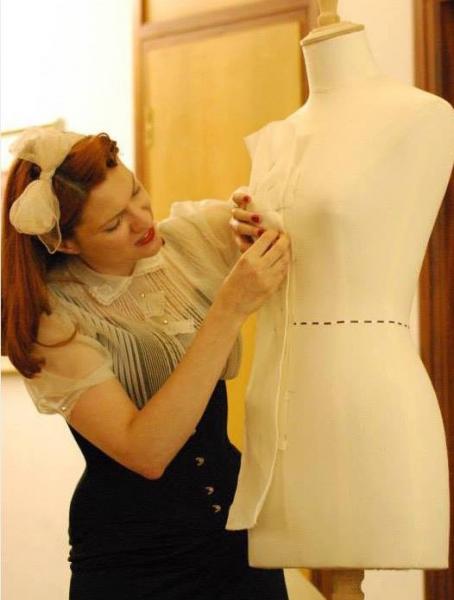 GERRY QUINTON was born in Costa Rica, has also lived in Spain, and England. She recently returned to Chicago from many years in London where she build her reputation as a technician and bespoke designer.  Her collection of corsetry, Morúa, is named for her maternal surname. Her work is influenced by a sense of displacement and nostalgia that comes from leading a life split amongst continents, drawing on old world craftsmanship traditions of tailoring and corsetry.
COLLECTION STATEMENT
Gerry is dedicated to making the process of fitting and creating a custom piece exciting and enjoyable. Located in the vibrant Logan square neighborhood in Chicago, the showroom and studio provide the perfect setting for this unique experience. Morúa can also accommodate long distance clientèle via a comprehensive remote fitting service. She caters to off-beat brides, corset and lingerie aficionados and independent minded fashion lovers world wide. Gerry's career began with an education in Fashion Design at Columbia College, where she won Best Women's Wear Prize and showed in the Driehaus Award for Fashion Excellence. Upon graduation, Gerry relocated to the UK. While in London she worked as a pattern maker in the fashion industry and as a CAD pattern-making trainer for a wide range of industry professionals and learning institutions. Gerry found her passion catering to private clients from her studio in Holloway in North London, where she gained expertise in corsetry and fitting. To further her skill, she studied the antique corsets in the archives of Symington Collection and the Museum of London. Her commissions have ranged from aristocratic weddings to one-of-a-kind traditionally tailored frock coats. In addition, she has created a ready-to-wear corset line for Violet's Box. She is a founding fellow of the Oxford Conference of Corsetry, the brain child of organizer Julia Bremble.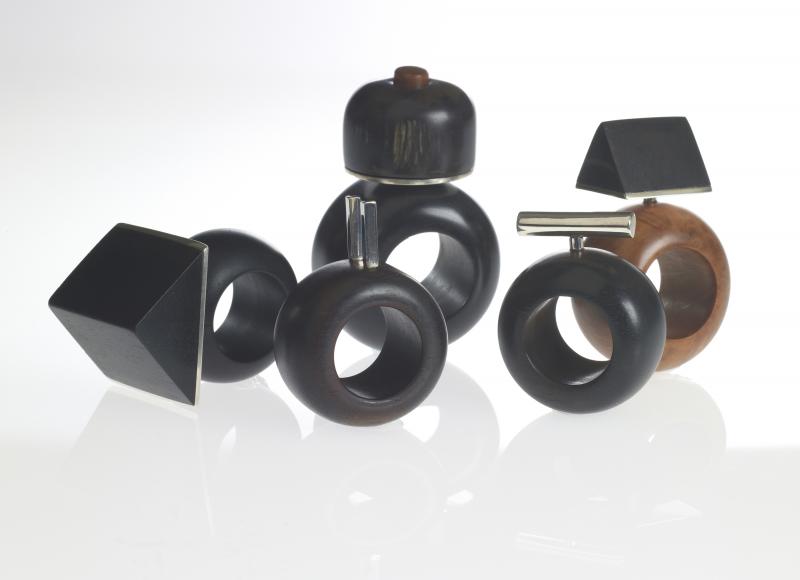 GILLION CARRARA - metalsmith and educator has endeavored her entire adult life as a maker; whether metal work for jewelry and objects in her studio, preparing a lecture for classes in the Department of Art History, or directing the Fashion Resource Center at the School of the Art Institute of Chicago. The F R C celebrates thirty years as an SAIC Special Collection September, 2017. She is invited nationally and internationally to speak on the hands-on study collection of contemporary and avant-garde dress or on related topics of art and dress. Carrara grew up on the western suburbs, although after an ideal childhood she traveled east to art school and then to Florence, Italy to the Academia di Belle Arti and then to a design studio for a number of years in Milan. Italy is a frequent destination as well as the Netherlands and Japan most often to view fashion in exhibition and art in museums. Presently, she is on the board of the Costume Colloquium in Florence, a member of the International Committee of Museums (ICOM) and a member of the Costume Society of America (CSA).
COLLECTION STATEMENT
Remnants capture me. There is beauty in a once-living being that has left behind a piece of itself, a life that will continue beyond the body. As long as I can remember, I wanted to learn and make, and I had very lofty thoughts to experiment and investigate materials. Creating a commonplace object does not arrest my imagination. Creating an object of beauty as I see it holds great meaning to me, and my work explores the relationship between materials, design and function. Imperfection creates its own aesthetic authority, a beauty formed in the unusual and the unknown. As an artisan, my interest in solitary work involves my pursuit of natural and industrial elements which I form into ornamental and functional accessories. These components are integral to communicating my design ideas. Often, I appropriate materials that evoke specific responses based on cultural and psychological association - bone, horn, shell, antler, and various woods and briar root combined with precious metals - silver, gold and bronze. I select materials from sources in Tuscany, Africa, and India as well as the western and mid-western United States. Singular hand crafted pieces include wooden cuffs, wood and bone rings, silver earrings, letter openers, marmalade and cheese knives, men's accessories, blush brushes and shaving brushes. As the continuum of new materials and stimuli from my surroundings challenges and inspires me, I find new directions to investigate as my artistic interests evolve. My work integrates streamlined, minimal design with honest attention to refined details of craftsmanship and a profound respect for the materials I use. What drives my designs are the pure forms of architecture and nature that have always absorbed my attention.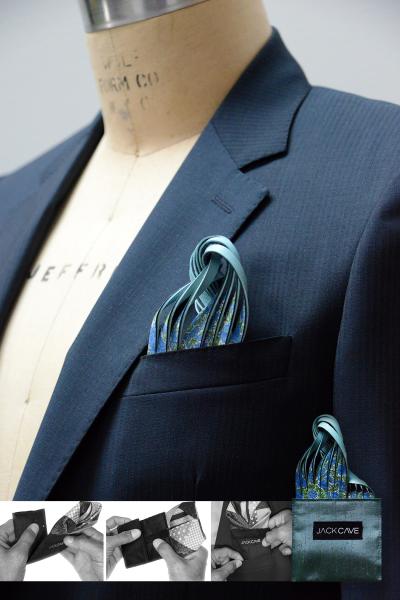 JACK CAVE is a Chicago-based designer, photographer and artist. Jack Cave has over 25 years of branding, design, interior and fashion experience as a Senior Creative Manager and Chief Creative Director for a number of international retailers and manufacturers, companies include: Hallmark Cards Inc, American Jazz Museum, Zak Design Inc, Tupperware Corporation, Toyota Chicago Creative Lounge and Jack Cave Design LLC.Director for a number of international retailers and manufacturers, companies include: Hallmark Cards Inc, American Jazz Museum, Zak Design Inc, Tupperware Corporation, Toyota Chicago Creative Lounge and Jack Cave Design LLC.
COLLECTION STATEMENT
Jack Cave is re-engineering the Discarded and Overlooked into one-of-a-kind High Fashion.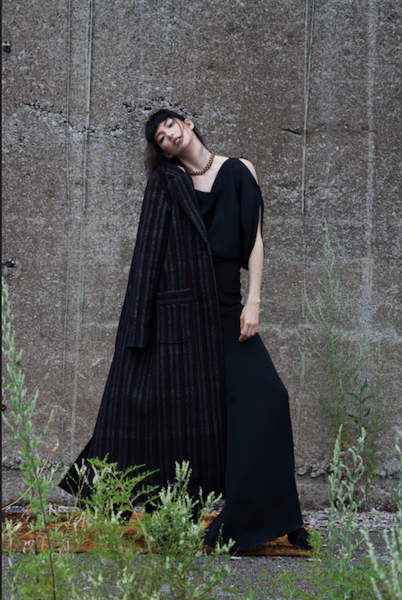 PRODUCTION MODE is designed in Chicago by Jamie Hayes. Her design philos­ophy is one of slow fashion. Her process starts with the prove­nance, quality, and unique­ness of mate­rials and tech­niques. Her pieces are ethically-made, built to last, and imbued with authen­ticity. Each collec­tion begins with an artist collab­o­ra­tion to produce custom mate­rials. Her first current collection features a custom hand-screened print designed by artist Paula Wilson, and printed on to vegetable tanned leather from Chicago's Horween tannery. For her second collection, she developed five custom textiles, designed and produced by our Chicago neighbors, The Weaving Mill, inspired by the drawings and art practice of Mexico City-based artist Nuria Montiel.
COLLECTION STATEMENT
MOVE/REPEAT is a collection of draped, twisted silhouettes: blankets and wraps cocooning. The custom merino wool/cotton textiles for the collection were developed in collaboration with Mexico City based artist Nuria Montiel, and woven in Chicago at The Weaving Mill. All pieces are cut and sewn in her Logan Square atelier following a slow fashion model of production. 
__________
RELATED EVENTS:
Designer Panel Discussion: Saturday, March 17 at 1PM
This panel discussion will offer a window into the creative practices of our designers, who will be on hand to introduce their work and to share insights into their processes and stories.
THE FAIR HOURS: 
Thursday, March 15: 11am - 6pm
Friday, March 16: 11am - 6pm
Saturday, March 17: 11am - 3pm
Sunday, March 18: 11am - 3pm