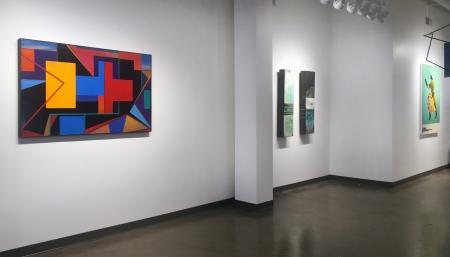 NOW THROUGH AUGUST 9
Our New Location: 1717 Central Street, Evanston
Curated by Sergio Gomez, Curator | Gallery Director, 33 Contemporary Gallery, Zhou B Art Center

Hybrid's Paradise is comprised primarily of works by Chicago based artists and explores dualities, sequences, pairings, and other hybrid structures of organic, mechanical, social, political, spiritual and psychological natures.

Reflecting on the current state of an interconnected, fast-evolving society and celebrating the Evanston Art Center's new multi-discplinary space, this multi-media art exhibition presents a subjective and personal view of a hybrid world experience. From cultural and genetic to technological fusions, the works in this exhibition embody a state of change and transformation. In this new paradigm, human adaptation to an always changing environment is inevitable. Thus, hybrid's paradise has arrived.
Artists:
Reggie Baylor
Jason Brammer
Tom Burtonwood
Mahwish Chishty
William Conger
Christopher Cosnowski
Rory Coyne
Victoria Fuller
Sarvin Haghighi
Beth Kamhi
Wesley Kimler
Jason Lazarus
Lauren Levato
Dana Major
Erin McClellan Zhoushi
Cecil McDonald Jr.
Ed Paschke
Michael Pelletier
Alfonso Piloto Nieves
Robert Porazinski
Dan Ramirez
Marcos Raya
Jay Strommen
Eric Tucker
Michael Van Zeyl
Monika Wulfers
Video/art/sound installation by: Christopher Preissing, Pia Cruzalegui, Mario Gonzalez Jr. and Anna Piszczor

Stay tuned for two workshops by the curator Sergio Gomez.