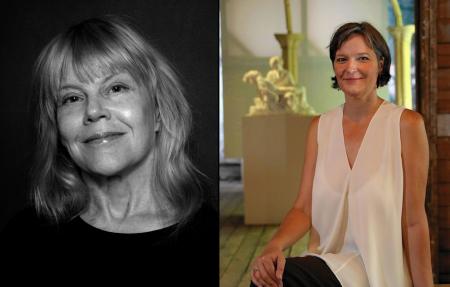 On Sunday, December 11 at 3pm, join us for an artist talk, "In conversation with Connie Noyes and Tricia Van Eck."
This lecture is a part of the ongoing EAC series, In Focus. In Focus features a variety of talks and presentations by ​artists, art professionals, historians and more!
Join Artist Connie Noyes and Tricia Van Eck, Artistic Director and Founder of 6018North, to discuss Noyes' exhibition; we are built in water.
ABOUT THE SPEAKERS
Connie Noyes, a multidisciplinary artist, received her MFA from the School of the Art Institute of Chicago and an MA in Psychology and Art Therapy from Notre Dame de Namur University. Since 2016, Noyes has studied Butoh and mindfulness meditation. She has become re-licensed as a psychotherapist, trained as a death doula and Grief Recovery Specialist – experiences that supported her research into grief and mourning. 
Amongst Noyes' many notable solo exhibitions and residencies in the US, she has also gained international recognition and participated in the TransArt summer program in Berlin, Germany; attended residencies at Arteles, Finland; ChaNorth, New York; the Emaar International Art Symposium, Dubai, UAE; Thupelo International Workshop, Cape Town, South Africa; and was a selected artist for Art Abu Dhabi, representing Salwa Zeidan Gallery in the UAE. Noyes' work is in the collections of The Museum of Contemporary Photography, Chicago, Illinois; The Ekstrom Library of Photographic Archives Special Collections, Louisville, Kentucky; and the Greenville County Museum, South Carolina.
Tricia Van Eck is a curator with over 20 years experience, first at the MCA Chicago for 13 years, and then as the founder of 6018North, which empowers multidisciplinary artists to work together and with the public to nurture creativity, build community, and enhance Chicago's quality of life. 6018North fosters innovation, challenging what art is, whom it's for, and where and how it is created. Her work at 6018North and across Chicago ranges from large-scale Chicago Architecture Biennale installations to Chicago's Year of Public Art's community engaged experiences. At the MCA, Van Eck organized more than 70 exhibitions and programs that encouraged artists to be experimental, audience engaged, and interactive, all of which are the backbone of 6018North's work.
We are built in water will be on view in the Evanston Art Center's Main Second Floor Gallery + Atrium from November 12 – December 18, 2022.
Attendees are invited to explore the exhibition prior to the artist talk.
Learn more about the exhibition here.
ABOUT THE EVENT
This hybrid lecture will be held in-person at the Evanston Art Center and virtually via zoom.
Registration is required.