Classes:
Art School: Drawing & Painting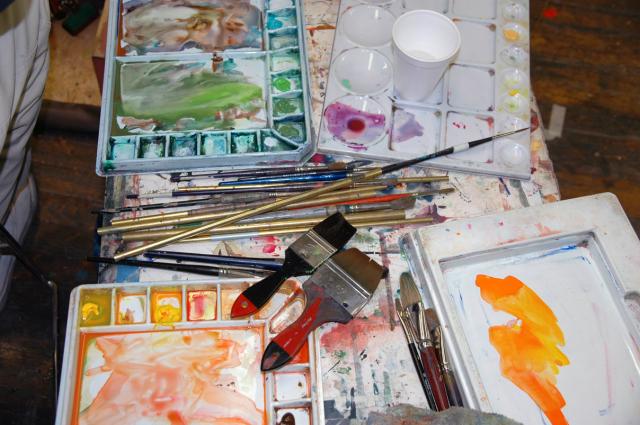 Beginning to advanced students may choose from a variety of courses including life drawing and painting, portraiture, watercolor, pastels, ink, gouache, egg tempera, acrylic, oil and mixed-media painting, drawing and much more. Explore representational to abstract styles and work from still lifes, models, photographs and the imagination. Drawing and Painting classes are divided into 5 categories: Drawing, Painting, Drawing & Painitng, Figure and Portrait, and Mixed Media. (You can click on the category name here or use the navigation bars on the right to view classes listed by category.)
Please see Adult Workshops for additional drawing and painting classes.
Evanston Art Center membership is not required to enroll in these courses, however, EAC members receive a tuition discount. Click here to purchase or renew membership.
For information regarding refunds, cancellations, financial aid and scholarships, and more, click here.
Monday 6:30 - 9:30 pm Five-week class beginning March 27, 2017

Monday 1 - 4 pm Ten-week class beginning March 27, 2017

Monday from 9:30 am - 12:30 pm Five-week class beginning March 27, 2017

Monday 6:30 - 9:30 pm Ten-week class beginning January 9, 2017

Monday 6:30 - 9:30 PM Nine-week class beginning March 27, 2017

Monday 9:15 am - 12:15 pm Ten-week class beginning March 27, 2017

Monday 6:30 - 9:30 pm Ten-week class beginning March 27, 2017

Monday 1 - 4 pm Nine-week class beginning March 27, 2017

Monday 9 am - 12 pm Ten-week class beginning March 27, 2017

Tuesday 6:30 - 9:30 pm Ten-week class beginning March 28, 2017

Tuesday 9 am - 12 pm Ten-week class beginning March 28, 2017

Tuesday 6:30 - 9:30 pm Ten-week class beginning March 28, 2017

Tuesday 9:30 am - 12:30 pm Ten-week program beginning March 28, 2017

Tuesday 2 - 5 pm Ten-week class beginning March 28, 2017 Note: This class was listed as meeting from 1 - 4 pm in our printed catalog.

Tuesday 9:30 am - 12:30 pm Five-week class beginning March 28, 2017

Wednesday 1 - 4 pm Nine-week class beginning March 29, 2017

Friday 1 - 4 pm Ten-week class beginning March 29, 2016

Wednesday 9:30 am - 12:30 pm Five-week class beginning March 29, 2017

Wednesday 9:30 am - 12:30 pm Nine-week class beginning March 29, 2017 Note: No class May 10

Wednesday 1 - 4 pm Ten-week class beginning March 29, 2017

Wednesday 6:30 - 9:30 pm Ten-week class beginning March 29, 2017

Nine-week class beginning March 29, 2017

Wednesday 9:30 am - 12:30 pm Ten-week class beginning March 29, 2017

Wednesday 9 am - 12 pm Ten-week class beginning March 29, 2017

Wednesday 1 - 4 pm Ten-week class beginning March 29, 2017

Thursday 9:30 am - 12:30 pm Eight-week class beginning January 12, 2017

Thursday 1 - 4 pm Ten-week class beginning March 30. 2017

Thursday 1 - 4 pm Ten-week class beginning March 30, 2017

Thursday 6:30 - 9:30 pm Ten-week class beginning March 30, 2017

Thursday 9 am - 12 pm Ten-week class beginning March 30, 2017

Thursday 9:30 am - 12:30 pm Five-week class beginning March 30, 2017

Thursday 9:30 am - 12:30 pm Five-week class beginning May 4, 2017

Thursday 1 - 4 pm Ten-week class beginning March 30, 2017

Thursday 9:30 am - 12:30 pm Ten-week class beginning March 30, 2017

Friday 1 - 4 pm Ten-week class beginning March 31, 2017

Friday 9:30 am - 12:30 pm Ten-week class beginning March 31, 2016

Friday 9:30 am - 12:30 pm Nine-week class beginning March 31, 2017

Friday 1 - 4 pm Ten-week class beginning March 31, 2017

Saturday 9:30 am - 12:30 pm Ten-week class beginning April 1, 2017

Saturday 1 - 4pm Five-week class beginning April 1, 2017

Saturday 1 - 4 pm Ten-week class beginning April 1, 2017

Sunday 10 am - 1 pm Ten-week class beginning April 2, 2017

Sunday 12:30 - 3:30 pm Ten-week class beginning April 2, 2017

Monday 1- 3 pm Ten-week class beginning April 3, 2017 Note: This class was originally scheduled to begin on March 27 in our printed catalog.

Monday 9:30 am - 12:30 pm Five-week class beginning May 1, 2017

Tuesday 9:30 am - 12:20 pm Five-week class beginning May 2, 2017

Wednesday 9:30 am - 12:30 pm Five-week class beginning May 2, 2017