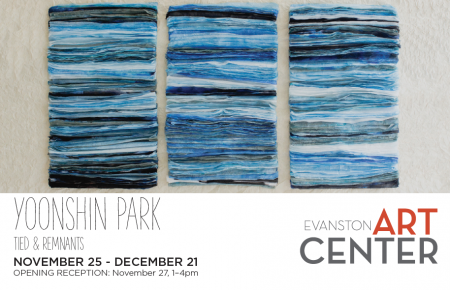 November 25 – December 21, 2016
Opening Reception: Sunday, November 27 from 1-4PM
Yoonshin Park's work focuses on pulp, paper, and artist books. Receiving her M.A. and M.F.A in Interdisciplinary Book and Paper Arts from Columbia College Chicago, Park has since concentrated on the comprehensive process of papermaking and bookbinding, interweaving these elements into artistic objects. Confined by the fragile and vulnerable qualities of handmade paper, the tactile layers used in Park's work strive to capture traces of accumulated time and fragmented introspection. 
Park has exhibited both nationally and internationally including ARC Gallery, Chicago, IL; Bridgeport Art Center, Chicago, IL; Columbia College, Chicago, IL; Kalamazoo Book Arts Center, Kalamazoo, MI; Daecheong-ho Art Museum, Chungwon, Korea; Simyo Gallery, Seoul, Korea; Woman Made Gallery, Chicago, IL. She was born in Seoul, Korea and currently resides in Chicago, IL.
Gallery Hours
Monday - Thursday: 9 am - 9 pm

Friday: 9 am - 5 pm

Saturday and Sunday: 9 am - 4 pm
Galleries are handicapped accessible.

Exhibitions are free and open to the public.