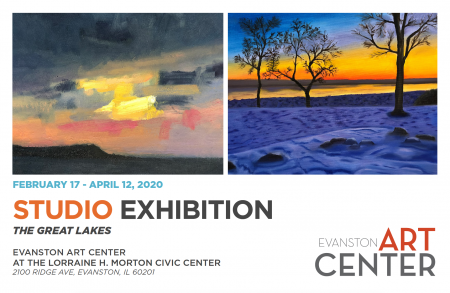 LOCATED AT THE LORRAINE H. MORTON CIVIC CENTER (2100 Ridge Ave, Evanston, IL 60201)
February 17 - April 12, 2020
Immerse yourself in artwork depicting one of the greatest natural features of the world - The Great Lakes! This exhibition is in collaboration with the Lorraine H. Morton Civic Center, and features artwork inspired by the Great Lakes. Each artist is a member of the Evanston Art CenterÔÇÖs (EAC) Painting & Drawing and Printmaking Departments.
The EAC student body ranges from first-time beginners to experienced artists. Some EAC students are already professional artists or have gallery representation, and choose to take classes at the Art Center in order to explore new media and techniques, have regular access to figure models and to benefit from peer interaction with other artists. Others are brand new to art making and starting with the basics! All levels of experience are welcome.
CIVIC CENTER HOURS
Monday - Friday: 8:30 am - 5 pm
Saturday and Sunday: CLOSED
Exhibitions are free and open to the public.