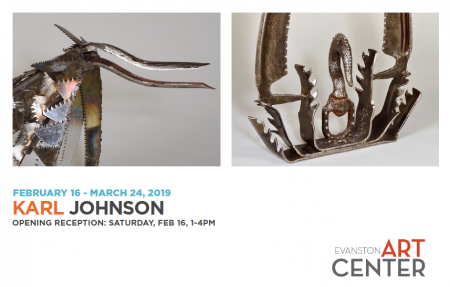 February 16 - March 24, 2019
Opening Reception: Saturday, February 16 from 1 - 4pm
ARTIST BIO
Karl grew up in a world of forestry and art in the small town of Libertyville before car dealerships and subdivisions became part of the landscape. KarlÔÇÖs extensive educational travels have influenced his worldview and his art. He started out at the Chicago Academy of Fine Arts then went on to the School of the Art Institute of Chicago for his BFA. He continued his studies at the Sir J.J. Institute of Art in Mumbai, India where he studied Indian Miniatures and Mural painting and taught art at a local high school immersing himself in Indian life. His first major show was held at the American Cultural Center in Mumbai. A grant from the American Scandinavian Foundation provided him the opportunity to study at the University of Lund in Sweden. While there he started painting on glass and exhibited frequently at the local art galleries. Three years later he transferred to the University of Denver to study art restoration.
Upon returning to Evanston Karl joined his family business, a leading arboricultural enterprise where he served as Vice President. All through the ensuing years Karl has continued to paint and sketch, inspired by the nature that surrounded him and his numerous clients. In 2008, he made the decision to once again devote all his time to the arts. Since then Karl has exhibited at numerous venues including the Chicago Swedish Museum, the Korean Cultural Center, Lorraine H Morton Civic Center, Evanston City Hall and Lake County College. Karl was one of the artists who participated in the Chicago Tree Project, which was sponsored by Chicago Sculpture International and the Chicago Park District.
Karl has developed several distinct painting techniques that use multiple layers of paint to achieve his vision. Maze like patterns are interspersed with abstract forms to conjure the minutia and magnitude of the human condition. Trained as a painter his approach to welding and the related processes of metal sculpture are an extension of drawing and painting. He currently works and studies at the Chicago Industrial Arts and Design Center in Chicago.
Many of the materials that he uses are sourced from societyÔÇÖs discarded and outdated objects; saws, car and truck parts, shovels and farm equipment. These non art vernacular objects are lovingly deconstructed, sand blasted, polished and colored with different patinas giving them a symbolic value as well as a transformative power. Reassembled, many of these new constructions are a metaphorical blend of nature and humanity reflecting a dystopian yet hopeful future in a world of contradictions.