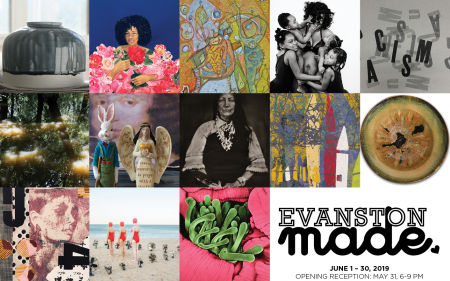 June 1 - 30, 2019
Opening Reception: Friday, May 31 from 6 - 9pm
Evanston Made is an annual celebration in June that focuses on showcasing Evanston creatives. Throughout the month of June, studios, galleries, museums, workshops and businesses open their doors to showcase works (artistic, artisanal, etc.) and host events by Evanston creatives.
EVANSTON MADE GROUP SHOW
Evanston artists living or working in Evanston are invited to participate in the 6th Annual Evanston Made Group Show at the Evanston Art Center.
POP UP GALLERY & STORE
Hosted by the Evanston Art Center and produced by Anomaly Productions, the Pop-Up Gallery and Store is an "all-inclusive" event, located in the lobby of the Evanston Art Center from May 31 - June 30.
RANGE MOBILE LAB MURAL
The Range Mobile Lab mural currently on exhibit on the east side of the Evanston Art Center was generated from earlier Range Mobile Lab Evanston video remix performances. By Mat Rappaport with Anne Hayden Stevens.
The Range Mobile Lab, a converted a 1995 GMC step van, captures images from the surrounding environment which are mixed with preexisting video and projected onto screens mounted in the side windows of the truck. Sitting in the passenger seat of the truck, Rappaport ÔÇ£remixesÔÇØ the environment in real time, performing a moving intervention into architectural space. Thus, "range" continues artist Mat RappaportÔÇÖs effort to shape the experience of urban environments through media-based interventions.
CLICK HERE to view a video of the Range Mobile Lab mural.
CLICK HERE TO VIEW IMAGES FROM THE OPENING RECEPTION.
Images by Dana Chen
---
RELATED EVENTS @ the Evanston Art Center
SIDE / LOT EXPERIMENTAL FILM FESTIVAL
Friday, May 31 at 8:45pm
SIDE/LOT, an experimental video showcase of work by local Evanston artists, will present an outdoor screening that will take place on the east side of the Art Center on May 31 at 8:45PM, in addition to regularly scheduled indoor screenings throughout June.
Sunday, June 9, 11am - 3pm
Evanston Made Kids! features a family-friendly FREE day of making, creating, selling and celebrating Evanston's Young Creatives hosted by the Evanston Art Center!
SIP N' SHOP
Thursday, June 27, 6 - 8pm
Enjoy a night of art & shopping! 
ARTIST TALKS
Beautify Your Wall with a Mural
Wednesday, June 19, 7:30 - 8:30pm
Join us for a presentation and Q&A led by the dynamic duo, Lea Pinsky & Dustin Harris of Art Encounter and the Evanston Mural Art Program, who are responsible for beautifying many of the walls of Evanston with murals!
Side/Lot Film Talk with Curators & Artists
Wednesday, June 26, 7:30 - 8:30pm
Join the SIDE/LOT Curators and Artists for a viewing followed by a discussion. This second annual experimental video showcase features film submissions of experimental and short-form videos created by video makers who live or work in Evanston as part of Evanston Made.