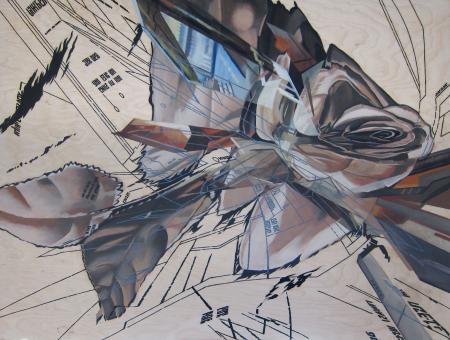 The works on view find inspiration from the natural world, yet the artists are not content to end their explorations with mere representation. Allison Peters Quinn, Director of Exhibition & Residency Programs at the Hyde Park Art Center and Sergio Gomez, Gallery Director of 33 Contemporary Gallery at Zhou B. Art Center selected these three Chicago artists from last year's Biennial exhibition. This special exhibition featuring the work of Noelle Allen, Robert Porazinski and Jennifer Yorke will be exhibited in our galleries from March 15 through April 26, 2015.
Noelle Allen's experimental, interdisciplinary artworks are physically and psychologically charged and have often been influenced by the natural fauna and organic materials found in her own garden.  
Robert Porazinski's visually complex paintings engage in a dialogue between the natural and the technological. The fragmented accumulations and adaptations provide new possibilities for considering our relationship to nature.  
Jennifer Yorke employs the process of collage as she examines how the natural imperfections of the body assert their own inherent beauty over the glossy veneer of the omnipresent commercial image of perfection. 
View photos from the exhibit opening here. All photos ©2015 Jeff Lewis-Mathieu. Also read a review of Robert Porazinski's show on Sergio Gomez's blog.
Artwork featured here is "HybridII, oil on birch panel, 36" x 48", 2014 by Robert Porazinski