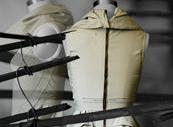 September 11 – November 6, 2011
You have until November 6 to view the exhibition TimeOut Chicago has highly recommended, Dimensional Lines: art + dress. A special exhibition publication featuring scholarly essays, participating artists' profiles, and exhibition images will be available for purchase by mid-November. You can purchase this $20 publication from our web site. 
This exhibition features a group of Chicago-based artists and designers who are at the forefront of their disciplines and agreed to collaborate on an exhibition exploring the relationship between art and fashion - in the context of Chicago's own vibrant contemporary art and fashion scenes. 
Dimensional Lines curator, Gillion Carrara, has enlisted an international group of artists and designers, including Fraser Taylor, Conrad Hamather, Melissa Serpico Kamhout, Beata Kania, Anke Loh, Kristin Mariani, Katrin Schnabl, and Kristina Sparks. Each comes to the project with an established body of work and diverse experiences. These include producing illustrations for Andy Warhol at Interview Magazine to creating intricate embroideries in the couture ateliers of Givenchy in Paris. 
Additional contributions will be made by noted writers Sandra Michels Adams, Alex Aubry, Caroline Bellios, Stuart Dybek, and Margaret Hawkins, as well as set designer, Mary Griswold and lighting artist, Geoffrey Bushor. This unique exhibition will offer visitors a rare opportunity to experience innovative art and design within the Art Center's historic setting.
Please download the video by Elizabeth O'Leary which includes images from the exhibition and  curatorial comments by Fraser Taylor and Gillion Carrara. Enter password 071807 in the appropriate box and click "validate password", then choose the regular download option.