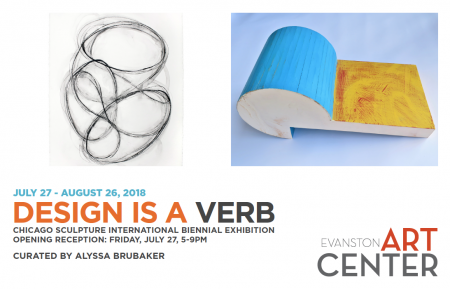 July 27 - August 26, 2018
Opening Reception: Friday, July 27 from 5 - 9pm
What are the design decisions that artists make that inform their art-making process, or do they simply employ intuition? What does the design process of an artistic object mean when we think about and look at contemporary art and how might these choices help us understand the works themselves? Alyssa Brubaker curates the 2018 Chicago Sculpture International Biennial Exhibition Design is a Verb featuring works from Carol Brookes, Jan Brugger, Doug DeWitt, Gabrielle Egnater, Christine Forni, Victoria Fuller, Ron Gard, Shelley Gilchrist, Barbara Goldsmith, Karen Gubitz, Sunny Han, Gary Kulak, Boruch Lev, Ricardo Mondragon, Scott Mossman, Yoonshin Park, Jan Petry, Andrei Rabodzeenko, Gina Lee Robbins, Dominic Sansone, Bobby Scribner, and Diane Tang.
ABOUT THE CURATOR
Alyssa Brubaker (b.1986, Philadelphia) is the Exhibitions Coordinator at the Reva and David Logan Center for the Arts at the University of Chicago, and the Director of Design at the Evanston Art Center. Brubaker has a B.F.A in Sculpture from Tyler School of Art, Temple University, Philadelphia, PA, and spearheads curatorial projects in her free time.
CLICK HERE to view images from the Opening Reception.