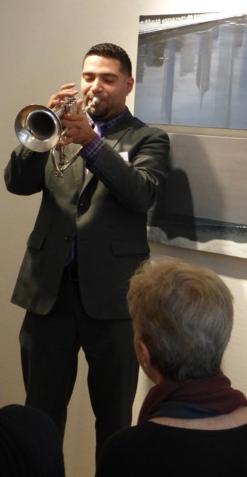 Our galleries were full of the sound of music Sunday afternoon March 9. The artworks, galleries and entire Art Center were activated by the singularly stunning voice of Josefien Stoppelenburg, the bassoon composition and performance of Katherine Young and the jazzy trumpet of Victor Garcia. The house was packed and our audience, which included all ages, was delighted to experience such outstanding multidisciplinary programming.
This successful afternoon inspires us to continue to provide our constituents with exciting cross-disciplinary programming in the future.
The artworks of Ben Whitehouse, Sae Jun Kim and Jack Flynn will be on view through April 13, 2014. A recording of Young's bassoon composition will be playing in the Octagon Gallery throughout the run of the exhibition.
A sincere thanks to all of the artists who graciously agreed to work collaboratively on this interactive project. We are so proud of the results!
Call & Response explores the longstanding practice of artistic collaboration between visual artists and musicians whose collaborations have revealed the profound effects they can have on each other's artworks. The aesthetic, technical and conceptual intersections that often lead to multiple levels of engagement between visual and musical artists while working together will be apparent in the artwork, the gallery installations and the musical performances.
Josefien Stoppelenburg. Josefien is a soprano who graduated from the Amsterdam Conservatory of Music in 2005. She is regularly featured as a soloist for oratorio performances in the Netherlands, Germany and the US. She has been called "an astonishing singer" (Chicago Tribune), praised for her "creamy tone, dead-on accuracy and dramatic interpretation" (Chicago Classical Music).
In February 2014 she will make her debut in China (Beijing) as the soprano soloist in the Haydn Lord Nelson Mass. This year she won the Chicago Oratorio Award 2013 and 2nd place nationally in the American Prize Opera Competition 2013.
Josefien is collaborating with visual and video artist Ben Whitehouse. Ben is a British born Chicago-based artist who received his MFA from the University of Chicago. He is an artist interested in how light and time shape our experience of the world. His career spans 20 years and demonstrates a practice that has fluidly and conceptually evolved from one medium to another, from large-scale paintings to experimental-format paintings, to high definition and 24-hour digital video.
Katherine Young. Katherine is a composer and contemporary bassoonist who creates acoustic and electro-acoustic music that has been described by the New York Times as "raw, wailing, coloristic," and New Music Box has noted "her visceral approach to sound; her organic use of repetition, structure, and pacing; her attentiveness to the smallest details of timbre; her adventurousness in using instruments in unexpected ways." Talea Ensemble, Flux Quartet, the String Orchestra of Brooklyn, Spektral Quartet, Till by Turning, and others have performed her music, and Katherine has documented her work on numerous recordings. Her 2009 solo bassoon release garnered praise in The Wire ("Bassoon colossus") and Downbeat ("seriously bold leaps for the bassoon"). About her 2012 release with her quartet Pretty Monsters, All About Jazz stated: "one of the most intriguing ensemble debuts in recent memory, a sonically audacious record documenting the development of a bold young artist whose arresting improvisations are as remarkable as her engaging compositions."   
Katherine is collaborating with visual artist Sae Jun Kim who is a young Chicago artist, educated at the Kansas Art Institute and the School of the Art Institute of Chicago, is informed by the friction between nature's pristine and undisturbed wild spaces and the co-opting and spoiling of these natural spaces by humankind. Over 30 life size salmon constructed from concrete will be installed in the Evanston Art Center's octagonal gallery, which looks out onto Lake Michigan. Are the salmon fighting their way upstream, or down?
Victor Garcia. While at the University of  at Urbana-Champaign, Victor had begun playing with various Latin bands, including Ricky Luis (singer of N'Klabe of Universal Records), Angel Melendez & the 911 Mambo Orchestra, Johnny Rodriguez's Latin Inspiration, and Papo Santiago & Infraverde. While at UIUC, Garcia studied with classical luminaries Ron Romm of the Canadian Brass, the late, great Dr. Michael Ewald and with jazz saxophone master Ron Bridgewater. He subsequently transferred to Northern Illinois University due to an increasingly busy schedule in Chicago. There he studied with Dr. Mark Ponzo and jazz trumpet master Art Davis. Victor Garcia has recorded on dozens of albums as well, two of which garnered Grammy nominations in 2005 and 2008 (Angel Melendez & the 911 Mambo Orchestra and Sones de Mexico), and one which was nominated for a Latin Grammy in 2007 (Sones de Mexico). He also maintains a busy teaching schedule at the Music Institute of Chicago, Merit School of Music, Loyola University and at Roosevelt University.
Victor is collaborating with painter Jack Flynn who will exhibit large oil paintings of Lake Michigan and its surroundings. He strives to present the area unadorned in order to discover its complex identity. The musical artist working with Jack will be determined soon.
Artist and musician web sites:
Sae Jun Kim: www.saejunkim.com
Katherine Young: http://www.katherineyoung.info/projects.html
Katherine Young: https://soundcloud.com/porter-records/katherine-young-terra-incognita
Ben Whitehouse: www.whitehousestudio.com
Josephine Stoppelenburg: www.josefienstoppelenburg.com
Jack Flynn: http://captainjack.carbonmade.com
Victor Garcia: https://www.musicinst.org/victor-garcia
Photo Credit of Josefien Stoppelenburg: Bas van Oort