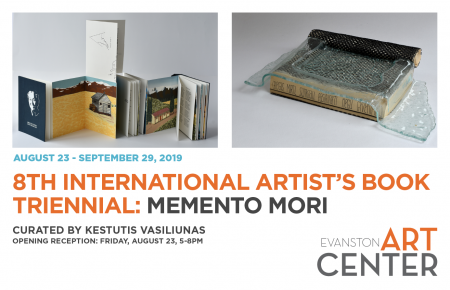 August 23 - September 29, 2019
Opening Reception: Friday, August 23 from 5-8pm
Curator Lecture & Special Book Viewing: Sunday, August 25 from 1-4pm
Special Book Viewing, Facilitated by Artist Stephen Murphy: Saturday, September 28 from 1-4pm
At the Special Book Viewing, guests will have the opportunity to handle select artist books while wearing protective white gloves.
The 8th International ArtistÔÇÖs Book Triennial, curated by Kestutis Vasiliunas, is a unique non-commercial cultural project, organized to promote artistÔÇÖs books, creators of artistÔÇÖs books from all over the world, and to connect galleries, publishers, editors and printers of fine art & limited editions, the greater general public, collectors and individual artists.
It is an educational art project involving world-renowned artists to familiarize art teachers, students and general public with the interdisciplinary arts with the stunning variety of artistic disciplines in an artistÔÇÖs book ÔÇô and especially to stimulate creativity and love for books.
PARTICIPATING ARTISTS:
Carola Willbrand, Germany; Lyn Ashby, Australia; Barbara Beisinghoff, Germany; Lene Bennike, Denmark; Gudrun Bialas, Germany; Catherine Bolle, Switzerland; Frances Breen, Australia; Diane Britt, U.S.A.; Andras Butak, Hungary; Loretta Cappanera, Italy; Gabby Cooksey, U.S.A.; Alessandra Donnarumma, Italy & Sascha Noatsch, Germany; Yuko Ebina, Japan; Magdalena Cordero Echeverria, Chile; Margot Fagan, Canada; David Faithfull, Scotland; Vittorio Fava, Italy; Mirabel Fitzgerald, Australia; Timothy Frerichs, U.S.A.; Roberto Gianinetti, Italy; Rene Haljasmae, Estonia; Nancy Hartt, U.S.A.; Toshihiro Hattori, Japan; Susanne Helwig, Denmark; Hisako Inui, Japan; Rasa Januleviciute, Lithuania; Lis Rejnert Jensen, Denmark; Aslaug Jonsdottir, Islandija / Iceland; Koichi Kiyono, Japan; Kadi Kurema & Kulli Grunbach-Sein, Estonia; Lorraine Kwan, Canada; Marianne Laimer, Sweden; Silvia Lepore, Italy; Xiao Fei Le, China; Hanne Matthiesen, Denmark; Evaldas Mikalauskis, Lithuania; Peter J. Moosbrugger, Germany; Stephen Mumberson, England; Stephen Murphy, U.S.A.; Migle Puzaite, Lithuania; Marija Schina, Greece; Anna Snaedis Sigmardottir, Iceland; Mari-Liis Sorg, Estonia; Raminta Sumskyte Sum, Lithuania; Motoko Tachikawa, Japan; Lotte Tauber Lassen, Denmark; Peter & Donna Thomas, U.S.A.; Irma Tonteri, Finland; Anu Tuominen, Finland; Roberta Vaigeltaite-V., Lithuania; Kestutis Vasiliunas, Lithuania; Joesph Johannes Visser, The Netherlands; Yuko Wada, Japan