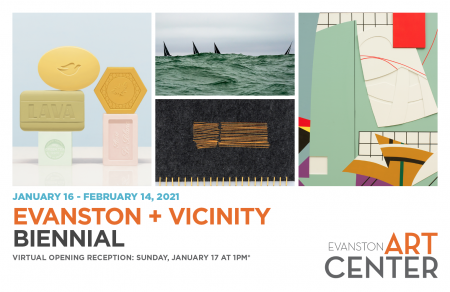 Join us to celebrate the opening of the 2021 Evanston + Vicinity Biennial! 
At this event, we will hear introductions by this year's jurors and announce the Best in Show and Juror's Choice Awards. 
---
This year's Biennial jurors include:
Alpha M. Bruton, Artist, Art Consultant & Curator, Phantom Gallery Chicago Network
Dan Devening, Director, Devening Projects and Adjunct Professor, Department of Painting and Drawing at the School of the Art Institute of Chicago
Kate Pollasch, Director, Corbett vs. Dempsey
---
This year's artists include:
Alan Hobscheid, Alice Becker, Ann Blaas, Anne Farley Gaines, Anne Hayden Stevens, Annie Zirin, Ashley Bradley, Barbara Goldsmith, Ben Bates, Boruch Eugene Lev, Brian Divis, Bryan Northup, Catherine Forster, Christopher Cosnowski, Christine Forni, Cindy Bernhard, Darius Airo, Doug Haight, Ellen Holtzblatt, Gordon Wood, James Bowden, Jan Christopher-Berkson, Janis Pozzi-Johnson, Jeni Emery, Jerry Monteith, John Hatlestad, John Terdich, Judith Roston Freilich, Juliane von Kunhardt, Kathy Weaver, Kenneth Avick, Lauren Sullivan, Marian Carow, Michele Thrane, Michelle Wasson, Nicholas Zepeda, Nikki Renee Anderson, Noah Kashiani, Pam Sloan, Sandra Ullmann, Sarah Barnhart Fields, Shelley Gilchrist, Stephen Murphy, Steve Turner, Tanner Woodford, Ted Glasoe, Tracy Ostmann Haschke, Veronica Clements, Victoria Fuller, Yvette Kaiser Smith and Zack Wirsum
---
ABOUT THE EVENT
This event will be virtual, and available via Zoom. After registering on Eventbrite, a day before the event, we will email you more information on how to log into the event via Zoom with the Meeting ID and password.
This event is free and open to the public.