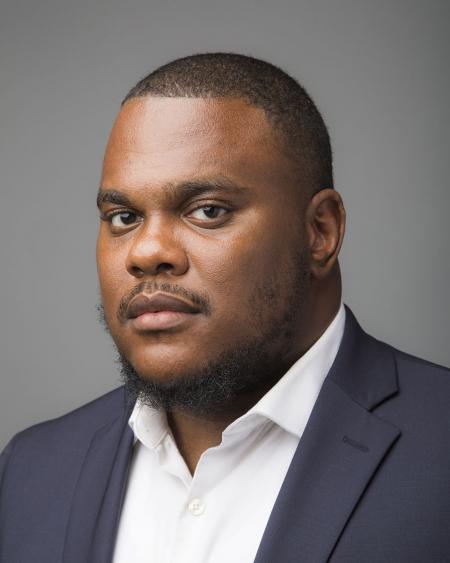 On Sunday, October 24 at 2pm, join us for a virtual lecture, "City on Fire: Chicago 1871" featuring Julius L. Jones. 
This lecture is a part of the ongoing EAC series, "In Focus." "In Focus" features a variety of talks and presentations by ​artists, art professionals, historians and more!
ABOUT THE SPEAKER
Julius L. Jones is a historian, curator, lecturer, and digital media producer committed to telling new stories about the past in compelling and innovative ways. Currently, Julius serves as an Assistant Curator & Head of Diversity and Inclusion at the Chicago History Museum, where he develops exhibition content, conducts research, seeks new acquisitions, and speaks on a variety of Chicago history topics. As the Head of Diversity and Inclusion, he leads the implementation of the museum's first-ever Diversity, Equity, and Inclusion (DEI) Strategic Plan. Previously, he served as the Digital Content Manager, where he helped to bring the work of the museum's Education, Curatorial, Research & Access, Publications, and Collections departments into the digital sphere. Prior to joining CHM's staff Julius was the Digital Curator at the DuSable Museum of African American History. In this role, Julius managed Freedom's Journey: An Online Experience of Freedom, Resistance and the Journey Towards Equality, a multi-platform effort that creates spaces (both physical and digital) for people to respond to and participate with the museum's exhibitions. Julius is a Ph.D. Candidate in the Department of History at The University of Chicago, where his scholarly interests include twentieth-century United States Social, Cultural and Urban History. His dissertation, "'Ain't Gonna Tarry Here Long': African American Aspiration in Chicago, 1933–1968," explores the idea that African Americans are the products of a culture that limits them on the basis of their race while simultaneously propagating notions of limitless possibilities and opportunities. This dichotomy creates liminal spaces between possibility and limitation, or sites of aspiration, where African Americans have sought not only to break down racial barriers to achieve success, but to assert their right to define success for themselves. He also serves as a lecturer in the Department of Black Studies at the University of Illinois at Chicago and in the Master of Arts Program in the Social Sciences at The University of Chicago. He earned his MA in History at the University of Chicago in 2018, and an AB in History & African and African American Studies from Duke University in 2012.
LECTURE RECORDING