The Evanston Art Center (EAC) unveiled "Hybrid's Paradise" in June, the first exhibition in its new space. On view are photographs, paintings, digital works, drawings and sculptures by more than 25 Chicago-based artists in an exhibition that spans two-levels. Curator Sergio Gomez's decision to include a mélange of artists and media helps clarify the hybrid theme.
"Adapting to new evolving environments is key to surviving in today's world," says Sergio Gomez, a Chicago-based director, artist and curator of "Hybrid's Paradise." He is right. Given the influx of changing technologies and diverse cultures, learning to adjust is essential in both art and life. The EAC's new space and this current exhibition recognize this very fact. That said, Gomez demonstrates "the experiences of living in a hybrid world," as he puts it—fitting for the EAC's new collaborative and multi-disciplinary space.
Art and space working together
The EAC's new space is indicative of this hybrid theme, and was the impetus for the show. This facility not only features a contemporary design and open spaces to encourage community interaction. But it also offers a range of classes, from those in the visual arts to cross-disciplinary courses in science, technology and engineering. These two aspects—the EAC's space and course offerings—work in tandem. That is to say, having the display and creation of art "co-exist" in the same space is an exciting opportunity, Tess Lickerman, President of the Board of Trustees at the EAC, acknowledges. "This is truly a collaborative space because you walk through the exhibits to get to the classrooms, which I think is inspirational, idea generating [and] inspiring," she explains. "There is a certain energy that comes from a space when you can both show work and create work. I think it changes what you create." Students and visitors alike will experience the creative potential "Hybrid's Paradise" brings to this space.
Artists using the hybridity theme
The first floor gallery has the biggest impact. Upon entering, viewers cannot miss Beth Kamhi's floor to ceiling steel sculpture, "Gathering." Consciously "overlapping disciplines and material," as the artist describes it, this piece reflects Kamhi's use of hybridity. Its aesthetic appeal pulls visitors near, and tacitly asks them to walk around to see the piece in its entirety. By doing so, visitors undoubtedly see other exhibition pieces of various mediums from different perspectives.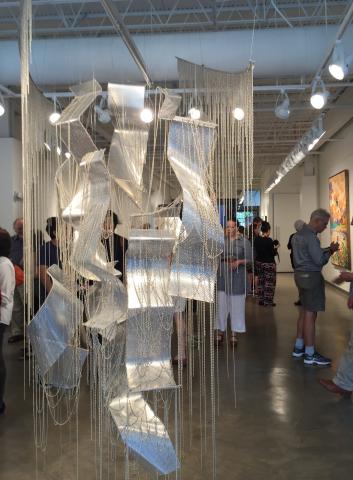 Beth Kamhi, "Gathering." 
So it is all the more exciting to see surrounding pieces such as Victoria Fuller's sculptural contributions, "Whisk Ball" and "Knob Job and the Power Box." Or visitors may gawk at Eric Tucker's three-dimensional pieces hanging from the ceiling. His handful of geometric sculptures, each including outlines of shapes with at least one square of color, draw attention to the two-dimensional work on the wall. More wonderful still is Donna Major's "The Rising." This hybrid work, comprised of wire, glass, light and shadow, spans two levels; it visually directs viewers upstairs to a second level of hybrid works.
One of the joys of the show is the curatorial approach. The careful juxtaposition of various media provides a refreshing and interesting way to see art from a number of artists, while also providing an effective use of space.
Jason Lazarus
's "Spilled Milk"—flat, thin lines of color running down the wall, from the ceiling to the floor—could be overlooked in an exhibition of only two-dimensional works. But visitors notice it here when walking around Kamhi's "Gathering" or looking at Tucker's sculptural hangs. Although the visual variety of this show is aesthetically invigorating, it is also intellectually captivating, as visitors consider how such disparate works of art are unified by the overarching theme: hybridity.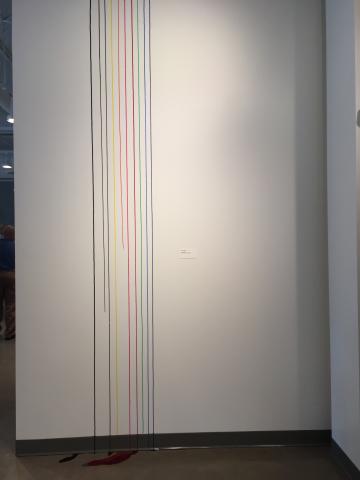 Partial shot of Jason Lazarus, "Spilled Milk."
"Hybrid's Paradise" a compelling exhibition. At the same time it reveals characteristics inherent to the EAC's mission: fostering the appreciation and expression of the arts among diverse audiences. As this inaugural exhibition demonstrates, the EAC's collaborative space and multi-disciplinary approach is making this vision a reality.
"Hybrid's Paradise" is on show until August 9, 2015.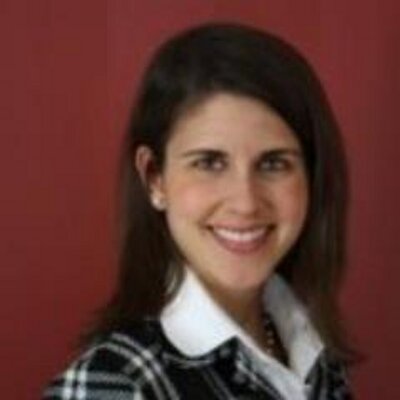 Amy Haddad is a Chicago-based freelance art writer and blogger. She writes for the Evanston Art Center and Newcity, and has contributed articles to Create Hub, The Art House, the Columbus Museum of Art and NTQ-Data Limited. She has a personal art blog, 
Art Diversions
, and tweets about art 
@amymhaddad
.
Blog Image