Interviewed by Jesse Hunt
Far From the Front Lines is a collection of 22 artists whose work reflects the Israeli-Palestinian conflict, and is currently on exhibit at the Evanston Art Center. I recently took the opportunity to sit down with the curator, Dorit Jordan Dotan, and learn more about her and her show.
Dotan is from Haifa, Israel where she started her artistic career. She was a documentary photographer for various Israeli non-profits pursuing peace, coexistence, human rights, and women's rights. Her first showing was with the Hebrew Union College Museum in New York City, with whom she now exhibits annually. The exhibition theme was "The Sexuality Spectrum" curated by Laura Kruger. After that, opportunities began sprouting up like "mushrooms after the rain", as she said.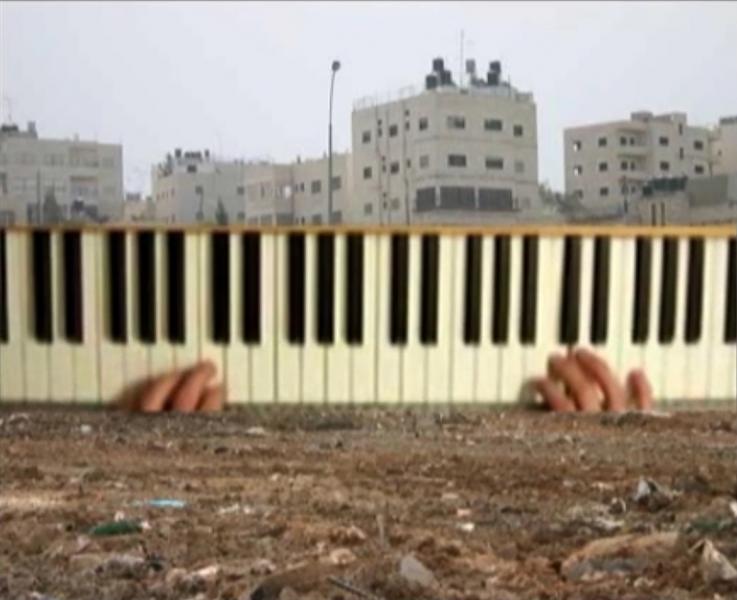 Most recently, a partial list of her exhibitions include the 2015 Jerusalem Biennale and upcoming Biennale 2017; Spertus Chicago, on view through 2018; VBK / Berlin Artist Association, 2015; Fotogalerie, Berlin 2017; Ceres Gallery, Chelsea, New York, 2017; HUC Museum, New York, 2017; Woman Made Gallery, Chicago, 2017; The Art Center New Orleans, LA; Evanston Art Center, 2017; Nuit Rose, Art Festival, Toronto, 2017; The Jewish Museum of Florida-FIU, 2017.
Dotan believes that art can create social change and furthers her pursuit to bridge gaps and look towards better days noth only with regard to the Israeli-Palestinian conflict, but also to other communities in conflict. In Far From the Front Lines, Dotan brings us a collection of 22 artists, a group consisting of both Israelis and Palestinians.
Upon entering, the first piece by Shay Arick sets the tone of the exhibit. It is the image of 2 hands playing a piano, as viewed from above, superimposed over a photo of a portion of the wall separating Israel and Palestinian territories. It is framed such that the keys of the piano become the slabs of the wall. The tune of the piano will probably be familiar to most people if not by name then by melody, the classic 'Heart and Soul' from 1938.
More images of the seperating wall follow with Kanaan Kanaan's photographs of graffiti as seen from the Palestinian side. The framing of the photos contributes to their painting-like quality. Adding to this effect, they are mounted to wooden boards and saturated with color.
All-in-all, Dotan's exhibition conveys far more nuance in the conflict than can be found within the divisive landscape of American politics, and does so with striking array of fine art in a wide range of media. Painting, photography, calligraphy, installation, video, mixed media, and new media all effectively fill the First Floor Gallery through October 1, 2017.