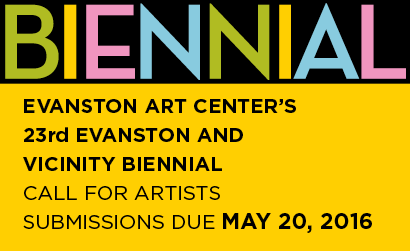 DEADLINE EXTENDED to MAY 20! Our Biennial is one of the Midwest's largest and most prestigious juried exhibitions, offering artists an opportunity to have their work viewed by three talented curators; Lela Hersh, President of Museum and Fine Arts Consulting and Lecturer in the Graduate Department of Arts Administration and Policy at School of the Art Institute of Chicago, Monique Meloche, Owner, Monique Meloche Gallery and Lorelei Stewart, Director, Gallery 400 at University of Illinois at Chicago. Our Biennial will be promoted and viewed by hundreds of visitors, including gallerists, curators and collectors.
All mediums accepted. A non-refundable $30 entry fee is required from each artist. The fee must accompany your online form or CD submission. A complete entry includes: completed entry form, labeled CD, and fee. Make checks payable to the Evanston Art Center.
IMPORTANT DATES
Online and Mail-in Artist Submission Deadline: all entries by midnight on May 20, 2016
By June 10                           Notification of acceptance
July 5-10                               Accepted artworks delivered to Evanston Art Center
July 11-14                             Installation
July 15, 6-8pm                     Opening and Artists' Reception
August 28                            Biennial Exhibition closes
August 29-September 4    Deinstall and pick up artworks
AWARDS
Cash awards and gift cards will be awarded at the artists' reception on Friday, July 15, 6-8pm. Jurors will award five artists from the 2016 E+V Biennial to have an exhibit in EAC's galleries in 2017. 
ELIGIBILITY
The 23rd Evanston + Vicinity Biennial is open to artists 18 years of age and older living in Illinois. All work must be original and completed within the last two years.
ACCEPTANCE
Notification of acceptance will be emailed by June 10. A valid email address is required.
CONDITIONS
The Evanston Art Center (EAC) reserves he right to refuse any work which differs from the submitted images. All accepted entries will be considered temporary loans to the EAC. The EAC will assume insurance responsibility for the object upon receipt and inspection, and during the exhibition. The EAC is not liable for any claim for loss, theft or damage of any kind during transportation. The EAC will exercise the usual care in handling and will provide insurance coverage subject to EAC policy guidelines. It cannot be responsible for minor wear resulting from normal handling.
Delivery of accepted work
The artist is responsible for door-to-door delivery/shipment of work. Delivery of accepted work will take place from July 5-10.
July 5-7, Mon-Thurs, 10am-9pm
July 8-10, Fri-Sun, 10am-9pm
Presentation
All selected work must be delivered in its final state ready for installation or hanging. Framed pieces larger than 24"x30" must be covered in Plexiglas. No dimension of any work may exceed seven feet. No weight may exceed 150 pounds. Any special handling instructions must accompany the piece in writing. Artists will assume reasonable risk for damage for all unframed work and any other unconventional display preferences. Each entry must be clearly identified, where possible, on the bottom or back with artist's name and title of work. The EAC reserves the right to reject previously accepted works due to inadequate framing/mounting or for security/public safety reasons.
SALES
Works will be for sale unless noted as NFS (not for sale) on the entry form. The EAC will retain a 30% commission on all sales from the exhibition. Payments to artists will be made after the closing of the exhibition.
Return of Accepted Work
The exhibition closes Sunday, August 28 at 4pm. All works not picked up will be placed in storage at the artist's risk and expense and will be charged a $5.00/day storage fee beginning Monday, September 19. The EAC is not responsible for work left over 30 days beyond the close of the exhibition.
To apply online through Slideroom, CLICK HERE.
For a printable application to download and mail in, CLICK HERE.