ON VIEW: September 11 - October 10, 2021

Opening Reception: Sunday, September 12 from 1-4pm
Omaha-based artist, Susan Knight, creates work that is shown nationally and internationally.  She has participated in residency programs in Colorado, Illinois, North Carolina and Italy
Since 2002 she has devoted exclusive attention to distilling the structures and systems found in water and the land around it into pattern compositions in two and three dimensions, and site-sensitive installations.  Her Michigan roots prepared her to be attentive to surrounding rivers and lakes.  She was taught to read water's seasonal cycles and to conserve water.
SciArt Magazine and Artland Magazine have featured her work. Sculpture Magazine and  Smithsonian Magazine have reviewed her work.  Her work appears in the book, Art Inspired by Science:  Imagining The Natural World, by Robert Louis Chianese.
Knight earned a BFA in art from Saint Mary's College, Notre Dame, IN, and attended The University of Notre Dame, Glassell School of Art, Houston, TX, and The School of the Chicago Art Institute.
ARTIST STATEMENT
My focus is on water and the land that holds it. Theoretical and existential aspects of water and the role it is continually playing in our planet's evolution through millenniums fuel my work.  I find inspiration in surface water and unseen water deep in the earth and the soil that holds it.  Field visits, scientific data, and news stories about environmental water issues drive my work.
My primary tool is an Xacto knife. With it I hand cut, fold, incise, sculpt, stretch, and tie paper, Mylar and Tyvek. The act of cutting, the physicality of it, continually fills me with ideas and makes me feel like Zorro.
Read more about Susan in Concentrics.
---
GALLERY HOURS & VISITOR INFORMATION FOR COVID-19 GUIDELINES
This exhibition will be held in the First Floor Gallery of the Evanston Art Center (EAC). All visitors are required to wear face masks. Please adhere to 6' social distancing requirements when in the gallery space. 
Gallery Hours
Monday - Friday: 1 pm - 6 pm
Saturday & Sunday: 9 am - 4 pm
---
HOW TO PURCHASE ARTWORK
If you are interested in purchasing artwork on display, please contact Cara Feeney, Director of Exhibitions, at [email protected] or (847) 475-5300 x 107.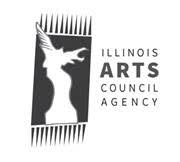 This project is partially funded by the Illinois Arts Council, a state agency.