Date:
Sunday, January 20, 2019 -

1:30pm

to

3:00pm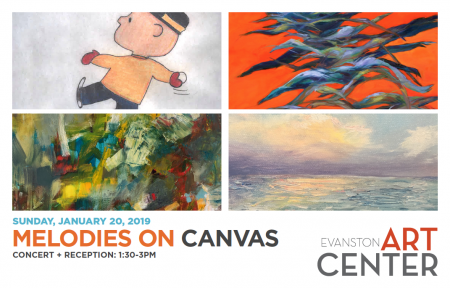 The Evanston Art Center (EAC) is excited to collaborate with students from the Academy of the Music Institute of Chicago (MIC) to create a series of four musical performances inspired by four pieces of artwork on display in the 2019 EAC Studio Exhibition. Each string quartet will perform in the EAC First Floor Gallery in front of the artwork that inspired the piece.
Featured artwork includes Cataclysm by Anne Kauff, Good Ol' Charlie Brown by Reece Pekin (Age 10), Flight by Elizabeth O'Connor Bolich and Lake Michigan Sunset by Leah Durst.
Participating MIC Students include Nova String Quartet (Irina Casasnovas, violin; John Heo, violin; Zechary Mo, viola; Cameron Chiu, cello), Fiero String Quartet (Isabella Brown, violin; Kaylin Liu, violin; Elena Galentas, viola; Alon Hayut, cello) and Xena String Quartet (Claire Arias-Kim, violin; Noelle Naito, violin; Isabel Chen, viola; Camille Toubol, cello).
The Academy of the Music Institute of Chicago, a nationally recognized training center for highly gifted pre-college pianists and string players, provides a comprehensive music education for students who aspire to be professional musicians. Conveniently located just 30 minutes north of Chicago on the beautiful Ravinia Festival grounds, the Academy is a musical community of faculty, staff, and students who come together for an intensive 30-week program, September through May each Saturday.
The program focuses on providing a comprehensive musical education that includes private lessons with Academy artist faculty, a rigorous chamber music component, a stimulating chamber orchestra experience, and accelerated music theory classes. Pianists additionally study keyboard history and literature, improvisation, and keyboard skills in an intimate group setting. A hallmark of the Academy is the regular master class where the student body gathers each week to observe acclaimed musicians and educators share their knowledge, creating an unparalleled educational experience.
The Academy faculty, members of teaching faculties at some of the most prestigious conservatories and schools of music in the country, are a carefully assembled group with a passion for developing young talent and an established track record of student achievement. Academy students are national prize winners who matriculate to the nation's top conservatories and universities.