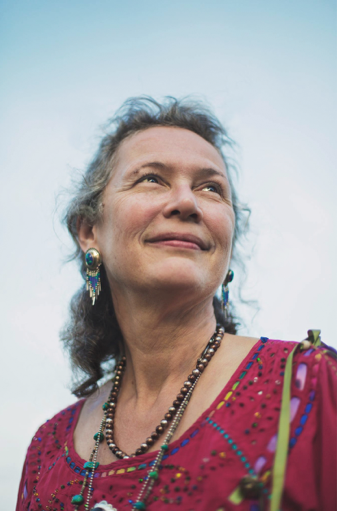 On Sunday, January 23 at 3pm, join us for a hybrid lecture, "Dancing for Our Tribe: Potawatomi Tradition in the New Millennium" featuring Sharon Hoogstraten. RSVP here.
This lecture is a part of the ongoing EAC series, "In Focus." "In Focus" features a variety of talks and presentations by ​artists, art professionals, historians and more!
Photographer and Citizen Potawatomi Sharon Hoogstraten has created a permanent record of present-day Potawatomis wearing the traditional regalia passed down through the generations, but modified to reflect the influence and storytelling of contemporary life: 
"In the last ten years of photographing and listening to personal stories, it is regalia that forms the basis of my cultural exploration. Through my portraits, I know these Potawatomi descendants are living modern lives, while reflecting deeply on the ancestors whose footsteps we tread on. They are not wearing 'costumes' and unlike street clothes, each dancer knows exactly where their clothing comes from and what it means. In charming ways, artifacts of modern life make an appearance - a Nike sock, Converse shoes, beaded Hello Kitty medallion, etc. Some are in full regalia, and others, just a ribbon shirt. These are contemporary Native people. What is most compelling to me is that they are both preserving and evolving ceremony and handcrafts for the seven generations going forward. I've titled this body of work Dancing for Our Tribe—Potawatomi Tradition in the New Millennium in honor of our dancers and because photography is my dance."
ABOUT THE SPEAKER
A member of the Citizen Potawatomi Nation and professional photographer, Sharon Hoogstraten has spent a decade creating formal portraits of fellow Potawatomis. This legacy project encompasses members of nine Potawatomi Nations and is our gift to the future seven generations. Focusing on both the traditional and contemporary aspects of regalia, it is also a declaration of continued existence. WE ARE STILL HERE! Her nearly life-sized portraits have been widely exhibited and collected. A book, Dancing for Our Tribe: Potawatomi Tradition in the New Millennium was released in August 2022. Hoogstraten previously published Green City Market: A Song of Thanks, a pictorial retrospective of the groundbreaking farmers market that boosted Chicago's culinary reputation as a nationally acclaimed food destination. She lives in Chicago/Shikaakwa, homeland of her ancestors.
ABOUT THE EVENT
This hybrid lecture will be held in-person at the Evanston Art Center and virtually via zoom.
Registration required. RSVP.