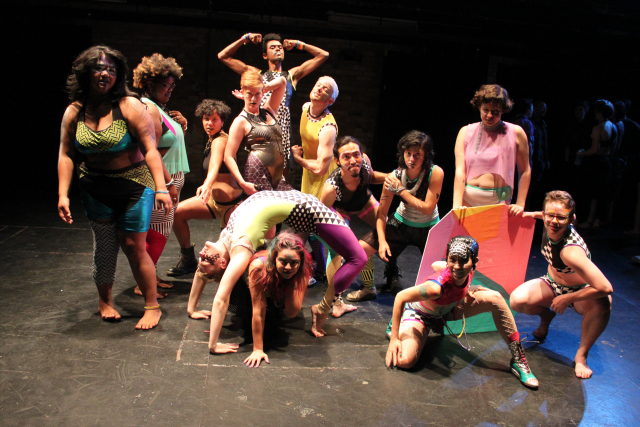 RADICAL VISIBILITY COLLECTIVE​
March 5 – 31, 2018​
The Radical Visibility Collective creates performance that awakens queer crip futurism
The Radical Visibility Collective, led by Sky Cubacub of Rebirth Garments, Compton Q, and Jake Vogds, is designing an immersive and accessible performance that will debut at Chicago venues in March. Their vision for queer crip futurism will manifest in live performers wearing an entirely new line of 25+ Lqqks, all moving to an original, multi-collaborative album that invites folx with visual impairments to the show with auditory visual descriptions. The performances will be held on March 22, 5:30pm at the Chicago History Museum and March 30, 7:30pm at the Evanston Art Center, both wheelchair accessible spaces.
The collective seeks to awaken a multiverse of queer crip futurism through performance, design, music, wearables, and environments. They challenge mainstream beauty standards that are sizeist, ableist, and conform to the gender binary. Instead, they maintain the notion of Radical Visibility, which reclaims one's body through bright colors, exuberant fabrics, and innovative designs that highlight what society typically shuns. The lifestyle brand Rebirth Garments spearheads values that refuse to assimilate and instead creates a QueerCrip dress reform movement, reimagining the runway as a giant dance party with music that reflects their radical philosophy.
As avid Chicago queer nightlifers, they are both inspired by the experimental and magical atmosphere of parties and critical of how these spaces exclude certain bodies through their structure, architecture, and environment - often giving way to transphobia, misogyny, racism, and ableism. The Radical Visibility Collective combats and dismantles these problematic aspects and brings people together to create the queer utopian space of the future.
The collective will showcase their work in an ongoing installation at the Evanston Art Center throughout March as part of their Shape of Now residency. They will also create a music video that encapsulates the space and performance so that people can continue to experience their vision for radical visibility.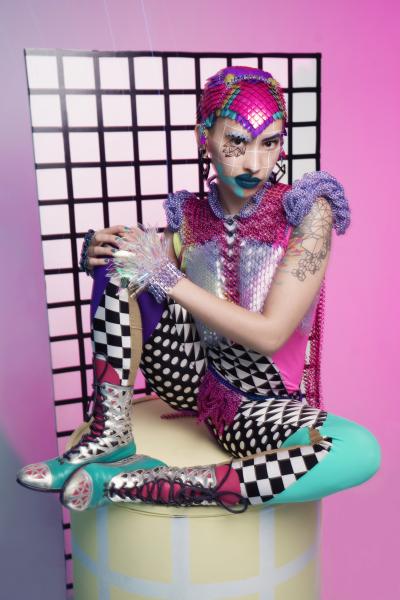 Since debuting a collection of chainmaille garments and accessories in 2010, Chicago-based Sky Cubacub has carved out a prolific career as an artist, designer, performer and activist. After graduating from the Fiber and Material Studies Department at Chicago's School of the Art Institute, the award-winning artist and designer launched Rebirth Garments, a line of custom hand-made gender non-conforming clothing and accessories for individuals representing the full spectrum of gender, size and ability. By challenging mainstream beauty and fashion standards, Cubacub champions radical visibility through bright colors, exuberant fabrics and innovative designs that highlight those marginalized by society. The slow and thoughtful process of hand-making chainmaille lies at the heart of the artist's creative process, with its focus on repetitive patterns and techniques.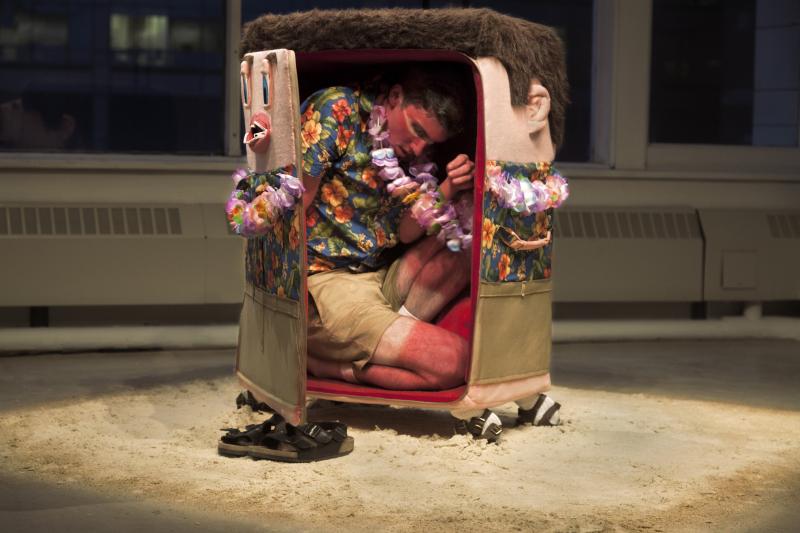 A graduate of the School of the Art Institute of Chicago, Jake Vogds is a multidisciplinary performance artist/singer working in sculpture, painting, visual media and costume. In June 2014, Vogds was awarded the Shapiro Center's EAGER Research Grant for Queer Mixed Realities Collective from SAIC. The artist has performed and exhibited at the Museum of Contemporary Art, Defibrillator, Links Hall, Chicago Artist Coalition, Three Walls Gallery and the Kalamazoo Institute of Arts, among others. Vogds also taught performance at the Art Academy of Cincinnati in fall 2016. After completing four 2017 solo exhibitions throughout the Chicago area and abroad, Vogds is currently collaborating with Rebirth Garments on music for their line celebrating radical visibility amongst marginalized individuals.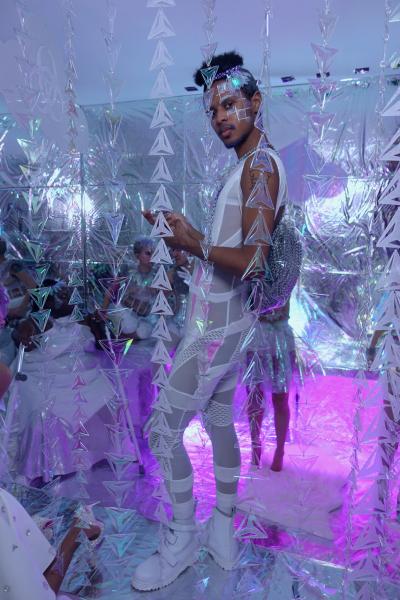 A graduate of Chicago's School of the Art Institute with a degree in Fashion Design/Construction, Performance and Visual Communications, Compton Quashie's practice as an award-winning artist and designer is informed by ongoing research into issues surrounding cultural history and appropriation. Based in Chicago, Quashie's work explores themes encompassing Afro-futurism, gender fluidity, popular/material culture, historical narratives and the rapidly evolving world of street fashion that is translated into multidisciplinary performance/installation works. In addition to the artist's independent practice, Quashie collaborates with Sky Cubacub on Rebirth Garments, handcrafting colorful neon spandex pieces for its line of radical visibility clothing and accessories.  
UPCOMING WORKSHOP
Fashion & Performance: Designing for Disability
Sunday, March 11, 1 - 3 pm
Course Description:
How do you make/hack your wardrobe to make it fully celebrate the intersection of all of your identities? We will explore the idea of Radical Visibility, a QueerCrip movement based on highlighting the parts of us that society typically shuns. Discussions of designing for disability, gender, race, size, sexuality, etc. and running your own line, as well as hands on dress up time and body movement work will culminate in a fashion performance/mini dance party.
CLOSING PERFORMANCE
Friday, March 30 at 7:30pm
CLICK HERE to learn more about SHAPE OF NOW