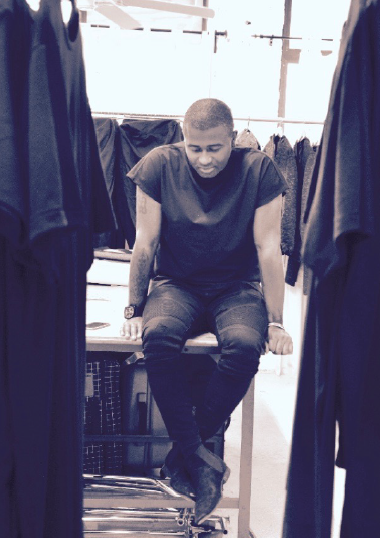 AYRUN DISMUKE OF MISANTHROPE
October 16 – 29, 2017​
BIO
With 15 years of experience in the fashion industry, Ayrun Dismuke began his career in wholesale as the founder of Chicago-based Misanthrope showroom, which has represented brands such as Carlos Campos, PUMA Blackstation and THVM Atelier. He later launched his men's label of the same name, one that reflects the designer's free-form approach to creative expression. Dismuke conveys visual emotion through androgynous silhouettes inspired by life's chaotic moments and imperfections, in addition to dark and moody references such as grey skies and polar vortexes. Presented during Paris Fashion Week, his layered looks are cut from soft fabrics in a dark pallet to reveal subtle moody variations in tone and texture.
ARTIST STATEMENT
A clean palette of bold textural garments, giving shape to a forward void archetype. Mixing subtle cuts and shades to create a timeless collection of tops, bottoms, and outerwear that transcends the boundaries of men's fashion.
Moments trapped from times past, memories of serene unable to grasp for the vision has waned and the glimpse of hope in the decay holds in waiting. Life is not a linear progression. It is a compounded series of roaring ups and downs, character, and wonder. It is often the most chaotic and imperfect moments that we keep a tight grip on in our memories and hearts whether good or bad these have stuck and shaped us to the core. It is with this in mind that I created MISANTHROPE. In the hope to ignite a curious spark in others and showcase the unexpected.
RELATED EVENTS
More information on upcoming events to come...
CLICK HERE to learn more about SHAPE OF NOW