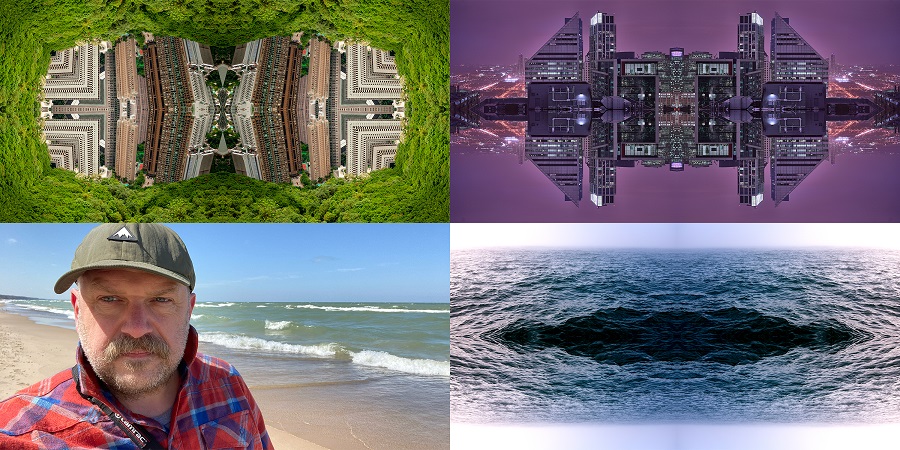 After 20+ years working in the ad industry as a designer, photographer, director, editor, and producer, Ian has spent the last few years of his career pivoting to teaching photography and film while focusing more on his fine art and filmmaking outside of the classroom. He still makes commercials and content for clients but those projects are fewer and further between.
Education
Skidmore College, B.A.
Massachusetts College of Art, Continuing Ed
  Color developing/printing
  Large Format (20"x24") photography
The Ohio State, M.A. in Art Education - (est. graduation Fall of 2024)
Media
Photography, Video, digital, analog.
Areas of Focus
Commercially: Lifestyle, Automotive, Food, Television Commercials, Content - Fine Art: Conceptual, Portraits, Street Photography, short & longform films
Website
Exhibition Highlights
Forgotten Oahu, Solo show, Andersonville Arts Walk - 2007
Use Kodak Film 620, Solo show, Images Gallery, Ravenswood - 2008
Various group shows, Images Gallery, Ravenswood - 2007 - 2011
Featured Artist, Workshoppe Chicago - 2022
PERCEPTION, Evanston Art Center, Digital Photography - 2024
Other Interests and Aspirations
Family, music, music, films, travel, and music.
Publication Highlights
Automobile Magazine
CNN
Miami Herald
Chicago Tribune
Road & Track
Hot Doug's The Book
Wired
Fast Company
Mens Health
Jalopnik
MotorTrend
Car & Driver
etc.
Ian's teaching style
…is laid back in nature. I like to focus on repetition and installation of everyday photography skills. I am less worried about the production of great images and more interested in the cultivation and growth of creative problem solvers and thinkers. The finest of art stems from a bountiful imagination fused with the knowhow of someone who can bring those ideas to life.
Ian loves the EAC because...
it cultivates a safe environment for students to get out of their comfort zones to create exceptional art. It also encourages everyone involved to go out and try something new.