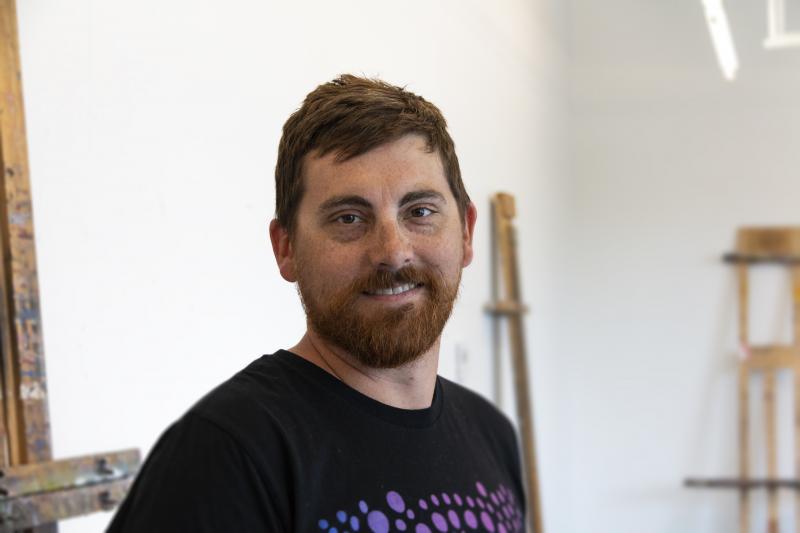 Chris is a Chicago-based painter who has been teaching Fine Arts in Chicago Public Schools for nearly a decade and at the Evanston Art Center since 2016.  He uses comedy and art history as inspiration for his paintings, which are process-based and tend to have sculptural qualities.
Education:
Columbia College-Chicago - M.A. in Teaching, Art Education

The School of the Art Institute of Chicago - B.F.A.
Media:
Oil and acrylic painting, drawing, sculpture, ceramics
Website:
https://www.instagram.com/c.thomashowl_iii/
Exhibition highlights:
"Mail Art Show," Lawrence & Clark Gallery, Chicago, IL - 2018

"Year Two," Fowler Arts Collective, Brooklyn, NY - 2012

"An Exchange with Sol LeWitt," MASS Museum of Contemporary Art, Boston, MA - 2011

"Here/Not There: Club Nutz," Museum of Contemporary Art, Chicago, IL - 2010

"Fever Dream," Roots and Culture Contemporary Art Center, Chicago, IL - 2010
Other interests and inspirations:
Chris is interested in film, travel and the culinary arts. He is inspired by current events and his paintings are heavily process-oriented.
Chris's teaching style:
Inquiry-based learning is the basis of his curriculum. His painting classes value contemporary artists and contemporary practices such as student/artist collaboration.
Chris loves EAC because . . .
It provides a professional art studio setting for young students which is rarely offered at this caliber in the public school setting.
Node Highlight