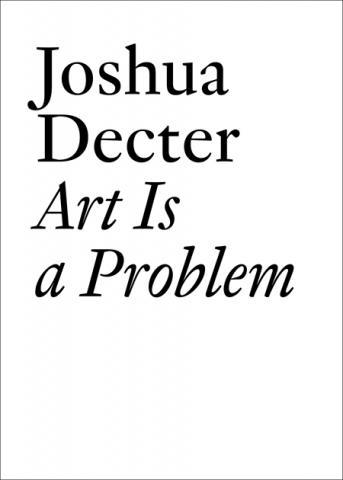 Join us at the Smart Museum of Art beginning second Fridays October-December, 2014. We will read and discuss Joshua Decter's new book Art is a Problem. The group will begin by discussing the
preface, introduction, and first 3 chapters of Decter's book. The Smart is located at the University of Chicago, 5550 S. Greenwood Ave., Chicago, IL. 60637
Meeting 1: Friday October 10, 1-3pm Discussing Preface, Introduction, and Chapter 1 "Institutional Critique and its Discontents"
Meeting 2: Friday November 14, 2-4pm Discussing Chapter 2 "Aporia (Art as Politics, the Politics of Art)"
Meeting 3: Friday December 12, 2-4pm Discussing Chapter 3 "Everything is Social (Platforms, participants, publics, constituencies, networks, spaces, sites, situations, collaborations, cooperations, conflicts, interventions...)"
About Dialogic Communities: Repairing the Social Bond book club/discussion group:
Dialogic Communities encourages thoughtful public dialogue around contemporary art history, theory, and criticism and social justice. It hopes to reinvigorate the spirit of community, open up explorations in contemporary visual art and seeks to serve as an informal public art education model. Dialogic Communities is inspired by Paulo Freire, Free Schools, Joseph Beuys' professorship, Jacques Ranciere and other more discursive art historical and education public cultures.
The pogram is facilitated by the Evanston Art Center's Director of Education Keith Brown and Insight Arts' Executive Director Craig Harshaw. Dialogic Communities invites the public to read pre-selected contemporary art texts and come discuss them as a group during the fall and spring of each year