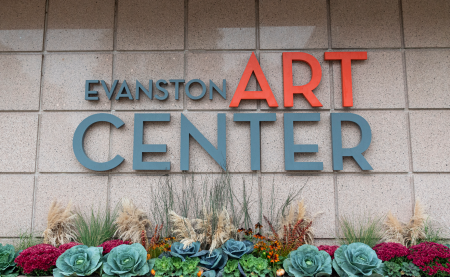 Our building is open with reduced capacity for open studios, in-person classes, and exhibitions. Your safety remains our top priority. Our COVID-19 safety protocols are outlined below. 
We invite you to connect with us in-person, outside and online!
---
Update: June 8, 2020
Evanston Art Center COVID-19 Reopening Plan
The Evanston Art Center (EAC) pledges to follow Restore Illinois Phase III Guidelines for Day Camps and Retail. Specifically, this means:
The EAC pledges to do the following each day:
Significantly limit capacity of all studios by more than half the usual capacity. 

Limit the number of visitors in our building based on our square footage.

Provide additional cleaning of all common areas and high touch surfaces, especially restrooms and door handles. Offering paper towel options to handle door knobs or other doors that cannot be propped.

Encourage staff to stay home if feeling unwell.

Require all who enter the EAC wear a cloth mask for the duration of their visit.

Provide disinfecting wipes for everyone to wipe down surfaces they've touched.
All students, visitors and staff must: 
Wear a cloth face mask at all times. 

Take their temperature upon entry using provided gloves, and share results with an EAC staff member. Anyone with a temperature of 100.4°F or above will not be permitted to remain on site, per Restore Illinois Phase III guidelines.

Maintain a 6' distance from others.

Stay home if feeling unwell. The EAC will waive its refund policy if students must skip a visit due to potential COVID-19 infection. Ask a staff member for more information.

Wash hands with soap for at least 20 seconds before, during and after their visit to open studios.

Bring their own tools wherever possible. Avoid using community tools wherever possible.

Sanitize their mobile phone as often as possible.

Use provided disinfecting wipes to disinfect handles, tools, and any surfaces touched in the studio and building.

Where possible, staff and volunteers are encouraged to work from home. When not possible, staff and volunteers will limit interaction
Gallery Hours
When arriving at the EAC during our Gallery Hours, please wait outside and call us at (847) 475-5300 for entry. All visitors are required to wear masks and take their temperature upon entry using provided gloves, and share results with an EAC staff member. Please adhere to 6' social distancing requirements when in the gallery space. 
Monday - Friday: 1 pm - 6 pm
Saturday: 10 am - 4 pm
Sunday: 12 pm - 4 pm
---
Update: April 28, 2020
Dear Evanston Art Center Friends,
I hope that you are able to stay safe, and well, and connected to families and friends. In compliance with the CDC and our Illinois Public Health and Government authorities guidelines, the Art Center will remain temporarily closed. Our COVID-19 Task Force is meeting often and we are taking all recommendations from the government seriously, and your health and safety are our first priority. We miss seeing all of you and the incredible work that you create at the Art Center.  
We are excited to announce that our Spring session ONLINE offerings are up and running! Unfortunately, we have had to cancel our Spring session in-person classes. Students have been contacted about this cancellation. If you have not received information about the cancellation, please email Paula Danoff.
We are moving forward with plans and a new social distancing strategy for summer classes. For now, we ask your patience as we all go through this unprecedented and difficult time together.
On a positive note, please check out our online student gallery and send us your images. We have a link to Art projects for Kid's here, and we are continuing to update our Facebook, Instagram and Blog pages.
We are so grateful for your ongoing support now and at all times.
Paula Danoff
President & CEO
---
Update: March 25, 2020
Dear EAC Community,
The Art Center has been there for you for over 90 years and we are up to this challenge! 
Our plan is to be here for the next 90 years. The pandemic has changed how we look at going forward. We are so grateful for all of your support. You have been there for us in good times and difficult times. We want to share with you the steps we have taken so far.
First, we have committed to paying administrative staff members through the current planned closure period.
 We have paid Faculty and Models through Winter term. We are optimistic that we will open sooner rather than later. However, we are realistic and doing all we can to assist and support everyone at the Art Center through this time of uncertainty and lost work. 
Second, all staff members are now working from home for their health and safety. 
We have closed the Art Center until April 12. We hope to reopen and start our Spring term on April 13. We have adjusted our fees to reflect a shorter Spring term. Please continue your support by
signing up for classes online
. We are actively planning for our Summer session and Exhibitions. We are investigating online art classes. Please check our
image gallery
featuring artwork by our faculty and students. 
We are committed to our mission and hopeful for the future. 
Sincerely,
Evanston Art Center Staff & Board of Trustees
Dear EAC Community,
The EAC has been actively monitoring the situation and discussing plans as COVID-19 continues to spread across the country. To date there have been NO reports of any EAC students, faculty, staff or visitors contracting the virus.
THE EAC CLOSED THROUGH APRIL 12
The EAC will be completely closed through April 12; all scheduled activity is canceled.
SPRING TERM DELAYED
Out of an abundance of caution, the start of our spring term will be delayed to Monday, April 13. The spring term will shift to an 8-week term ending Sunday, June 7. Updated pricing and dates will be posted online by Thursday, March 19. Spring students already registered will be contacted by email about refund and credit options.
COMMITTED TO YOUR HEALTH
During this closure we remain committed to your health. Staff will be working remotely. We will undergo a deep cleaning of all our studios and spaces.
WE APPRECIATE YOUR SUPPORT
We appreciate your continued patience and support. In times of uncertainty, we need art more than ever! I encourage you to continue your creative practice, if possible, at home, and stay connected virtually to your artist classmates and colleagues. Stay connected with the EAC on Facebook and Instagram in the meantime.
Be Well,
Paula Danoff
The Evanston Art Center
Image by Ashleigh Pastor