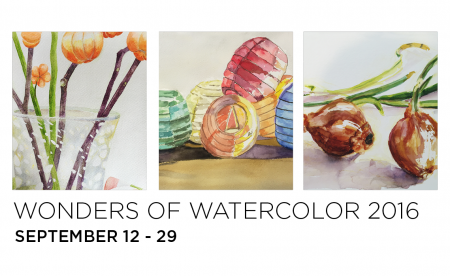 Wonders of Watercolor 2016
September 12 - 29, 2016
Opening Reception: Friday, Sept. 16, 2016, 6–8pm
Watercolor both attracts and mystifies. This medium invites risk, experimentation, and unknown rewards. It's my honor to present students who have taken this watery journey in my class: Watercolor: Materials, Composition, & Technique.
~ Michelle Kogan, Instructor, Evanston Art Center
Artists featured in this exhibit:
Jo Avent, Laura Bierman, Sonia Depa, Julie Feldy, Gretchen Golebiewski, Sarah Gunderson, Gail Kelly, Julia Miller, Marty Nadis, Susan Nadis, Pauline Noznick, Leda Scagnelli, Lynn Shapiro, Lisa Thaviu, Ellen Wright, Debbie Zimmerman
Michelle Kogan teaches Watercolor: Materials, Composition, & Technique throughout the year. The class meets on Tuesday mornings, for 5 or 6-week sessions at the Evanston Art Center.
Gallery Hours
Monday - Thursday: 9 am - 9 pm

Friday: 9 am - 5 pm

Saturday and Sunday: 9 am - 4 pm
Galleries are handicapped accessible.

Exhibitions are free and open to the public.