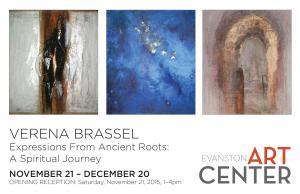 Expressions From Ancient Roots: A Spiritual Journey
November 21 – December 20
Opening Reception:
Saturday, November 21, 2015, 1–4pm
Swiss artist Verena Brassel's works are comprised of mixed media paintings that are inspired by historical relics, mostly ancient scripts collected from her various trips to the Orient, Morocco, India and Israel, and the landscapes that surround these historic sites. Her process involves transferring these relics onto hand-made paper and incorporating them as collages into her paintings; often adding soil samples to her palette from these very sites. She often has experts translate the script fragments, transforming her paintings into a mediation on the meaning of these texts. The final result is that of a spiritual experience, a symbiosis of emotional reality, mystical experience, perception, and matter rising from the subconscious, connecting the viewer with the unique past from each and every piece.
Gallery Hours
Monday - Thursday: 9 am - 9 pm
Friday: 9 am - 5 pm
Saturday and Sunday: 9 am - 4 pm
Galleries are handicapped accessible.
Exhibitions are free and open to the public.