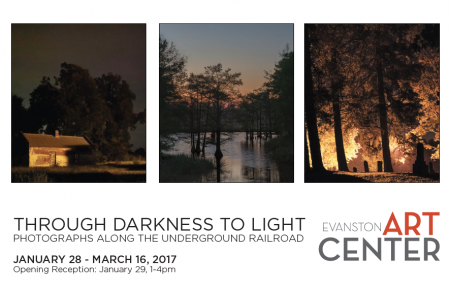 January 28 – March 16, 2017
In partnership with the Evanston History Center, the Art Center will present photographs by Jeanine Michna-Bales, who has spent more than a decade meticulously researching 'fugitive' slaves and the ways they escaped to freedom. These dramatic photographs will piece together a narrative of the Underground Railroad, and the escape of an estimated 100,000 slaves between 1830 and the end of the Civil War in 1865.
About the artist
Jeanine Michna-Bales' work explores the relationships between what has occurred, or is occurring, in a society and how people react to those events. She meticulously researches each topic—considering different viewpoints, causes and effects, and political climates—and often incorporates found or archival text and audio into her projects.
Whether exploring the darkened stations along the Underground Railroad, long-forgotten nuclear fallout shelters, or the invisible epicenters of environmental turmoil, her work seeks out places that are hidden in plain sight, each with its own story begging to be told and lessons waiting to be shared.
Images from her Underground Railroad series have appeared in group shows around the United States, including Moving Walls 23: Journeys at Open Society Foundations in New York City and Southern Exposure: Portraits of a Changing Landscape at the MOCA, Jacksonville. They have also been featured in numerous online blogs and publications, including In Sight by The Washington Post, Transition from Harvard University, Geo Histoire, Lenscratch, and Wired Raw File. Most recently, she was awarded the 2016 Archive of Documentary Arts Collection Award: Documentarians of The American South from Duke University. In 2014, she was named to the Photolucida Critical Mass Top 50. A publication of her Underground Railroad series will be released February 7, 2017 by Princeton Architectural Press.
Michna-Bales is currently based in Dallas, Texas.
EVENTS:
Opening Receptions
Sunday, January 29, 1 – 4pm at the Evanston Art Center
Saturday, January 28, 2 – 4pm at the Evanston History Center
Artist Talk and Luncheon
Thursday, February 23, 11:30am – 1:30pm
Join us for a luncheon and artist talk with photographer Jeanine Michna-Bales to learn about her artistic process and background. Tickets are $35 and can be purchased with the receptionist at the front desk, by calling (847) 475-5300 or online by clicking here.
Gallery Hours
Monday - Thursday: 9 am - 9 pm
Friday: 9 am - 5 pm
Saturday and Sunday: 9 am - 4 pm
Galleries are handicapped accessible.
Exhibitions are free and open to the public.
Date:
Saturday, January 28, 2017 - 9:00am

to

Thursday, March 16, 2017 - 9:00pm