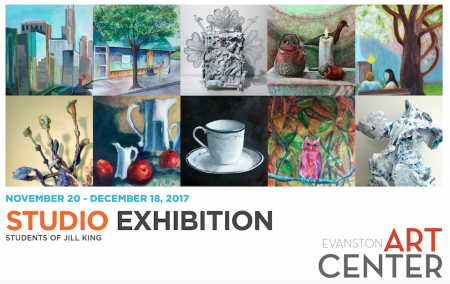 November 18 - December 18, 2017
Opening Reception: Sunday, November 19 from 1 - 3PM
Students of Jill King's Sculpture in Mixed Materials, In the Studio: Drawing and Painting and Drawing: From Black and White to Color classes will display their work in our Second Floor Hallway Gallery. In the class Sculpture in Mixed Materials students bring their ideas to life by transforming them into three-dimensional works of art.  In the class In The Studio: Drawing and Painting, students learn to access their uncensored voice and free themselves from limiting opinions of what is considered acceptable art making. And in the class Drawing: From Black and White to Color, students begin drawing in black and white and gradually move into color, guided toward realizing their visions and building partnerships between mind and materials.
Gallery Hours
Monday - Thursday: 9 am - 9 pm
Friday: 9 am - 5 pm
Saturday and Sunday: 9 am - 4 pm
Galleries are handicapped accessible.
Exhibitions are free and open to the public.
Date:
Saturday, November 18, 2017 - 9:00am

to

Monday, December 18, 2017 - 9:00pm