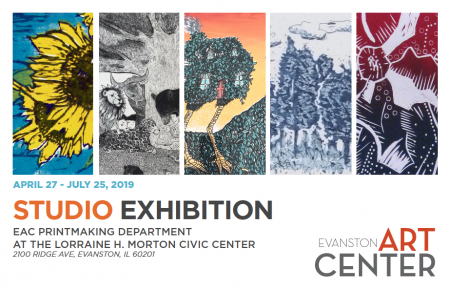 LOCATED AT THE LORRAINE H. MORTON CIVIC CENTER (2100 Ridge Ave, Evanston, IL 60201)
April 27 - July 25, 2019
This exhibition is in collaboration with the Lorraine H. Morton Civic Center, and features artwork made by printmaking students at the Evanston Art Center (EAC). The EAC student body ranges from first-time beginners to experienced artists. Some EAC students are already professional artists or have gallery representation, and choose to take classes at the Art Center in order to explore new media and techniques, have regular access to figure models and to benefit from peer interaction with other artists. Others are brand new to art making and starting with the basics! All levels of experience are welcome.

Printmaking is an active and vibrant department at EAC, and is a fine art that explores in some cases, centuries-old techniques of creating multiple reproductions (called prints) of original works of art onto plates, stones, screens, blocks or stencils and then using inks to apply to paper or fabric. EAC is proud to offer many different types of printmaking classes for advanced and beginning students, including Intaglio, bookbinding, relief, screen printing, and more!
CIVIC CENTER HOURS
Monday - Friday: 8:30 am - 5 pm
Saturday and Sunday: CLOSED
Exhibitions are free and open to the public.