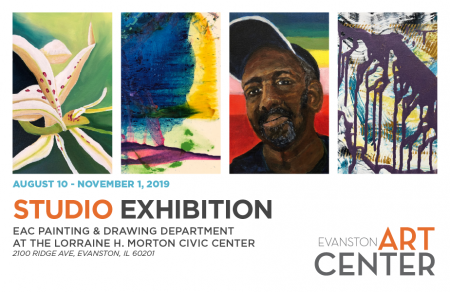 LOCATED AT THE LORRAINE H. MORTON CIVIC CENTER (2100 Ridge Ave, Evanston, IL 60201)
August 10 - November 1, 2019
This exhibition is in collaboration with the Lorraine H. Morton Civic Center, and features artwork made by painting and drawing students at the Evanston Art Center (EAC). The EAC student body ranges from first-time beginners to experienced artists. Some EAC students are already professional artists or have gallery representation, and choose to take classes at the Art Center in order to explore new media and techniques, have regular access to figure models and to benefit from peer interaction with other artists. Others are brand new to art making and starting with the basics! All levels of experience are welcome.
EAC offers a variety of styles and media for adults interested in drawing and painting ranging from beginner classes in figurative or representational styles to abstraction, acrylic and oil to encaustic and mixed media. We encourage students of all ages and backgrounds to experiment with drawing and painting and associated materials, compositions and techniques in both traditional and creative ways in a safe, supportive space.
CIVIC CENTER HOURS
Monday - Friday: 8:30 am - 5 pm
Saturday and Sunday: CLOSED
Exhibitions are free and open to the public.