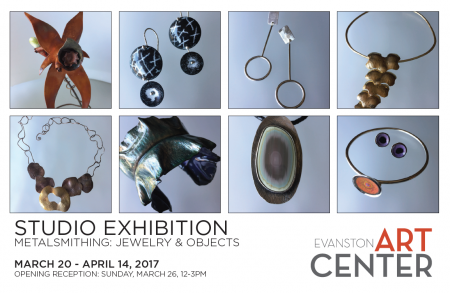 March 20 - April 14, 2017
Opening reception: Sunday, March 26, 12-3pm
EAC Students' artwork from Nancy Sickbert-Wheeler's Jewelry and Objects class will be on display in the Second Floor Gallery. 
Students learn to refine their skills and build upon new techniques and design skills. Soldering, sawing, glass enameling, stone setting and construction bring together these finished pieces. Students combine copper, silver and brass using techniques and final finishes incorporated in each work to achieve its unique design.
Gallery Hours
Monday - Thursday: 9 am - 9 pm
Friday: 9 am - 5 pm
Saturday and Sunday: 9 am - 4 pm
Galleries are handicapped accessible.
Exhibitions are free and open to the public.
Date:
Monday, March 20, 2017 - 9:00am

to

Friday, April 14, 2017 - 9:00pm