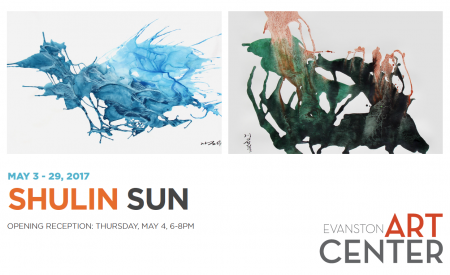 May 3-28, 2017
Opening Reception: Thursday May 4, 6-8pm
Shulin Sun believes that art should come from nature and elevate from it. For millions of years, life has survived in extreme weather and conditions. Inspiration is taken from this unrelenting determination and communicated through organic lines and color. Sun's work is aesthetically pleasing, providing the viewer infinite opportunities to imagine and explore.  Inspired by nature, no two pieces are the same, but all convey the intense feelings.  The medium Sun used, Chinese painting colors, acrylic and ink on paper, dramatically conveys energetic shapes, exaggerated gestures and the free flowing lines which reflect the energy and life in nature. Strong contrasts created by this combination project a sense of grandeur, stability and depth.
About the artist
Shulin Sun (b. 1952) grew up in Beijing, China shortly following the Communist Revolution. Growing up during this tumultuous period lead to a passion for the strength and resiliency of life and its ability to thrive even under extreme conditions. He began his career in the early 1980ÔÇÖs specializing in Chinese painting (ink and color on paper). With strong influence from his teacher and master of modern Chinese fine art, Mr. Li Keran, Shulin experimented with new styles combining traditional Chinese painting techniques with elements from contemporary American and European art.  For over 30 years, Shulin has refined his unique and distinctive style to passionately convey the strength and resiliency of nature.
Between 1987 and 1996, ShulinÔÇÖs works were exhibited and published in Germany, China, Japan, South Korea, Singapore, Taiwan and the US. During this time his work was highly respected and recognized winning multiple awards in art competitions throughout Asia. In 1996 his achievements facilitated emigration to the United States.
Gallery Hours
Monday - Thursday: 9 am - 9 pm
Friday: 9 am - 5 pm
Saturday and Sunday: 9 am - 4 pm
Galleries are handicapped accessible.
Exhibitions are free and open to the public.