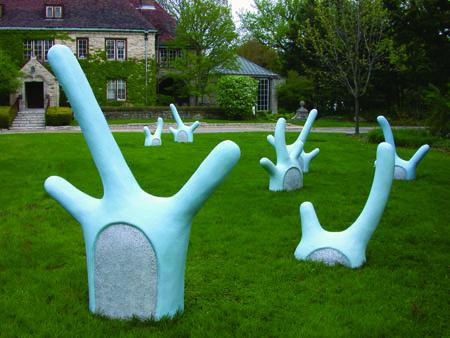 EAC is accepting submissions for small-scale outdoor sculptural works through January 31, 2014 to be on view the spring – summer season of 2014.
For over twenty years, the Evanston Art Center has exhibited a single large-scale, site-specific sculpture out on the lawn. This program, referred to as "Sculpture on the Grounds", has garnered both regional and national press attention. Projects have been covered by media outlets such as WTTW's ArtBeat and Art Across America, Sculpture Magazine, Chicago Reader, Chicago Tribune, Chicago Sun-Times, New Art Examiner, and The Pioneer Press. Participating artists have included Shawn Decker, Matt Dehaemers, Darrin Hallowell, Herb Parker, and Patrick Daugherty.
This year, the Evanston Art Center has changed the scope of this project and will place several smaller sculptural works out on the lawn. Artists' proposals, whether in concept, form or materials used, should be informed by or in dialog with some aspect of this historic site and its geography. Here is a helpful link to learning more about the Gross Point historic site: http://www.terrypepper.com/lights/michigan/grossepoint/grossepoint.htm
Thousands of people, from the area and out of town, stop by the front lawn of the Evanston Art Center throughout the year. This is an opportunity to have your work seen by a large and diverse audience.
Important Dates & Information:
Submission Deadline: e-mailed to EAC's Executive Director, [email protected] by January 31, 2014
Materials to Send: 3 to 5 jpeg images or drawings of sculpture, CV, short description ofsculpture's connection with the site
Entry Fee: a $35 entry fee, which can be processed on EAC web site, or by check at EAC reception desk
Juror: Patrick Dougherty: www.stickwork.net
All Artists are welcome to submit. Delivery and Installation are the responsibility of the artist.
Artists' Acceptance Notice: Sent by early February, 2014
Installation: Works to be installed between April 7 and April 21, 2014
Opening: April 27, 2014
On View: April 27, 2014 through August 16, 2014
De-Install: August 17 – 31, 2014
Insurance: All works will be covered by EAC insurance policy. Works can be for sale
Click here to process your entry fee payment online