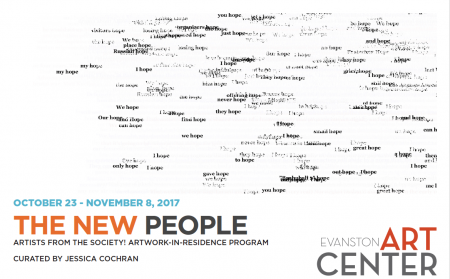 Curated by Jessica Cochran
October 23 ÔÇô November 8, 2017
Closing Reception: Friday, November 3 from 7 - 9PM
The Evanston Art Center launched an inaugural Artwork-in-Residence program, inviting six artists to move in to the Second Floor Atrium Gallery for four-week residencies. From June 2016 - March 2017, the Art Center proudly hosted artists Adriana Kuri Alamillo, Judith Brotman, Joseph G. Cruz, David Giordano, Kirsten Leenaars and Pedro V├®lez. Each of the artists, chosen by curator Jessica Cochran, addressed the residency theme ÔÇ£societyÔÇØ during their four-week stay, creating work that engaged, reflected and modeled society today in myriad ways. 
In this exhibition, Judith Brotman, Joseph G. Cruz, Kirsten Leenaars and Pedro V├®lez will feature artwork inspired by their past residency at the Evanston Art Center. The exhibition title, The New People, is inspired by the term that Hannah Arendt is said to have used for her students, considering them with optimism the new generations of citizens. In this case, we see artists ÔÇ£the new peopleÔÇØ - as hard working agents of possibility and transformation in society.
Gallery Hours
Monday - Thursday: 9 am - 9 pm
Friday: 9 am - 5 pm
Saturday and Sunday: 9 am - 4 pm
Galleries are handicapped accessible.
Exhibitions are free and open to the public.