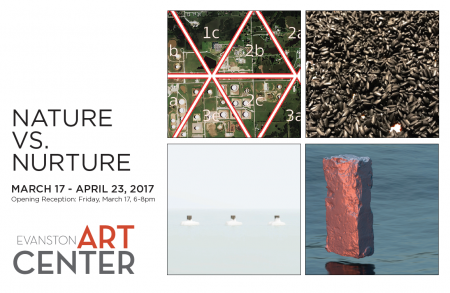 March 17-April 23, 2017
Opening Reception: Friday, March 17, 6-8PM
This group exhibition curated by Younsoo Kim Flynn will aim to redefine the complex relationship between natural and urban landscapes. By using sensory values and powerful graphic practices, each artist will reveal, conceal and create unique perspectives of their own environment. Participating artists include Nathan Braunfeld, Jack Flynn, Sae Jun Kim and Everything is Collective (Jason Lukas, Zachary Norma and Aaron Hegert).
Younsoo Kim Flynn ​received her BFA from the School of the Art Institute of Chicago in 2009. She has curated exhibitions at several venues including Richard J. Daley Center, Betty Rymer Gallery at SAIC and Thomas Masters Gallery. During her curatorial internship at the MCA Chicago, she assisted in the curations of Jeff Koons, Yoko Ono, Dan Flavin, Christo, Claes Oldenburg, and Dan Flavin. She accomplished her research internship at the Art Institute and assisted the exhibitions of Edward Hopper and Jasper Johns. She is currently the Assistant Director at Andrew Bae Gallery in River North, Chicago.
Nathan Braunfeld is a Chicago based artist whose practice addresses systems, spaces, and structures at the intersection of ecology and industry. He received an MFA from the School of the Art Institute of Chicago and BFA from the University of Washington. Nathan has exhibited works at venues including the Museum of Northwest Art in La Conner, WA, Method Gallery in Seattle, WA, and Sullivan Galleries in Chicago, Il. He has completed public art projects for Spaceworks Tacoma in Tacoma, WA and the Bellwether Sculpture Exhibition at the Bellevue Art Museum. He is currently the caretaker of nine houseplants, no cacti.
The still, airy, meditative themes of Jack Flynn's paintings are representative of his own search for balance between natural and engineered environments. Augmenting this aesthetic exploration is his concurrent career in design from which many technical and compositional aspects of his art have been influenced. As in works by Ruscha, Hopper and Lloyd Wright, Flynn's focus adheres to a dialogue between created structure and natural space. Jack Flynn's work has been exhibited throughout Chicago and abroad, and is currently represented by Thomas Masters Gallery in Chicago.
Sae Jun Kim is​ Korean born artist, and explores existential thinking on the dilemma of civilization within natural environment. Kim's sculptural installation work focuses on his personal fascination of nature that leads to the environmental sociology. His work has been included in exhibitions in the Chicago area including the Evanston art center. Kim is a graduate of School of the Art Institute of Chicago and a recipient of "Shaping the Future Award" by the Remet corporation. Sae Jun Kim currently lives and works in Chicago, where he is a co-founder of Fat City, a Chicago based artist commune, flux residency and gallery.
Based in Los Angeles and Chicago, Everything Is Collective (E.I.C.) is an ongoing collaboration between Aaron Hegert, Jason Lukas, and Zachary Norman. Since 2013 the group has worked together on numerous exhibitions, publications, and web-based projects, all of which address contemporary cultural issues through photography and digital images. The collective has exhibited their work nationally and internationally including recent exhibitions at the Aperture Foundation in New York, Royal Nonesuch Gallery in Oakland, Filter Space in Chicago, and the Urban Arts Space at Ohio State University. The collective also runs a small book press that publishes works by members of the collective and also commissions experimental works by independent artists. Recent publications from Everything Is Collective Press have been featured and reviewed widely in print and on the web, and have been acquired by the collections of Joan Flasch Artists' Book Collection at SAIC and the MoMA Library in New York, among others. Everything Is Collective is committed to exploring and demonstrating the potential of collective art making and collective action, and all the works they create are attributed to the group as a whole.
Gallery Hours
Monday - Thursday: 9 am - 9 pm
Friday: 9 am - 5 pm
Saturday and Sunday: 9 am - 4 pm
Galleries are handicapped accessible.
Exhibitions are free and open to the public.
Date:
Friday, March 17, 2017 - 9:00am

to

Sunday, April 23, 2017 - 9:00pm