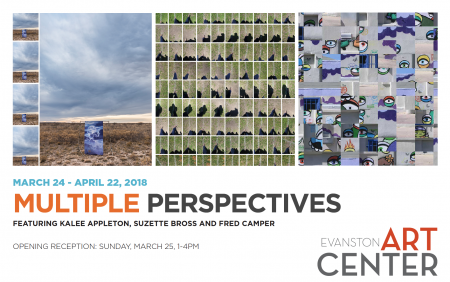 March 24 - April 22, 2018
Opening Reception: Sunday, March 25 from 1-4pm
Fred Camper, Suzette Bross and Kalee Appleton collaborate on a photography exhibition about the multiple ways we see the world.
Kalee Appleton is a photography-based artist living in Dallas, Texas. Originally from Hobbs, New Mexico, she attended Texas Tech University in Lubbock and received a B.F.A. (2005) in photography. Shortly after graduation she worked as a corporate and aviation photographer, and she later attended Texas WomanÔÇÖs University in Denton, where she received a M.F.A. (2014) in art. AppletonÔÇÖs work deals with digital technologies and their effects on society, as well as with the nature of photography, specifically landscape photography. Appleton is currently president of the oldest art collective in Texas, 500X. She has had her work highlighted in various print and online forums including DMagazine, Glasstire, Aint-Bad Magazine, Plates to Pixels, Lens Culture and F-Stop Magazine. Appleton exhibits her work regionally at Erin Cluley Gallery in Dallas and has exhibited nationally at Filter Photo, Chicago, Illinois; Artsphere, Washington DC; Fotofest, Houston, Texas; and Houston Center for Photography.
Suzette Bross is a photographer living and working in Chicago, Illinois. Her work is in the permanent collections of The Art Institute of Chicago, the Cleveland Museum of Art, the Museum of Contemporary Photography in Chicago, Mary and Leigh Block Museum of Art and more. With an MFA from the Institute of Design at IIT, Bross has taught at Columbia College Chicago, the Milwaukee Institute of Art & Design and the Northwestern University Medical School. Her work has been exhibited internationally and across the United States. Bross was commissioned by Northwestern Memorial Hospital to create a permanent portrait series of Chicago women and was also included in the Cleveland Museums of ArtÔÇÖs ÔÇ£DIY: Photographers & BooksÔÇØ show. Bross has exhibited her Walks series in a solo show at Geary Contemporary in New York City, NY and the group exhibition, titled Alien Nation, at Lehman, College Art Gallery in Bronx, New York. Her series, For the Glass, was featured in solo exhibitions at the Chicago Artists Coalition, Geary Contemporary booth at EXPO Chicago 2016, and was in  the first exhibition in the Chicago Google Artist Initiative. In 2016, she began collaborating with Suzanne Hanney at Street Wise magazine creating photo essays about ChicagoÔÇÖs Uptown Tent City residents. Suzette is the Founder and Executive Director of the non-profit arts organization, CPS Lives, connecting Chicago artists with Chicago Public Schools to create collaborative art works to help share the unique stories of each school. In 2018, CPS Lives began its pilot project.
Fred Camper is an artist, and a writer and lecturer on film, art, and photography. Camper has taught at several colleges and universities, has been publishing articles on cinema since he was 18, has been an art critic and arts journalist from 1989 until 2007, and has been working on the cinema-inspired art he is now exhibiting, photo-based digital prints, since 2002. By his mid-teens, Camper was interested in math, physics, poetry, classical music, and cinema, especially in avant-garde film (Brakhage, Markopoulos, Kubelka, Breer) and classical Hollywood (Hitchcock, Hawks, Ford). By 17, he was trying to make his own films, and was writing his earliest film criticism. By his early 20s, Camper had a number of critical articles published, completed five 16mm films, and by 1984 had made a version of SN. By then his film ideas had grown impossibly ambitious in comparison to his resources, while he had already, for other reasons, been thinking about combining multiple still photographs in ways that would be somewhat cinematic, something Camper continued to think about for two decades. Then, in 2002, he started taking digital photos. Camper first began completing art works using them in 2005, and began exhibiting in September 2007.