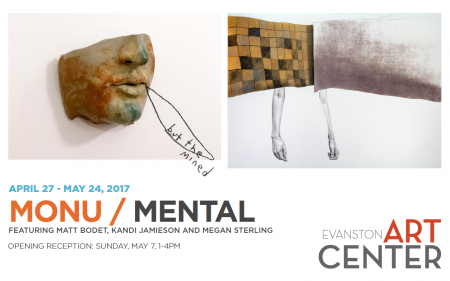 April 27-May 24, 2017
Opening Reception: Sunday, May 7, 1-4PM
With a performance starting at 3PM
Monu / Mental is an exploration of mental health as a major social issue, empowered by community understanding and involvement. Through a visual dialogue the artists seek to give voice to conditions that have evaded concrete descriptions.
Matt Bodett, diagnosed with Schizo-affective disorder, uses his artwork to discuss the complexity of language in mental illnesses and its human effects. 
Megan Sterling's print and drawing works express the weight of internal struggles and the power of visual forms to connect trauma and empathy in viewers. 
Kandi Jamieson creates work which reconstructs multiple histories that function simultaneously through the layering of translucent fabrics, stitching on old photographs, and painting narrative imagery.
As well as the traditional exhibition, the artists will be holding talks and performances hosted by the Evanston Art Center to further engage the audience with the artwork. Through this the artists will activate the Evanston and Chicago communities in a larger dialogue about mental illnesses and our individual roles towards those who may suffer from them.
About the Artists
Matt Bodett lives and works in Chicago, but hails from Boise, Idaho where he received his MFA. His greatest education came from being diagnosed with schizo-affective disorder, and through that has learned about identity, language, and healing. Since being diagnosed thirteen years ago Bodett has sought ways to express the symptoms and struggles of having a mental illness to those who are not diagnosed. Bring everyone together in dialogue and empathy has been his artistic mission. He currently is on the advisory board for the Institute for Therapy through the Arts and teaches for Northeastern University and Loyola University.
Kandi Jamieson was born in Fort Wayne, Indiana. In 2009 she received her BFA from Boise State University, exploring painting, printmaking, drawing and ceramics.  Kandi and her husbandÔÇöboth artistsÔÇöopened an art studio in Noblesville, Indiana in 2010 where they taught community art classes. In 2015 Kandi and her family moved to Evanston, Illinois so she could study at the School of Art Institute of Chicago for her Master of Arts in Art Therapy. She is currently using her art practice to explore the relationship between the personal, psychological and cultural perspectives of mental health. 
Hailing from Idaho, Megan Sterling has been established in Chicago since 2005, coming here to pursue her Master of Fine arts in Studio arts from the School of the Art Institute of Chicago after receiving her BFA in printmaking from Boise State University. She taught adjunct then full time at Harrington College of Design for five years before branching off to work more independently as an artist and teacher. She is now the full time Printmaking Facilities Manager at Columbia College and the Assistant Director of the Chicago Printmakers Collaborative. Sterling exhibits her prints and large-scale drawings regularly in Chicago and across the country including New York, Cleveland, Boise, Portland, and St. Louis.
Gallery Hours
Monday - Thursday: 9 am - 9 pm
Friday: 9 am - 5 pm
Saturday and Sunday: 9 am - 4 pm
Galleries are handicapped accessible.
Exhibitions are free and open to the public.