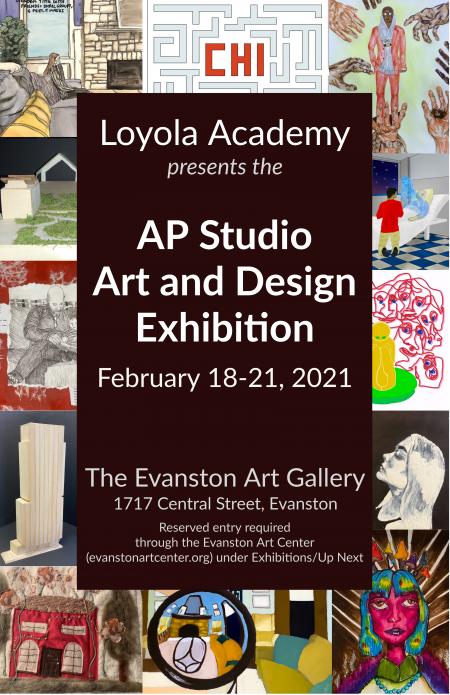 ON VIEW: February 18 - 21, 2021
The EAC is excited to host Loyola Academy's AP Studio Art and Design students in our galleries for the tenth year! 
The Loyola Academy students work together to curate, install, and publicize the event, as well as speak publicly about their artwork and inspirations. The artwork is beautifully executed and offers audiences a window into what is on the minds of our younger artists.
---
ABOUT THE EXHIBITION
Timeslots for the general public to view the exhibition are as follows.
Registration is required. Timeslots are every half hour.
Thursday, February 18: 9:00 am - 3:00 pm; 7:30 pm - 9:00 pm
Friday, February 19: 9:00 am - 3:00 pm; 7:30 pm - 9:00 pm
Saturday, February 20: 9:00 am - 4:00 pm
Sunday, February 21: 9:00 am - 3:00 pm
VISITOR INFORMATION FOR COVID-19 GUIDELINES
The safety and security of gallery staff and visitors is essential.
This exhibition will be held in the First Floor Gallery of the Evanston Art Center (EAC). All visitors are required to wear masks and take their temperature upon entry using provided gloves, and share results with an EAC staff member. Please adhere to 6' social distancing requirements when in the gallery space.